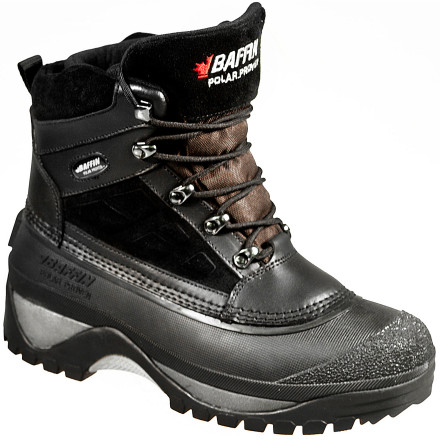 Colors
Smart enough, warm enough, and tough enough for the outdoors.
The Baffin Maple Boot happily trudges through whatever backcountry sludge you find yourself in. Light, warm, and intuitively designed, the Maple features a rugged upper of leather and nylon double weave. Rated to -40 degrees Fahrenheit, the Maple keeps your toes toasty whether you're snowmobiling, snowshoeing, or just buried in snow during a backyard session with the kids.
Integrated arch support ensures your foot won't collapse even after a long day outside
Thermaplus insulation traps heat to fight the bite
Quick lace system adds convenience when your little ones are eager to get out in the backyard for a snowball fight
cop105792567-0
Generally there's a consensus on sizing, but there aren't enough reviews here to get a good picture, so I looked around at the other boots Baffin makes. Other than one commenter saying they ran small, everyone seems to think they're true to size. I'd order true to size unless you see some evidence otherwise. Hope that helps.
Angus Bohanon
Toasty Warm Snow Slippers
Familiarity:

I've used it several times
I bought these boots as a replacement for some ancient Sorrels and now wish I'd done it years ago. The true beauty of the Baffin Maple is that you can leave it loosely tied and wide open such that you can slip your foot into it like a slipper, then go tromp in the snow. You can do it no-handed, which is great if you are walking out the door with a bunch of ski gear in your hands. The half-height of these boots is perfect for stuff like snow blowing the driveway, walking the dog, getting the mail, meeting up at a snowy trailhead, etc.. The lower cuff means that you don't have to skirt your pants around a tall boot, which is fine for most uses. To help keep the laces attached, I gave the top ones a slight crimp with a set of pliers.

These boots were meant for all sorts of outdoor uses, like snowshoeing, snow trekking, etc., which I'm sure they'd work well for. The construction is impeccable and seems like it will last forever. The Maple also features a burly lugged sole which provides excellent traction.



About the only thing I don't like about these boots is that the inner liner is unattached from the outer liner, which makes it a bit hard to slip your foot into. A small detail, but a bit of velcro or something would be nice.



They are rated to something like 40 below, which I've never come close to experiencing here in Utah, but believe. They have lots of padding and insulation.
Andrew McLean