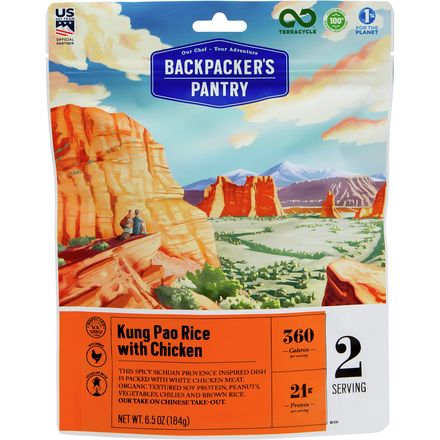 Most Chinese takeout places don't deliver to remote wilderness locations. Fortunately for you, there's the Backpacker's Pantry Kung Pao Rice with Chicken to satisfy your cravings far from home.
Potential allergens include peanuts, soy, gluten, and wheat
This is an oldie but a goodie. A favorite of mine from Backpacker's Pantry. The flavor is good and most importantly, the texture isn't gross. I'm a big fan and always enjoy the jealous looks of campmates when I bust out this flavorful feast. Sorry. Not sorry, but I'm not sharing.
johngchrist
Sooo good on the trail!
Familiarity:

I've used it several times
I enjoyed these meals so much, that I would like to eat them everyday. But, I wont. They are designed to give your body what it needs for strenuous exercise and that they do. Good carb/protein mix with salt to keep your electrolytes up. Light weight enough to carry five days worth, but they do take up space in your pack. I use a 70 L back pack. For longer trail time I need to condense weight and volume so couscous is my go to grub.

Thomas R.
Its much better when you use the added spices and peanuts. I enjoyed it once but probably couldn't eat it more than once on a multi day trip.
Zachary W.
Not too spicy
Familiarity:

I've used it several times
This is actually a pretty good choice for climbing. Chicken and rice is pretty easy to eat and the kung pao adds only a tiny bit of spice and flavor to the whole thing. I tend to get sick easily when climbing, and this is a really easy meal for me to eat.
tracy anne
Kung wow
Familiarity:

I've used it several times
One of my favorites. As with most of these meals, after a day of activity, one bag can easily be finished by one person.
Michael Machnicki
This was another really good meal and these freeze dried meals are a must have when backpacking. So light.


Adam
Delicious!
Familiarity:

I've used it several times
Great lightweight food for my long hiking trips. I'm sold on freeze dried food on long hikes or food storage. Very tasty, lightweight, and filling.

Pro Tip: Don't turn your zip-locked bag upside down to help mix the water and food. The zip-lock feature is not very strong and you will most likely dump your food all over the ground and scald your hands as well. I have seen this happen many times.
Jeff Guest