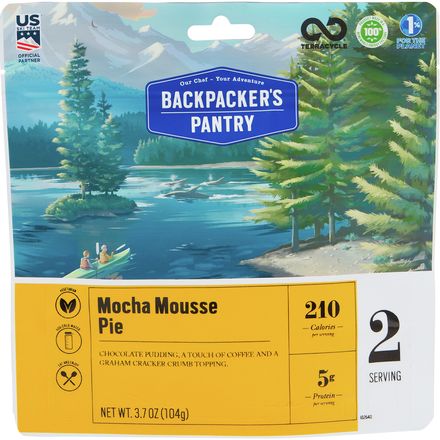 Colors

Detail Images
You may want to stuff the Backpacker's Pantry Mocha Mousse Pie into a small pack after the prep, climb a tree, and grab a scenic spot above camp ... yep, it's that good.
Remove graham cracker crumb packet and set aside, add 1 cup (240 mL) of cold water to filling mix, beat briskly with two forks or chop stix for 2 minutes, sprinkle graham cracker crumbs over top of filling, let sit for 13 minutes, enjoy
Provides enough food for two backcountry travelers or one backpacker with a hearty appetite
Check tech specs for ingredients, allergens, and nutritional data
The best freeze dried dessert I've had
Pretty tasty. It's basically instant pudding with graham cracker sprinkles. Nothing fancy, but way out in the woods it's decadent.
chad prudhomme
How do you like the taste of heaven in your mouth? If I could eat this delight for every meal, I would. I've found that the biggest success to conquering big objectives is one simple ingredient: SUGAR.

The more sugar, the higher I climb. Sometimes I even summit the Grand Teton in Crocs without socks. It's invigorating, you should try it sometime. The only reason I didn't turn around is because I was loaded up on sugar.
This moosey mocha pie will get you to the top of your game...or peak.

johngchrist
It's simple, add 1 cup of water to the package and mix well. Then you add graham cracker crumbs on top of the pudding (crumbs included in package), seal up the package and let it set for 13 minutes. Boom, backcountry dessert! It was really good, nice and chocolatey! This package was plenty for my husband and I, I would highly recommend this dessert for your backcountry adventures!
Joelle Raynes