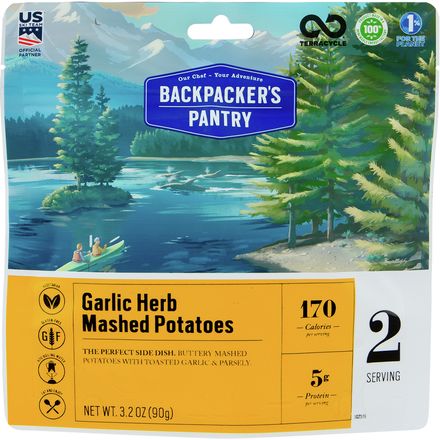 Colors

Detail Images
Watch out for openly jealous looks once the yummy toasted garlic aroma comes out of your delicious Backpacker's Pantry Garlic Herb Mashed Potatoes.
Add 1.75 cups (420mL) of boiling water to contents, stir well, seal, and let sit for 13 minutes
Then stir and enjoy
Provides enough food for two backcountry travelers or one backpacker with a hearty appetite
Check tech specs for ingredients, allergens, and nutritional data
We enjoyed this meal with the vegetable medley and it worked out great.
Asa
Yum-o
Familiarity:

I've used it several times
Smooth and creamy. Perfect as a snack during a long day trip or simply as a meal side or full meal! Love this brand!
Samantha Fox
These are a staple for me on trips. They mix really well with any peas or buttered vegetables dish. They are nice and warm comfort when you need them. I even find myself sneaking them at home from time to time.
Alex Welton
this ended up being a very good side dish. As other review's pointed out, it is basically instant mashed potatoes. If you want to save a few dollars, you could probably just buy a box of instant potatoes and package servings yourself. Im lazy though, so ill probably keep buying these for future trips. Something to keep in mind when buying meals is the "serving size". We found that the meals containing two servings were almost enough for one person. The single serving size meals left us very hungry. I'm sure if you were using these car camping they would be enough. But if you are hiking long distance/burning a ton of calories, you'll want to eat about 3 "servings".
Tyson Purkey
Basically Instant Mashed Potatoes
Familiarity:

I've used it once or twice and have initial impressions
These are pretty good. I enjoyed them, but they really aren't much different than any other instant mashed potatoes that I have ever had. It's a solid product, but it didn't exactly knock my socks off.
Pat Guinn
Didn't hydrate as well as well as expected. Tasted alright. Definitely needed a bit of seasoning.
I'll probably stick with the potatoes you can get at any grocery store. They never failed me on the AT.
Malisa
Really good - mixed with the vegetable medley it was fantastic :)
andrea
Pretty good
Familiarity:

I've used it once or twice and have initial impressions
These taste pretty good. Hard to screw up potatoes, but still, not bad.
tracy anne
eh they're good
Familiarity:

I've used it once or twice and have initial impressions
I was pretty excited about these. They seemed better for me than typical "instant" potatoes but even with good stirring many parts of the package did not seem to hydrate with ease. This was a bummer as instant potatoes are easy to cook and much cheaper. However, these did taste very good and 1 package was more than enough as a side for 3 people ( I feel like you definitely get a lot in the package which is good!). Overall I find the backpackers pantry bags more difficult to use than the mountain house bags. They took an awfully long time to make given that instant potatoes are ready right away and these took 13 minutes! So while they were good, I'll probably just use instant potatoes in the future due to ease and affordability.
Lauren - Dahli and Doc
Pretty Yummy! 1
Familiarity:

I've used it several times
I liked these a lot. Really good consistency, easy to make. Package was a pretty decent size serving for two people and it made a great side to add to the food on my recent havasupai trip.
Ari
Great portion for 2 people! This is incredibility easy to make, just add hot water to package and let sit for 13 minutes, booom ready! This package is much better then regular mashed potatoes, the garlic and herbs help with taste although I still wasn't that impressed. This is most likely because I had a cheesy potato pack on the same trip that was much more tasty. If you are looking for a potato side, you can't go wrong with this package. If you like cheese, I would recommend the Mountain House Potatoes & Cheddar with Broccoli over this.
Joelle Raynes
DELICIOUS!!!
Familiarity:

I've used it once or twice and have initial impressions
SUPER delicious. I am a HUGe fan of mashed potatoes and a potato connoiseur in general; these really held up to my standards. Don't forget your salt though because you need more while on the trail, and my partner wanted to salt these (he puts salt on a lot of things when I don't).
getoffamycloud
Just got these as a side for a backpacking trip. They certainly did the trick, they were tasty and packed nice, convenient to be able to just eat out of the bag. Pretty much all that i expected out of just add water mashed potatoes. Pretty cool.
Pat Guinn
For mashed potatoes they're ok. There are others out there that taste better. I'm also not sure why instant potatoes require 13 min before serving.
Alex E.
Rather than write a small review for each individual item I recently purchased I thought I would share it all in one concise review. (Note with most Mountain House I add 2-3 oz less than it recommends)

Recommend:

Breakfast:
Backpacker's Pantry Granola with Blueberries and Milk – Favorite :) (serve warm)
AlpineAire Strawberry Honey Granola With Milk – healthy and good! (serve warm)
Backpacker's Pantry Denver Omelet (needs pan) – best quick eggs I have tried.

Lunch/Dinner:
Mountain House Chicken Ala King – Favorite :)
Backpacker's Pantry Katmandu Curry - Yum
Mountain House Macaroni And Cheese – Oh to be a kid again!
AlpineAire Chicken Gumbo – Delicious

Sides/Deserts:
Mountain House Potatoes And Cheddar With Broccoli – Favorite :)
Mary Janes Farm Organic Garlic Pesto Fry Bread – I love bread! (bring oil)
Mountain House Peas – Eat your veggies! Add 1-2 oz less water
Mountain House Corn – Favorite, Add 1-2 oz less water :)
Mountain House Green Beans – Add 1-2 oz less water
Mary Janes Farm Organic Brownies – Yes really good!
Mountain House Ice Cream Sandwich – Don't get the Neapolitan, this is much better.
Mountain House Blueberry Cheesecake – Nice size berries, make in a bowl NOT the package. (Note it will NOT keep
Overnight).

Pass:
Backpacker's Pantry Garlic Herb Mashed Potatoes – The Mountain House Potatoes and Cheddar with Broccoli are MUCH
better even the resident mouse in our cave didn't like it.
Mountain House Scrambled Eggs With Bacon - Backpacker's Pantry Denver Omelet is much better IMO but requires a
pan.
Mountain House Scrambled Eggs With Ham - Backpacker's Pantry Denver Omelet is much better IMO but requires a pan.

Neutral:
Mary Janes Farm Organic Couscous And Lentil Curry – Not bad but I like my curry with more curry!
Mary Janes Farm Organic Black Bean Corn Bread – Not bad but NOT cornbread just a bread with some cornmeal in it.
Mountain House Noodles And Chicken – Yet to try will update
Mountain House Pasta Primavera – Yet to try will update
Mountain House Mexican Chicken With Rice – Yet to try will update
Mary Janes Farm Organic Alfredo Pasta – Yet to try will update
Backpacker's Pantry Chana Masala – Yet to try will update
Sam Furner