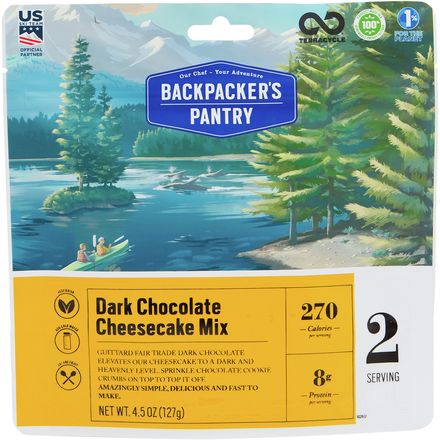 After a long day of bushwhacking while carrying your provisions on your back, what better way to wind down than treating yourself to a delicious serving of the Backpacker's Pantry Dark Chocolate Cheesecake? You can't think of one, can you?
Rich, tantalizing flavor indulges your refined taste buds on the trail
Meal covers two backpackers (or just one really hungry backpacker)
Remove chocolate crumb topping packet and set aside, add 2/3 cups (160 mL) of cold water to filling mix, beat briskly with two forks for 2 minutes, sprinkle chocolate crumb topping over top of filling, and let sit for 13 minutes
Dry weight of dessert is 4.5oz (127g), and it features minimal packaging that takes up little room in your pack
Check tech specs for additional allergens, nutritional data, and ingredients
Dessert time!
Familiarity:

I've used it once or twice and have initial impressions
More like a pudding than a cheesecake, this is a great choice to bring backpacking for those that need a little something sweet after dinner. Definitely plenty to share with a couple of other chocolate lovers.
Lisa Edlund
Dessert math.
Familiarity:

I've used it once or twice and have initial impressions
Delicious. Do you dig chocolate? Then you'll dig this rich, chocolate pudding with Oreo cookie chunks. What? It's suppose to be cheesecake? Well, it didn't have that cheesecake tang but I refuse to remove a star, that's how damned tasty this pudding is!
I'm kicking myself for not taking a photo of the directions - maybe we were punchy after backpacking but we had a good laugh. It says; "Mix briskly with 2 forks for 2 minutes." Are TWO forks really necessary? Can we employ a little dessert math and conclude that 2 forks at 2 minutes = 1 fork at 4 min? What if you only have chopsticks!? We didn't dare risk it, Mom dutifully whisked the pudding with 2 forks. We split one pouch between 3 adults and had a little left over - it's really rich and tasty.
Erin Radford
Delicious but messy
Familiarity:

I've used it once or twice and have initial impressions
I thought it might be nice to have a sweet treat on the trail so I bought this dessert mix. It was good but also very messy! I had chocolate coated hands from 2 minutes of mixing briskly. At the end of the day I'm more keen on a relaxing, less messy meal prep. I think next time I'll just pack some ready made fruit chews for a sweet treat.
Lena
Real good for a treat on the trails!
Adam
This is exactly what you need after a long day hiking. Thick and creamy. Nothing is more rewarding than chocolate cheesecake!
Daspuds