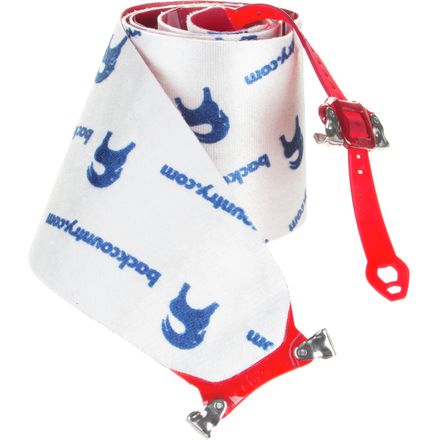 Climb like the Goat.
You got a splitboard so you wouldn't have to posthole through powder all the way up to your line, so you might as well get some skins designed specifically to help splitboarders access the goods. With help from the homies at G3, Backcountry.com is proud to offer a splitboard-specific, Goat-worthy version of G3's Alpinist skin, with all the same technical features like self-aligning stainless steel hand tip connectors and a twin tail clip that make getting your skins on and keeping them there a quick and easy process. They won't come unstuck from ice-cold bases, either, as they're made with a glue that grips no matter the temperature.
What makes these any different than G3's usual skins, you ask? We're glad you did. Instead of G3's usual pattern, these fast-gliding nylon skins feature your favorite bearded buddy, previously found only on helmets, water bottles, cars, and computers--that's right, it's the Backcountry Goat! Get in tune with his sure-footed vibes and conquer any skin track in style, knowing that you've got a partner who's never yet slipped when the going gets icy.
Proposition 65 Warning for California Consumers: This product contains chemicals known to the State of California to cause cancer and/or birth defects or other reproductive harm.
Supple, fast-gliding nylon bases with Backcountry.com Goat print
Self-aligning stainless steel hand tip connectors
Twin tail connectors designed specifically for splitboards
Sticky, non-toxic and solvent-free glue
Trimming tool included; skin savers sold separate
Sizing: Short fits boards 145-159cm, Medium 159-173cm, Long 168-182cm
Does the Trick
Familiarity:

I've put it through the wringer
These skins are good enough to get you started! After a season of use, I re-glued them with some Black Diamond skin glue.

The original deteriorated after about 30 days of skinning.

They glide well, especially after a good wax! If you're breaking trail on steeper terrain with lots of snow, you will appreciate the high-traction version of the skins a bit more. Same deal with icy skin tracks... these leave a bit to be desired, especially if you haven't developed better skinning technique.

The tip clips typically leave a 'bubble' fold in the skin material. If they were a slightly different design, I think they would mount better. Not a huge deal, but snow can work its way between the skin and the base this way.

The tail clips are awesome! Plenty of adjustment for different sized boards, and the tail clips seem to grab on to different tail shapes well. I was skeptical of the plastic material, but it is indeed burly!

White was a poor choice for skin color. Expect them to start looking pretty manky after spring and summer tours.

And don't forget to wax your skins!
Robert H
Great for the price!
Familiarity:

I've used it several times
The glue on these seem good so far, but only used these a few times so far! The skins fit a splitboard well, and have good grip and slide smoothly. The G3 Trim Tool is included which is super easy to use. They don't come with skin savers though so make sure to pick some of those up!
Melissa Warren
They Work
Familiarity:

I've used it several times
Nothing special but for the price they work as well as id expect. Glue seems to be good for me. My first set of skins so I wanted something that ll do the job but something I wouldn't mind banging up while learn. These skins seem to fit that profile for me
Matthew Lundberg
Along the lines of what must folks have said. Have had a hard time getting the glue to stick practically since I got it. Now it hardly works and I've used them probably 5 times.
yourDisplayName
These skins worked fine for the first year I had them. The first time I used them the second year the glue got everywhere. When I peeled them off my splitboard a thick layer of glue stuck to the bottom of the board and it impossible to ride. When I finally made it home it took me over an hour to clean it all off of my board.

I would not buy these again. The glue makes everything a mess.
Born2Shred
Nice for the price
Familiarity:

I've used it several times
I got these as my first set of skins because odds are I'm going to ruin them somehow in the first 2-3 years of ownership, so let's not break the bank.

I've used these skins a several times over the past year in temperatures from 20F - 35F or so, in ice, rain, and powder.

They have ok grip and ok glide. I haven't had them gum up with wet snow yet. I've also had no problems with the glue so far and the tip/tail clip works great for me.

I think maybe the nose clip might work better with some snowboard shapes vs. others. I have a Prior Brandywine 154cm split and without very careful alignment the skin will wrinkle near the nose of the ski, but with a little finagling I can smooth it out and get the skin nice and even.

The skin trimming tool is nice but I had issues with it gumming up and making ragged cuts during my trimming process. Be careful during trimming, take your time, and make sure there are no wrinkles in the skin for best results.

All in all I'm quite pleased with what you get for the price.
Maia B.
G3 needs to fix their clips
Familiarity:

I've used it once or twice and have initial impressions
There is no way to set these skins up without having a fold near the tip, bound to loosen during a skin and pack full of snow. I've seen it happen to several G3 users and I always thought it was user error during the initial set up and cut. Well after trying every trick possible it's confirmed G3 tip clips are dumb.
Wish I spent the extra $$ on volie
Haven't had them on snow yet but seems to have limited friction compared to my old tractors.

I'm sure I'll be shopping for new skins much sooner than I thought
Jeff T.
Deficient glue and No covers
Familiarity:

I've put it through the wringer
I'm still using these skins, but I Already had to change the glue. After 2 years, it was a mess.

And this set doens't include the skin covers to carry them properly.

I wouldn't buy them again.
luisgomez
2 years of serious abuse and use
Familiarity:

I've put it through the wringer
Last season was my second season on a pair of these skins. I put close to 200 days on them in two years, and all around the world in many different types of conditions. First off, these are the best skins for the price hands down.

They climb very well if it is not too steep, and not too icy. You throw any of those variables in the mix and you will notice a drastic difference in performance. There were times when partners I was with had much better traction with their Volie skins than I was having.

The glue on them is also pretty poor, I re-glued them with Black Diamond glue and that fixed that problem right away.

If you are in the market to save money on your skins, I don't think you can go wrong with these, I would recommend spending a little more and getting the higher traction ones. Also, if you are just getting into splitboarding get these skins, they are perfect for a beginner and they last a very long time. I have never gotten two seasons out of skins until these ones.
Clifford L.
Great for the Price
Familiarity:

I've used it several times
I had a little trouble with the cutter these came with (I think it was cracked?), but ended up using a BCA cutter and they turned out fine. I'm small, so the fact that they go on and off with ease is great. They got pretty globby on the last wet pow day and I ended up sliding quite a bit going uphill, but the next day the snow was more fluffy and they got the job done. I will probably go with the higher traction skins next time, but for what I'm into and the current weather, they work well.
Whitney J.
rookie review
Familiarity:

I've used it once or twice and have initial impressions
my first skins on my first splitboard after my first tour.
first things first. they have goats on them. lots of goats. so can't be that much of a bad purchase.

i thought they were great. its spring though, so i can not make any judgements on the glue sticking problem. aside from that i thought everything was awesome! cutting simple, fitting simple, they came on and off extra nice and i am stoked on the whole story. great stuff - and what a great sport to get into.
avy class here i come!

Jochen Russig
Glue peels.
Familiarity:

I've used it several times
These skins get the job done but only for so long. The glue begins to stick to your skis/splits and peal from the skin. You can put better glue on them but why should you have to do that in the first year of use? WTF G3?
Andrew B.
Had these for about a year before the glue decided that it preferred sticking to my skis, instead of the skin. Most of the glue is gone on the tail, and I have to bring a rag soaked with goo gone on every tour.

G3 won't even return my e-mails. Again, this happened after only one season of use. Awful. Reglueing my skins tonight and I will never buy G3 skins again.

Oh, and their traction isn't as good as the black diamond skins, but their glide isnt noticeably better to compensate.
Tom Grummon
Like em in general, love for the price
Familiarity:

I've used it several times
While I feel like a walking advert for backcountry.com while using these skins, I am a fan of them! I honestly went for them because of the price, and I'm glad I did. I highly disagree with the review that states that these "only work above 30 degrees," as I have used these skins at 5 degree temps and they worked just fine. When doing short laps, I put the skins inside my mid layer on the descent to keep them warm, and they restick pretty well.

As for traction: They are a lower profile than other skins i've used, but I haven't seen any compromise in performance. Perhaps weight and technique make a difference as well. On steeps, your weight distribution is critical.

An added benefit of these skins is the included skin trimming tool! My boyfriend was prepared for a night of frustration when we trimmed my skins as he has trimmed many pairs the old fashioned way.. but the G3 trimmer makes it a breeze!

A note on the clips: I used to be jealous of my boyfriend's ski skins, which just looped over the tip of his ski... but a girl friend of mine has the Voile skins for her splitboard with the loop... and they are totally crooked when going over the hardware on the splitboard. I much prefer my clips now!

I purchased skin savers for mine as well, and use those when storing for more than a day or two.
emily s
Like em
Familiarity:

I've put it through the wringer
I really like the alpinist. I have had both the high traction and alpinist and I choose these. I have crampons for my Karakoram s for the really tough tracks and I prefer the glide of the alpinist.
Kyle
These skins work great if above 30 degrees out, which it never is here in Colorado alpine. They usually work great for my skin in but the. I battle with them for the rest of the day trying to get them to stick. The glue is horrible on these skins. At least the ones I have. Perhaps it was a bad batch.
Justin B.
Light, work well until glue goes bad
Familiarity:

I've put it through the wringer
These worked well for 2 seasons, maybe 50 days. They are lighter than the old Voile skins, not quite as grippy. The glue has gone bad after summer, even though I dry daily and keep clean.
Hopefully they'll improve after ironing, but I hear there are some bad batches of glue in some of these skins.
Jason M.
work good
Familiarity:

I've used it once or twice and have initial impressions
These are my first pair of skins and they seem to work great for my splitboard. They were easy to cut and the skin savers are awesome for storage. I can't compare to other skins, but would definitely recommend to others as first set of skins. Made by G3 for Backcountry.com which is a good brand.
James S.
Will you guys get any more mediums in?
Alex Miles
Hey Alex,



Looks like you placed your order for the Medium, 140mm Skins. If you have any questions as you continue to get ready for winter feel free to reach out to me.



Kyle

klivingston@backcountry.com

801-736-4337
Kyle Livingston