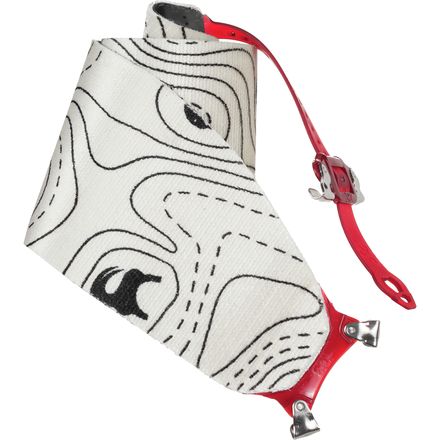 Colors

Detail Images
Climb like the Goat.
You got a splitboard so you wouldn't have to posthole through powder all the way up to your line, so you might as well get some skins designed specifically to help splitboarders access the goods. With help from G3, Backcountry.com is proud to offer a splitboard-specific version of G3's Alpinist skin with all the same technical features like self-aligning stainless steel hand tip connectors and a twin tail clip that make getting your skins on, and keeping them there, a quick and easy process. The Backcountry Alpinist Splitboard Skins won't come unstuck from ice-cold bases, either, as they're made with a glue that grips no matter the temperature.
Proposition 65 Warning for California Consumers: This product contains chemicals known to the State of California to cause cancer and/or birth defects or other reproductive harm.
Supple, fast-gliding nylon skins with Backcountry's goat print
Self-aligning stainless steel hand tip connectors
Twin tail connectors designed specifically for splitboards
Sticky, non-toxic, and solvent-free glue
Trimming tool included; skin savers sold separate
Great product
Familiarity:

I've put it through the wringer
I have been using these skins for one season and have had no issues, great product for a great price!
a5m3339204
There was no mesh tape for storage (Skin Savers) included in the kit ((
Was it a mistake? Or should I buy it separately?
Anton
Surprisingly good
Familiarity:

I've used it several times
I have the Jones Nomad Pro skins for my good split board and bought these to use in early season when there is a lot rock out. My expectations were pretty low and they shouldn't have been! Great skins that hold well to the board and are able to handle steep inclines without issue. I'll be sticking with Backcountry skins going forward!
Brett L.
Look No Further
Familiarity:

I've used it several times
These skins work flawlessly with the Rome Whiteroom (https://www.backcountry.com/rome-whiteroom-split-snowboard?s=a). As described, easy to use, easy to cut, and grips in every temp. Climb like a goat is no joke.
Jon Torres
Great skins, great price!
Familiarity:

I've used it several times
I just bought my set of these in January 2018, and I'm stoked on them so far! I've used them around 12 - 15 times for full day trips at the time of this review, and have no complaints yet. I previously was using a pair of Spark "Gnargyle" G3 high traction skins, and these seem very similar compared to those with the exception that these Backcountry.com skins are slightly lighter and thinner. Like my previous Gnargyle G3 skins, these are very sticky and I feel it is necessary to use skin savers in the field due to the difficulty involved with pulling the skins apart when they have been folded together without a barrier between the adhesive. Unlike my previous Gnargyle G3 skins, these did not come with skin savers so that was something I purchased separately for these Backcountry.com skins. It may seem silly to some, but I actually have two different skins savers for these; one is for use in the field and the other are G3 skin savers for storage use only. The stuff I use in the field is something I bought at a hardware store for under three dollars, and it's a heavy duty material sold in bulk for use on screen doors/windows. Unfortunately I don't know what the material is called, but it works great as a field use skin saver! Using skin savers in the field tends to make a person slower than others who don't need to use them, but again, these skins are very stick and I feel it's necessary and actually faster to use savers than to not. It's taken me some time to come up with a time efficient method and sequence of managing my transitions using skin savers in the field, but I'm very confident that I can perform my transitions faster and safer using skin savers with these sticky skins than I would if I were folding the skins on themselves. I would be happy to create and share a video of my transition process in an effort to help others who prefer to use skin savers in the field - just let me know here by commenting on this review.
Ethan S.
Great quality for the price
I was recommended these skins by a friend. They work great and we're really easy to fit to my board. G3 supplies an easy to use razor to cut these skins to size.
Paige Carter
Awesome bang for your buck
Familiarity:

I've put it through the wringer
I have the old (almost identical) version and have been using them for 2+ seasons. I've used them in every snow condition from knee-deep powder to wind scoured ice.
They get the job done and don't break the bank; the Alpinist is a nice all-purpose balance of grip and glide. Nose and tail clips work pretty well and are super quick to deploy. Super nice that it still comes with the pouch as well!

The glue has been holding up decently and I expect to get at least 2 more seasons out of them.

My only criticism is that trimming them is tricky. Make sure you position the nose clip juuuuust right before you trim, the asymmetry makes it harder than trimming skins for skis. If you mess up a little (like I did on my left side one) your skin may tend to form a snow-eating pocket near the nose.
Maia B.
This size fell in the gap of what was previously available. Works well. Comes with a backcountry store storage bag.
Marilyn P.
Unanswered Question
Does anyone have a pic of the splitboard skin? The pics on this page show the ski instead of splitboard attachments.

Also, I've heard mixed reviews about the glue on the G3 skins. Any comments regarding this version and the glue durability?

Thanks in advance.
Seth J.
G3...
Familiarity:

I've put it through the wringer
...makes some of the best backcountry gear in the industry. These private label skins made by G3 for Backcountry.com are a great value and offer super performance on the skin up and on the glides as well. Highly recommend !
Mark McEwin
2 seasons in and going strong
Familiarity:

I've put it through the wringer
I ride a Voile artisan 149 and the short size is perfect. If you have questions on the right length for your split, give me a call and I'd love to help.

These skins are durable and have a solid traction. They're not the lightest on the market but you sure as heck won't be sliding down the skin track backwards.

They come with G3's easy to use skin trimming tool to get you the perfect fit for your skin.
Koly Swistak