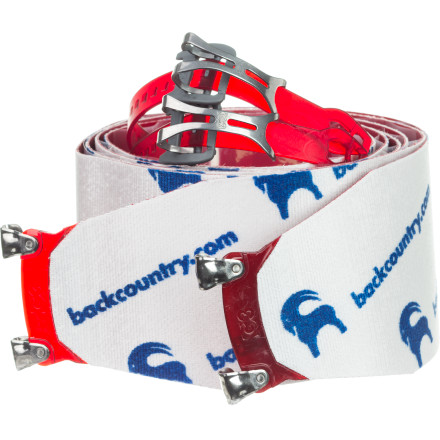 Colors
Get to the top, with a little help from the Goat.
Don't let crappy skins interfere with your backcountry stoke. To help you reach the summit with minimal effort and maximum fired-up-ness, Backcountry.com, with some help from our radical friends at G3, is offering a Goat-worthy version of G3's Alpinist skin. It features all the same technical features, like self-aligning stainless steel hand tip connectors and a self-camming tail clip that make getting your skins on and keeping them there a quick and easy process. They won't come unstuck from ice-cold bases, either, as they're made with a glue that grips no matter the temperature.
They say beauty is only skin-deep, and as usual, they're right―in this case, even more right than they know, because instead of G3's usual pattern, these fast-gliding nylon skins feature your favorite bearded buddy, previously found only on helmets, water bottles, cars, and computers--that's right, it's the Backcountry Goat! Get in tune with his sure-footed vibes and conquer any skin track in style, knowing that you've got a partner who's evolved to dominate steep and icy terrain.
Supple, fast-gliding nylon bases with Backcountry.com Goat print
Self-aligning stainless steel hand tip connectors
Self-camming tail clip with laminated tail strap
Sticky, non-toxic and solvent-free glue
Rip Strip makes it easy to pull skins apart
Skin savers sold separate
SKINNER!
Familiarity:

I've used it several times
These are great skins for an awesome price. These are the second pair I have owned and have had 0 complaints. They have been nice in various conditions and although I have heard some bad things about the glue, i have had no problems, buy some!
Andrew Oaks
Great Skings for A Great Price
Familiarity:

I've put it through the wringer
I think this is a great skin for the price! They are usually on sale and are defiantly worth the money! I have not had any problems with the glue. They do slip on a steeper skin track, but usually everyone Im with is having the same amount of slippage! Great if want to save some money!
Isabelle Powell
Pleasantly surprised
Familiarity:

I've used it several times
I have used these skins on a variety of snow conditions - icy, slushy, powdery, crunchy - and have been very pleased with their durability. I have had good friction on the snow, no issues with the skins peeling away from the ski, and easy storage. The center strip on the skin makes pulling them apart a cinch, without compromising the attachment to the ski. For the price, I'd definitely recommend these to anyone.
Kat
Good for one up, not so much for laps
Familiarity:

I've used it several times
I haven't had the glue problems others mention... in fact, my issue has been the opposite. The skins stick well and come off (leaving no residue on the skis) the first run. But when making laps, by the third go the glue is too frosty (or wet if it's heavy spring snow) to stick. I'd think it might be operator error, but I'm careful not to drop the skins in the snow, to brush off the bottoms of my skis before putting the skin back on, etc etc. I've treated them better than my boyfriend treats his BD skins and am way more careful to avoid glue contamination than he is (from snow, dirt, etc), yet the lack of stick on lap days has been a consistent problem. I bought these a few years ago and don't BC ski too often, but this has been an issue every winter -- seemingly no matter the weather, snow conditions, etc. I'm not sure what else I can do short of holding my skins under my armpits on the downhill to try to keep them warm ... At least they'll stick again once I bring them home and let them defrost and dry. But that doesn't do much good when I'm halfway through a day of powder laps and slipping my way up the skin track. If anyone has any suggestions on how to solve this issue, please share!
Betsy
Adequate and reasonably priced
Familiarity:

I've put it through the wringer
I have two pair of these skins. They work well on moderate pitched tracks but don't hold as well as others on steep slick tracks. They are light weight and flexible which makes them easy to pack or put in your parka / pack. The newest pair I purchased came with a cutting tool that cut too close to the edge so I would recommend cutting them the traditional way (razor knife) as it is nice to have a little wiggle room when putting your skins on in tough situations.
Jacob Dudek
Unanswered Question
What length skis will the x-short skins fit?
Lawrence M.
Unanswered Question
Hi there, can you please confirm that these use the "new" G3 sizing (M 168-184 L 183-189) vs. the "old" one (M 171-181 L 180-190)? I'm asking because they look like the "old" model on the photo. A bit worried about "new" M fitting my 184 Moment Bibbys (I currently have "old" L and it's perfect). Thanks
Kirill Povarintsev
Solid Performance
Familiarity:

I've used it several times
These skins have been great on the skin track! Make sure to get the size right and you will be one happy camper with these skins.
JB Graham
Unanswered Question
Sizing help! I have a pair of Line Manum Opus' that are 188cm long, and 148-124-146 width. Looks like you don't have the "long" in stock for my width but I see the cutoff for "X-Long" is 189cm so I am wondering if it will work for my ski, or if it is a waste of my money? Thanks!
Adam
I need skins for 140cm skis. Can these tails be cut down to accommodate this size and still have the tail piece function?
Craig Wolfrom
Hi Craig, I think you'd be better off with something like the Black Diamond Ascension Nylon STD Skins. With those skins you can trim to fit both in the length and the width then you attach the tail piece once you're done. If you have any other questions, please feel free to reach out to me directly. - Matthew Pizza - Expert Gearhead
Matthew Pizza
Goatworthy
Familiarity:

I've put it through the wringer
These skins will allow you to fly uphill, saving all your energy for the decent. Great sizing options cater to all ski widths and lengths. A solid attachment system compatible with nearly every ski on the market. The included trimming tool makes it easy to customize the skins exactly to your skis shape. Not to mention the awesome Backcountry Goat logo!!!
Fritz Hanseler
what size for a 163cm length 92 wide?
yourDisplayName
Hi Travis, I'd recommend going with the x-short skins for the 163. What is the widest measurement on the ski? Please feel free to reach out to me directly, mpizza@backcountry.com - Matthew Pizza - Expert Gearhead
Matthew Pizza
I have Dynastar Cham 2.0 107-183s. What size of skins should I get? Thanks!
james kowalski
Hi James, If you want to get full coverage of the base of the ski you would go with the 140mm long. The 130mm long would also work just fine on the Dynastar Cham 107's. Please feel free to reach out to me directly with any other questions you have. - Matthew Pizza - Expert Gearhead
Matthew Pizza
I'm wanting to buy these skins, but how do I know which ones to buy according to the length of the skis? I want to buy two sets for 178 and 179 length skis
Rich
Hey Rich - The size of your skins will depend on the length and width of your skis but you might be able to get one set of medium skins for both your 178 and 179 cm skis. Feel free to contact me directly with any additional questions.

- Kyle L. - Expert Gearhead
Kyle Livingston
Hi, I have the 2014 Rossignol Soul 7's. Their width measurements are 136-106-126, and length 180 . What size skins would be best?? Thanks!
Dominique P F.
Hi Dominique, For those skis you are going to want to go with the 140mm Mediums if you want full base coverage on the ski. If you have any other questions, feel free to reach out to me directly. - Matthew Pizza - Expert Gearhead
Matthew Pizza
glue sucks
Familiarity:

I've used it several times
These skins worked great at first and the traction still works great, however, no matter how good of care you take of these things the glue gets super sticky and it almost multiplies and gets on everything. Every time I use them, they leave so much sticky gunk on the bottom of my skis that I can hardly ski at all. I would just not recommend these skins to anyone there are far better skins for cheaper.
Nick Zachman
Great Skins
Familiarity:

I've put it through the wringer
Affordable and easy to use. I have 2 pairs of these skins and my gf has the G3 version. They appear to be wearing well after ~30mi on the trail this season. I have found the clip system at the head to be preferable to the loop from BD and others, as it adapts more easily to different widths and shapes, and as long as you keep it tight, the tail clip holds on well. I have slipped on ice and faceted, shady, icey snow (skied out end of season resort run) but I'm not sure how much better Mohair would be. Definitely recommend as a solid budget skin.

Make sure to get the G3 skin savers to use with them to preserve the glue and your sanity not having to fight to peel them apart.
Ash D.
Backcountry skins
Familiarity:

I've used it once or twice and have initial impressions
Was new to the world of touring and went on a weekend trip in Colorado. These skins were easy to trim, and worked well for the 5-hour trek up to the top of Ajax. Very easy to work with, and I did not have a problem the entire trip!
Leopold M.
The affordable skin
Familiarity:

I've used it several times
I've used both these and the BD ascensions and think both have their pros and cons. I loved how easy it was to set up the G3 goat skins and the trimming tool rocks. These are also considerably more affordable than the BD ascensions. However, the glue on these doesn't last nearly as long. Some people aren't a fan of the toe piece, but I've never had these slip on me, and I'm overall very pleased for the money invested.
Jack Fullmer
Get your goat on!
Familiarity:

I've used it several times
What are goats really good at? Well, besides being a fun time at the petting zoo, they are also wicked good at climbing. Much like a goat, so are these skins. Before picking these up, I was a little hesitant because of the low price point, but they are the same exact thing as the G3 alpinist skins. The trim tool is extremely easy to use, and makes for a super customizable fit. Love these skins and the places they allow me to go!
Hunter Foraker