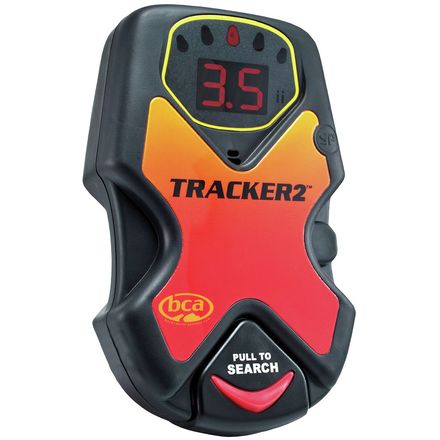 Best-selling beacon with triple antenna.
The Backcountry Access Tracker 2 subtracts weight and size, and adds real-time display and a third receiving antenna to the best-selling, dead-simple Tracker DTS. The third digital antenna increases accuracy and provides a strong buried signal in any orientation, while the real-time display eliminates lag time, allowing you to narrow your search zone quickly when seconds count. The Tracker 2's single search / transmit switch makes learning and teaching a snap, and it reduces confusion when you hit adrenaline overdrive.
50m digital range for a broad search field
Multiple burial indicator lights included
Mechanical search/transmit switch is intuitive
Real-time display minimizes lag time
Third antenna increases accuracy and signal strengths
Avy gear works best when you learn how to use it and practice your skills
Solid beacon
Familiarity:

I've used it several times
Luckily, I've never had to use this in a real-life scenario but it's been working great in trainings and daily tours. The battery is incredible and the beacon itself is super durable. You'll always feel safe with the Tracker 2.
Melanie Harding
Gets the job done
Familiarity:

I've put it through the wringer
I have the Tracker 3, while my boyfriend has this. They both are great devices, however, I must say his is a little larger and the harness bugs him a little. As a whole, the size is comparable to most other beacons and the harness gets the job done. Most importantly, this will save your life so it's 100% worth the purchase.
Sophie Shinsky
Works when needed most
Familiarity:

I've put it through the wringer
I toured with tracker two for several seasons around the world, it never let me down in training (i've never had to use it is a real rescue/recovery). Simple, easy to use and reliable. Only question is its lever to switch modes - can be easily knocked if care is not taken.
richard snowdon
it doesnt get any easier to use and having abused one for years, it still seems to be going strong. I prefer the size of the T3 but nothing wrong with the T2
James Bleuer
This beacon has worked reliably in the backcountry for a very long time. I lost my last one and I'm buying for the second time.
John Quinn
I bought this beacon over the BCA tracker one beacon. After talking to friends and doing a little research, I decided it would be worth the few extra bucks. Online, I found out that the two big advantages of the tracker 2 are the increased signal strength and the quicker processor. Luckily for me, I've never had to use my beacon to be found or to find a buried person, but from what I've seen in my own testing is that the increased number reading speed is very nice. Be safe out there, buy a tracker 2.
Braden Bentson
Reliable and Easy to Use
Familiarity:

I've used it several times
I recently upgraded to this beacon from an older Pieps model because of it's ease of use and from what I have heard it is reliable. The functions are very straight forward and easy to switch quickly into search mode. I also appreciate the bungee that keeps the beacon attached to the carrier strap to avoid dropping it and loosing it in the snow while searching (my previous beacon did not have this feature). This is a great and reliable beacon that I would recommend for anyone looking for an easy to use and reliable beacon.
Sara Gemmell
Great beacon to get me started
Familiarity:

I've used it several times
I am new to the back country and wanted something that would keep me safe but not have to spend a ton. This beacon is perfect! 3 antennae and multiple burials are what i needed and it has both. I would highly recommend this for anyone getting into back country skiing!
JT Nebeker
I recently upgraded to a Tracker 2 from the regular Tracker as mine was getting old and less reliable. I love how intuitive the tracker is to use. But like any beacon practice makes perfect and it took me a few days of practicing to feel entirely comfortable. I love that pulling it out easily switches it to search mode, and it won't turn off in search mode.
Emery Gaylord
Buyer's remorse
Familiarity:

I've used it several times
Actually searching with this beacon is just as easy as with the old tracker, and it is durable and rugged to the rigors of backcountry skiing. I never worry about it breaking or anything but I'm not super happy with it.
I chose this beacon over the Tracker 3. I thought the difference in price between the two was just due to the low profile of the Tracker 3. Therefore, I went ahead and got the Tracker 2. However, upon comparing the two beacons in the field with a friend who had a Tracker 3, I found the range of mine was not as good. I also found in practice that if you are using the beacon, it is very easy to accidentally push the button and return it to transmit mode. This was, thank goodness, during practice and not a real event. When you are just staring at the display, of course, you would notice. However if your beacon is in search mode and you are going for your shovel or something like that it gives you an opportunity to push the button. These are serious drawbacks. I will probably replace the beacon soon. Given that I just spent $300 on it, I am considering keeping it for another year or so. But if I come across a mattress full of money I will probably replace it sooner. I would not purchase this product again and I would not recommend it to a friend.
Allison S.
Perfect beacon for all scenarios
Familiarity:

I've put it through the wringer
After using the Tracker DTS from BCA for a few seasons, I decided to get a tracker 2 to up my beacon game. The Tracker 2 is easy to use, durable, and extremely dependable. The more you use it, the better it gets-but it is easy to use from the start. I have not had to use it in an actual avy, but I train with it every year to stay practiced and on top of my skills. I loved my DTS, but the Tracker 2 is a great step up from it.
Pierce McCrerey
Rugged, dependable, and simple.
Familiarity:

I've put it through the wringer
The reality of backcountry skiing is your gear gets abused. Throwing packs into back of pick-ups, sitting on gear on windy peaks, heavy sweating on the uphill, and below zero on the down. The Tracker 2 is safety gear you can depend on. Period. Pick it up you'll recognize the ruggedness. And, of course it is super easy to use.
Ken Lucas
Straightforward Workhorse
Familiarity:

I've put it through the wringer
The T2 is as user friendly as they come. It doesn't sport all the bells and whistles like some of the other beacons out there on the market, but it works when you need it. Single burial function is very straight forward, while multiple burial feature does take some reps to get comfy with. Practice practice practice!
Gavin Grant
A Robust, No Fuss Transceiver!!
Familiarity:

I've put it through the wringer
After happily using my trusty BCA tracker for about 10 years, I decided to cave to peer pressure and try the Barryvox Pulse this season. For me, this was a mistake. I found myself missing two things most: 1. Its signal acquisition speed and accuracy, which for me was superior with BCA, and 2. it's ease of use. Let's face it: even when practicing, an avi search requires focus, confidence and swift decision making. I don't want or need a complex instrument in this setting...I want what I know and can use easily and quickly.

Indeed, the BCA Tracker is a robust, no-fuss avalanche transceiver and I'll be returning to it for 2017-18.
Geoffrey M.
Safety is Key
Familiarity:

I've used it several times
This beacon is very user friendly but has enough features to be safe. Running drills with this thing is super easy to find people and the pin point accuracy is literally a life saver. For the extra money its nice to have the triple antenna.
Courtney Scott
Safety First
Familiarity:

I've put it through the wringer
The Tracker 2 builds off the proven performance of the Tracker series which has been an industry leader in beacon technology for many years. This beacon is straight forward and easy to use, as always make sure to take an avalanche safety course to gain adequate knowledge before venturing out into the backcountry.
Fritz Hanseler
Ease of use and reliability
Familiarity:

I've put it through the wringer
I've owned this beacon for ~3 seasons now, and love it. It's not a million dollar beacon that can order a cheeseburger for you at the bar, but it gets the job done. Single beacon search function is super straight forward, but I advise you to really practice the multiple victim burial mode to learn the nuance of that function.
Greg Gavin
No brainer
Familiarity:

I've put it through the wringer
Pull the tab to search, its that simple. The triple antenna is the new standard for beacons and a major improvement over the old double antenna design. If you are venturing into the backcountry this beacon is the way to go. BCA makes the best beacons on the market and are consistently some o the best selling times on the site. Pick one up and be safe out there!
Trey Schanzenbach
No Frills Backcountry Tool
Familiarity:

I've put it through the wringer
Being based out of Bozeman, MT and skiing Bridger Bowl means you're wearing your beacon every day of the season, in bounds or out. This simple tool is something your can rely on day in and day out. The idiot proof pull tab send/receive switch is ideal for high stress situations when there is no time to be wasted. Coming in at just $299 this 3 antenna super functional beacon gives a huge bang for your buck, and peace of mind in the mountains.
Carter Snow
Great Beacon For Any Level Rider
Familiarity:

I've put it through the wringer
Been using the Tracker2 for a few years now and it has been a critical component in my backcountry adventures. The triple antenna on the Tracker 2 gives me a lot of assurance to be able to locate a friend in need in case a slide is triggered. The interface is very intuitive and can be operated by just about anyone of any age. With all of this being said the tracker 2 comes at a very reasonable price that is much lower than the price of your life. Perfect beacon for anyone looking to get into backcountry skiing, snowboarding, or snowshoeing.
Sam Hurst