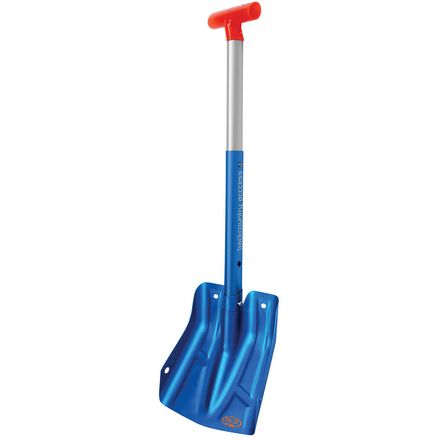 Colors
When functionality counts the B1 won't let you down.
When you're looking for a bit more leverage and comfort turn to the Backcountry Access B1 Extendable Shovel in your shoveling endeavors. Its unbeatable strength-to-weight ratio impresses you when you dig a pit, kicker, or snow cave. Thanks to its durable components and ergonomic grip this strong shovel won't let you down when you're in a pinch either.
Mean Shovel
Familiarity:

I've put it through the wringer
I've beaten the tar out of this shovel from hammering thru old avy debris to digging out a car.

This thing is tough and light.
Fits great in my pack.
Used it all over world.

Miles Clark
Effective and Affordable
Familiarity:

I've used it several times
I've had this shovel for two seasons now and am totally satisfied with it. It packs down plenty small to fit in any reasonable pack, it's light enough to hardly notice, and it does a solid job of moving snow. The flat blade is also useful for getting the walls of your pit nice and flush. The compromises with this shovel are that the handle doesn't extend as long as some other shovels, requiring you to bend more and giving you less leverage, and there aren't any extra features like a removable snow saw, but I think these compromises are totally fair at this price. If you just need a straightforward and solid shovel for your kit, this will work great.
Scott B.
Backcountry Go To
Familiarity:

I've put it through the wringer
I have used this shovel for quite some time and love it. It's lightweight, durable, and reliable. It easily fits in any pack and moves snow extremely well. I have only used this digging pits and mock scenarios, but feel confident that it would perform well in an emergency.
JB Graham
This shovel fits well in my pack, is light, and is sturdy when it comes time to be used. What more can you ask for?
Braden Bentson
Good solid shovel
Familiarity:

I've put it through the wringer
Packs down small and shovels snow well. Metal blade won't break
Tyrannosaurus Dex
Strong, durable, portable
Familiarity:

I've used it several times
Very strong and durable compared to shovels I have used in the past, especially for the price. Fits in every pack that I bring with me and the extendable handle is about as user-friendly as it gets. I have never had to use the shovel in an emergency dig-out situation (and hopefully will never have to) but it digs a great pit and builds a nice jump! This is also really handy to keep in your vehicle for winter emergencies.
Matt Lancaster
Light, great price
Familiarity:

I've put it through the wringer
BCA sets themselves apart here by providing an extremely light weight shovel at a great price, with an efficient blade shape. Thankfully, I have never had to use this shovel in an emergency, but while practicing burial situations and building jumps this shovel does everything that I need it to do. Quick, effortless assembly and easy handle length adjustment make this a user-friendly, no frills product. The B1 fits perfectly into my backpack, even if it is packed to the brim. Overall, I can't think of much more that I would want in a shovel.
Xander Guldman
Solid and Light
Familiarity:

I've put it through the wringer
This shovel has been my go-to shovel for backcountry skiing. I like that it is small enough to fit in all of my packs and it has a solid handle. This shovel is also great because it extends far enough to make it easy to use. Sometimes the locking mechanism will freeze up, but that's the only issues I've ever had (and I have that issue with pretty much every shovel out there.)
Jake Ward
Bomber shovel, right size
Familiarity:

I've put it through the wringer
This shovel is just what I need, and nothing I don't. It is small enough and shaped well to fit in my pack without causing a game of Tetris for packing around it. The blade is definitely still big enough for good digging, which is of course what matters most. I've even used this in the spring to help get my truck out of a mud hole. It works. It's built well. What more do you need in a shovel?
Drew
Dig it!
Familiarity:

I've used it once or twice and have initial impressions
Picked up this guy in the T3 Rescue package along with the Tracker 3 and Stealth 270 probe. So far have done only practice with it as I a still putting together my full split-board set-up but my impressions so far are that it is lightweight, compact, durable and a great value for the price.
Ryan Potts
Durable
Familiarity:

I've used it several times
This is a great shovel. I can also use the handle with my old arsenal shovel head if I feel like carrying a bigger shovel.
Scott D.
Seems perfect
Familiarity:

I've used it several times
While the head isn't very large, it moves snow efficiently and packs down to fit in a small pack. Digs pits just fine and is pretty secure when all clicked into place. Some other shovels I've tried kind of feel loose when assembled, but not this sucker.
Dom Totino
Will this shovel fit in an Osprey Kode 32 pack?
MTN COBBER
Hey William,



Yes - this shovel will fit in the Osprey Kode 32 pack no problem!



Happy New Year!
Suzy Williams
Only Avy Shovel You Need
Familiarity:

I've used it several times
I just got this shovel last season and absolutely loved it. First off, the shape of the blade and its slim profile made it an easy fit in my pack, no matter how much else I had to carry that day. It's no frills and works great for digging too, although I haven't and hopefully won't have to use it for real! In training exercises and other uses I have been very impressed though. It's built tough, which is a huge key for any shovel. Evidence: I used it to shovel dirts and rocks when I got my truck stuck this spring.
Drew
Solid shovel but know what it is.
Familiarity:

I've used it several times
I actually lost my handle for the old BCA companion shovel so I decided to just buy this BCA and hope the handle was a perfect fit. It was. I'm actually really stoked on the 2 blades. The only thing I have bad to say about the the companion is sometimes the blade is too big for smaller packs and this is where the B1 is nice. It's small but not tiny. It's perfect for solo days and side country for my needs. It does have a flat back so if you wanted this as your everyday shovel, it works great for pits. however there are better shovels for moving large amounts of snow fast in full burial situations.
Kyle
Great all around shovel
Familiarity:

I've used it once or twice and have initial impressions
This shovel is awesome, it's incredibly light, compact, and easy to get out and use (but hopefully you don't have to, unless you're testing snowpack or building a booter!). I have yet to use it in the backcountry but it's definitely going to be my daily shovel from here on out.
Gabe Boogert
Simple, light, compact, strong
Familiarity:

I've put it through the wringer
The only 4 words i would use to describe this shovel. It gets the job done and it fits in all packs that i have put it in (even a 11L osprey carve).

Very fast to put together so in a rescue situation you know you have a reliable shovel to lean on in a time of need and speed.
Grant Kates
Shovel worked great on a recent trip to Mt. Whitney. Very light and loved the way it breaks down into the shaft and the shovel head. I also loved the machined out holes on the shovel head that made fixing it to my pack very easy. Digging a hole under the vestibule of the tent made for a awesome place to fit all the gear and put on boots in the morning with ease. Also the shovel did great when digging out the tent after the storm. I am very pleased with this product.
Brendon W.
Black Diamond has always been my go to for shovels but I decided to mix things up and give BCA a try based on the reviews here, price, and blade shape. Working well so far!
Than Volk
very light shovel
Familiarity:

I've used it several times
I picked up one of these because it is really light, and it works! You can break it down into 3 small sections. I let my teenager carry it in her pack skiing Silverton. FYI, I do test gear for Gore, from time to time, only gear that I choose to test.
JMJR