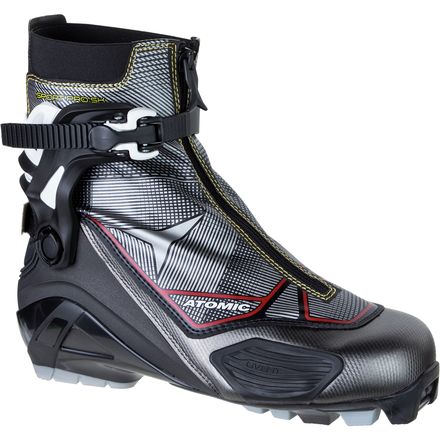 Colors

Detail Images
One step away from the performance of Atomic's WorldCup boot but still firmly in the comfort zone.
You skate ski for the joy of it. You enjoy opening it up on the straightaways and you get your heart racing to work up a sweat, but you're not one to punish yourself by entering every race in town. You choose your gear to match your passion, and when you're looking at a new boot, the Atomic Sport Pro Skate Boot should come to mind. This boot is an ideal balance of performance features trickled down from Atomic's line of WorldCup boots and comfort features borrowed from the Sport series.
At 620 grams, the Sport Pro boot is just 11 grams heavier than the race-bred WorldCup Skate Boot and 10 grams heavier than the Sport Skate Boot. Although similar in name, the Sport Pro differs from the Sport Skate due to its narrower fit, ratcheting cuff adjustment, and canting system. Both the fit and cuff adjustment are features that the Sport Pro shares with the WorldCup, but the canting system puts the Pro boot in a class of its own. No other Atomic Nordic boot (race or otherwise) allows you to adjust the angle of your boot cuff to match the natural angle of your ankle through a cant adjustment. That's just another nod to this boot for delivering where it counts when it comes to fit customization and comfort.