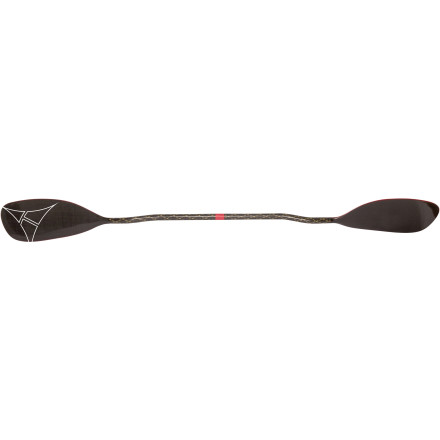 Colors
Heaven in hand for the most punishing paddlers.
This is the mack daddy, the power stick of the pros, and the choice of whitewater rodeo clowns with a taste for nothing but the best. Fully carbon and strong as an ox, the AT Paddles AT2 Superduty Whitewater Paddle never backs down. Stuff it in a churning hole, drag it through ripping hydraulics, or ease it down the run of a river all day—the Superduty Paddle will do it all. Blade to body, this is one tough paddle.
Carbon & Aramid braid shaft is lightweight, flexible, and supremely durable
Unibody construction means that this paddle was formed as a single piece from start to finish
Cutaway asymmetrical shaft design allows your grip to stay natural instead of super-tight
Blade offset of 30 degrees offers powerful purchase and maximizes efficiency with each paddle stroke
Large, contoured carbon braid blade has protective trim around the perimeter to protect it from abuse, and the lightweight foam core makes it buoyant
Full control grip gives you the most secure handle on your shaft
at superduty review
Familiarity:

I've put it through the wringer
AT nailed it on this one.. I was always a Werner Powerhouse kinda boater, not knocking Werner at all, they also make a great product and are very dependable! but I felt as a heavier boater the AT superduty was stiff enough for me to poull my weight and ergonomically my wrists loved it! and not to mention when I broke my paddle.. no questuons asked they sent m e a new one!
Allison S.
Lightweight but Trustworthy
Familiarity:

I've put it through the wringer
I picked up an AT2 Superduty because I needed something that would be easier on my shoulder that's seen two reconstructive surgeries. Prior to the AT2 I was using an AT4 that was much heavier, stiffer, and had much larger blades.
The AT2 is great; the smaller blades and subtle flex seriously reduce the stress on my shoulder, and the low weight definitely reduces fatigue in flat sections of river.
I still have the AT4 as a backup, but the Superduty is absolutely my go-to for just about any water with the exception of very boney rivers. I haven't had any issues with the Superduty's durability, but I'm much more comfortable scraping my way over rocks with the fiberglass AT4.
Jeff Catalano