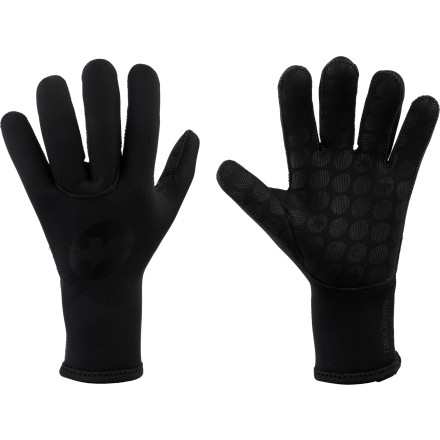 Colors
Let it rain.
Never one to shy away from the harshest of weather conditions, Assos decided to revisit its highly-specific winter glove collection with the intent of designing a pair of gloves specifically for cold, rainy cycling. What the revered technical apparel designers came up with might look fairly basic upon first glance, but let us assure you that the Assos rainGloves_s7 are anything but.
Striking a similar appearance to its InsulatorGlove L1_S7 gloves wasn't by accident, as the rainGloves_s7 were developed to be paired with these on the coldest, rainiest of days. But let's take a step back and examine the s7s on their own. Assos composed the gloves with its Ultralight Neoprene fabric for both its insulating properties and ability to repel water. The material was cut with palm panels uninterrupted by seams, which, compared to many gloves out there, is practically unheard of. By not having any joined fabric panels along the interface between the gloves and your handlebars, feel is maximized and the chance of friction and chafing is wiped from the equation.
Assos applied its ultra-tacky proGrip treatment to the palms of the rainGloves_s7, meaning that your fingers and hands remain securely fixed to your bars and levers, regardless of how wet it gets out there. The gloves were finished off with smooth cuffs that extend up just past your wrists, further blocking the elements at that critical glove/jacket junction.
The Assos rainGloves_s7 are available in seven sizes from XX-Small to XLG (XX-Large) and in the color Black Volkanga.