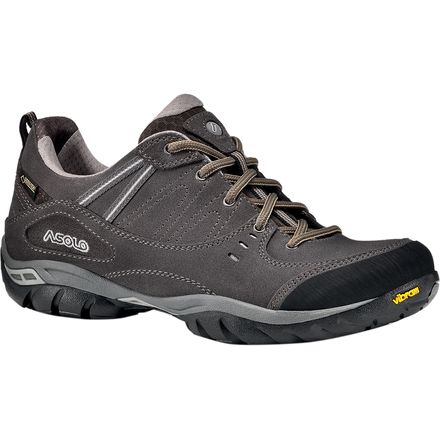 Colors
A waterproof hiking shoe.
For your spring foray to Iceland, you'll be glad you packed the Asolo Women's Outlaw GV Hiking Shoes. These waterproof hiking shoes are a bit less sluggish than ankle-high hiking boots while still giving your feet the goodness of Gore-Tex. You can explore remote areas and stroll through Reykjavik without suffering from wet feet and wrinkly toes. The water-resistant suede uppers mean droplets bead up as your wander through a dense, misty fog, and the Gore-Tex Extended Comfort linings block the drops that do manage to soak through the suede. Splash through shallow puddles or hike a boggy trail without worrying your toes will resemble raisins within seconds. Laces let you tweak the tightness for constant comfort, humping up hills or sliding down steep slopes. A rubber toe cap saves your little piggies from bumps and bruises of trail debris.
Inside the shoe, Asolo tailored the shape so the Outlaw is anything but a bad boy of fit. Mirroring the contours of the foot, the boot flows from one step to the next without hitches and hiccups you've come to expect from stuff and rigid hiking boots. The polyurethane midsole offers softness and support for miles on end without forcing your foot to adopt awkward movement. Vibram rubber soles sport self-cleaning lugs which grip the ground whether you're hiking over muddy and gravelly trails or exploring fish markets on rain-slicked docks.

Gore-Tex Extended Comfort
Suede upper, water-resistant
Lace closure
Polyurethane midsole
Rubber toe cap
Vibram rubber sole
Self-cleaning lugs