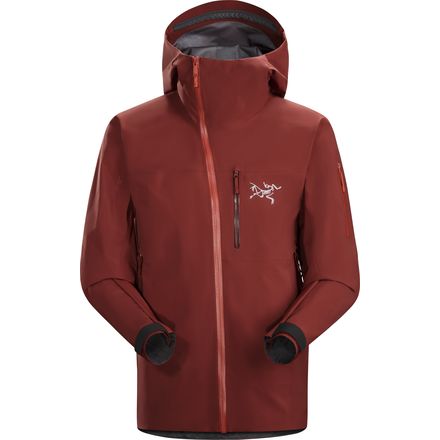 Colors
Snow dragon.
Stand at the edge of a precipice, unclench your white-knuckled fists, and know that whatever happens once you're moving down the mountain, you'll be dry in the Arc'teryx Men's Sidewinder SV Jacket. Part of the Whiteline lineup, the Sidewinder SV is a refined version of its lean-and-mean self for big-mountain exploits and storm-proof protection. From technical mountain routes to powdery face shots at the resort to brutal weather in the backcountry, the Sidewinder takes it in stride.
Exceptionally breathable and rugged, N80p-X Gore-Tex Pro 3L shell fabric resists the bumps and bruises of cliff-hucking and trick-flipping. Gore-Tex gets you, and the Pro technology stands at the ready for your hot-and-cold approach to adventure: one minute you're racing up a hill or across a bowl, and then next minute you're kicking back a on snow bench for a quick bite to eat. Sweat won't get the best of you, stopped or on the move. When the sun comes out and temperatures rise, open the underarm vents to let off some hot air.
Ski shell optimized for powder days and backcountry tours
Gore-Tex Pro enhances waterproof, breathable protection
Thin, three-layer construction is light and packable
Athletic, e3D patterning designed for layering and mobility
Underarm ventilation amplifies airflow
Powder skirt keeps waist-high pow out of your jacket
Adjustments at hood, hem, and cuffs keep snow out
Hard-core ski shell, overkill otherwise
Familiarity:

I've put it through the wringer

Fit:

True to size

Size Bought:

Medium
For what it's made for, this shell is the best you can get (with the price tag to match). It fits a little looser than the Alpha or Beta lines from Arc'teryx, but I found the Medium to be a perfect fit for a ski jacket. For skiing both in the resort and in the back country I have absolutely no complaints. If you're there a lot and need a lot from a shell, you can't go wrong with this.

However, for a $700 dollar jacket it's a little too purpose-built. The powder skirt isn't removable The hood, while brilliant to wear with a helmet is a little comical to wear without one. The sidewinder zipper is only nice if you zip it all the way up and leave it there; zipping and unzipping it is a two-hand job unless the hood's up, and it's hard to get the collar to not flap awkwardly in your face when the zip isn't all the way up (you can get it to flatten nicely with a bit of work though). The inner chest pocket is just a little bit too small, and the fleece inner isn't particularly comfortable against bare skin. It's also far from packable.

Again, all of these problems go away when it's -10, there's a foot of new snow and you're lapping gnarly lines all day. The front pockets are way big enough for skins, and there's a nice pouch on one side of the zipper on the inside of the jacket, too. You can slip the hood over a helmet and forget it's there, the powder skirt works fine, especially if you also have Arc'teryx pants, which snap right into the jacket. And you can stuff as many layers as you want under the Sidewinder while still looking good and maintaining mobility. A backpack fits well, too.

Where the jacket gets annoying is anything that isn't skiing. For climbing and mountaineering the zippers and everything are just a bit impractical, especially if you're concerned about temperature regulation. The same goes with wearing it around town, it's just a bit too much. You can tell it's been designed to wrap you in a big hug and protect you from whatever nature throws your way, and it does that well. It doesn't really work as something you just throw on to go out because it's a bit chilly and snowing.

If you do a LOT of skiing and value durability, protection and ski performance above all else, this is the jacket for you. If you want something that skis well, but that you can also wear in the city and on hikes and climbs, you may want to look elsewhere. This jacket has a clear advantage in ski performance than the Alpha and Beta SV jackets, but trades off flexibility for its edge.

Final notes: Arc'teryx colors haven't always been my favourite or at least the most eye-catching, but they all sort of...work. There's definitely a subtle attention to detail that feels timeless (and expensive). The only thing I dislike is the "made in China" tag. I would love to know that it was made right here in Canada, especially with that big price tag.
Dwigt
Height:
6'00"
Weight:
145lbs
15 Years Later and Still Kicking!
Familiarity:

I've put it through the wringer

Fit:

True to size
My dad has had this shell for 15 years and I have had the women's version for about 10 years.
A little about my dads as they do not make a women's Sidewinder anymore.
5 years ago Arcteryx replaced the zipper on it for about $20. It did take almost all season to get done, but the shell was 10 years old so he couldnt complain!
My dad skis on average 35 - 40 days a season and has skied in this shell almost every day! 15 years later is it showing a little wear and tear on areas around the seams but still works perfectly. He has washed it with nicwax a few times but it has remained waterproof.
As far as fit goes I am sure that a few things have changed over the years. He has a large and it fits well. A complaint we both have is that the top of the shell seems to bunch up and out when sitting.
Isabelle Powell
Just used this for 12 days in all conditions. Heli, touring, resort. Dry, wet, windy, cold, warm. It is very very good. It's light, has great pockets and most importantly Is completely waterproof and windproof. I took some big spills and went through and into some very rough trees and it showed no wear. No tears. Perfect. The curved zipper is fine. Not a negative or a positive. My top 3 jacket traits are waterproof, windproof, and tough and this jacket nails all 3. The only .5 deduction is for the pit zips which are hard to use as well as all the zips which are small and tough to use. Obviously you need to layer under depending on conditions. The cut allows for this. I'm 6ft 200 and it's big. I got the large.
john
Love this shell to death!
I've been wearing a sidewinder now for about 10 years. They are expensive but they are also tough as nails and so is their warrant. I'm 6'2" and 180 lbs and wear a large. They are cut big so don't size up. I wore my first one for almost 10 years before experiencing problems, some warranty covered and some my fault. Sent it back to get fixed and they noticed some delamination I hadn't. They replaced it for the cost of shipping which I would have had to pay anyway. Not only great in the winter with layers but I also wear it as a rain coat in the summer. Love this coat!
jason markey
Initial impression continued..
The sizing is strange. It definitely runs large. As I was trying it on I was thinking to myself "maybe I'll return it for a large." Then I realized I had already ordered the large. It is quite roomy, you can easily layer under it. For me, I could probably have got away with ordering a medium and I never wear a medium. I am 6 ft 200lbs and the large was roomy.
john
I like it a lot. I have only worn it around town at this point to try it on. I can't speak to its performance on mountain yet.
john
Super nice tech shell. Great for skiing. Not sure how I feel about the diagonal zipper at the top. Probably great if you have a beard.
Marshall G.
Jacket failed after 10 days...
Familiarity:

I've used it several times

Fit:

True to size

Size Bought:

Small
Disappointed with the performance, went on a ski/snowboarding trip and the jacket failed at the left arm seam. This was an obvious failure of the arm stitching and I really expected more from this jacket which was marketed as being one of the most durable snow jackets. I didn't have any major falls beyond what is normal and the jacket was purchased less than a year ago and only used for 10-12 days. Warranty experience was not quick enough when I reached out, factory store told me it was "wear and tear". Online was better however I needed a repair/replacement within two weeks for my next mountain trip but they were too slow in responding with options. Ended up returning the jacket to the store where I got it. Tried to write a review on their website however the review wasn't approved! Really disappointed with Arc'teryx customer service and honesty with product quality...
Wayne F.
Height:
5'10"
Weight:
155lbs
Love it!
Familiarity:

I've used it several times

Fit:

Runs large

Size Bought:

S
I love this shell! It does fit slightly on the larger side (small is more like a medium) and definitely needs a nice puff jacket/midlayer under it to keep you warm but it is absolutely water/ice/storm resistant and nothing gets through it.
Milad S.
Height:
5'7"
Weight:
152lbs
Great Shell
Familiarity:

I've put it through the wringer

Fit:

Runs large
This thing is a great shell. I love that the zipper is not contacting my mouth or nose. I think it's a little thin, so I question the durability. I'm impressed with the design and fit. It's bigger than I thought, but that's ok because I layer.
Dan Bishop
Great boarding shell
Familiarity:

I've put it through the wringer

Fit:

True to size

Size Bought:

XL
Size:
I normally wear an XL jacket or shirt and this arcteryx jacket was no exception.

Fit:
Jacket has a great athletic style fit to it. This jacket is notably larger than my arcteryx beta AR. However, it is meant to be. This is supposed to be part of a layered system. It provides plenty of space for this. The namesake sidewinder zipper feels very good when zipped to the top. If you try to leave it partially unzipped it feels odd; you will find yourself trying to straighten the jacket, even though it is on straight because it doesn't feel quite right.

Function:
I have taken this on many trips but my first demonstrates it's performance. I took this jacket to a weekend trip to Lutsen with my family in February. During the trip we had a blizzard but were insistent on getting to the mountain. Most of the day we were lucky if we could see 50 ft in front of us, often we couldn't even find the lift. The snow was very large, wet, and heavy. The snow would melt as soon as it landed on you. Everyone in my family got soaked to the bone within an hour. I destroyed a brand new pair of snowboarding mittens it was so bad. This jacket kept me dry the entire day. Near the cuffs it has a "damp" look which indicates the DWR had failed, however the next goretex layer held strong and no moisture went through. The photo is in the lift from this trip.

Quality:
The quality is outstanding. The coat feels great. The zipper feels super solid. I have no fear anything will fail. If it does, it is covered by a lifetime warranty.

Cost:
I can not personally tell you if a $800 jacket is right for you. You can get them cheaper at the end of a season. However, this jacket is a high performer and has a lifetime warranty. You should not NEED to buy another jacket ever again. Really how much more technology than goretex pro will you need?

Colin Breckler
Height:
6'1"
Weight:
200lbs
Durable Jacket
Familiarity:

I've used it several times

Fit:

Runs large

Size Bought:

Small
Great jacket for cool people
Serz
Height:
5'9"
Weight:
150lbs
Great shell, but not $700+ great
Familiarity:

I've put it through the wringer

Fit:

True to size

Size Bought:

medium
Bought in December of '14. After 2 years of use and 100 days, still going strong.
-No rips or tears, despite countless thrashings by trees, rocks, etc.
-After season 1, zipper's gotten a little janky, which I wouldn't expect from a $700 jacket.
-Wind resistance is awesome, fortress-like.
-Helmet-compatible hood is sort-of compatible. Larger helmets don't work as well.
-The off-center zip is MONEY for bearded dudes. Beard caught by zipper-->Bad day.
-If I had to do it again I go with Norrona. Same features, cheaper, better colors. The arc'teryx thing is really just a status symbol at this point. It's nice gear, but that alone isn't worth the price difference.
Dylan M.
Height:
6'2"
Weight:
180lbs
These prices are getting out of hand
Familiarity:

I've put it through the wringer

Fit:

True to size

Size Bought:

medium
I've been wearing a Sidewinder SV for several years now, and these prices just keep going up. They're great and all, but $725? Holy crap. Won't you be worried all the time that you'll screw the thing up?
Patrick I.
Height:
5'7"
Weight:
170lbs
Buy it. Just buy it.
Familiarity:

I've used it several times

Fit:

True to size

Size Bought:

Large
Finest ski shell I have ever owned. Great for 10 days skiing Lake Tahoe. So thin, but locked out wind. Lots of long zips to vent heat when it hit 50. Great with one layer (T-shirt) or several layers of insulation. Side zip really does reduce facial abrasion. Great jacket.
Erik U.
Height:
6'1"
Weight:
200lbs
Good Choice
Familiarity:

I've used it once or twice and have initial impressions

Fit:

True to size

Size Bought:

Xxl
Waterproof, windproof, comfortable, get pocket setup, accommodates layers, fits great. I got a xxl, I'm 6'6" & 230 lbs. and wear a 38" dress shirt. The xxl fits perfect. Hope you like it as much as I do.
Michael S.
Height:
6'6"
Weight:
230lbs
Best technical shell I own
Familiarity:

I've put it through the wringer

Fit:

Runs large

Size Bought:

Large
I loved this jacket so much I got another in a different color. I've been this thing to hell. I've worn it shoveling my driveway, skiing in the backcountry, alpine climbing, at a gun range, to the local bar and it does everything amazingly.

It's the typical pro-shell type of fabric (sounds like a garbage bag), but it's an essential piece of layering gear. It's a little bit of a roomier fit, lets me layer up plenty. I have the generation before this one, but the construction/materials are pretty much the same.
SkiingMonkey
Height:
6'2"
Weight:
215lbs
Great Shell
Familiarity:

I've used it several times

Fit:

Runs large

Size Bought:

Small
This shell is awesome! I am able to layer up on the colder days and just wear it out in the rain any other time. The materials are high quality like always with Arcteryx brand. I purchase Arcteryx as much as possible. The only thing I don't enjoy about this and many other jackets like it is the noise, I generally like to be a quiet person and its crackly and loud. Still a great jacket.
It did fit large so I purchased a small instead of my usual medium
Brett Lafeen
Height:
5'6"
Weight:
170lbs