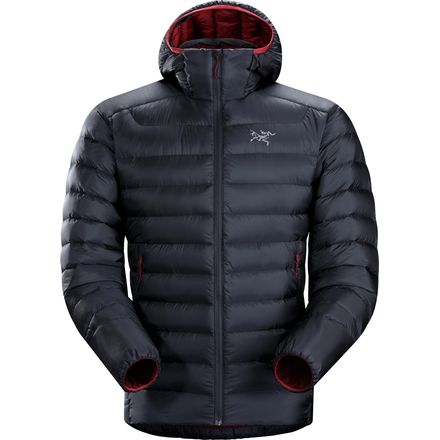 Colors

Detail Images
Don't break down when it's cold outside.
Cerium is the most abundant rare earth metal, and it decomposes slowly in cold water and rapidly in hot water. The Arc'teryx Men's Cerium LT Hooded Down Jacket is not quite as prevalent as its namesake, but it does slow your decomposition in cold weather. The combination of 850-fill European goose down and strategically placed Coreloft insulation keeps you warm whether you wear the Cerium alone or under a hardshell when you're confronted with a winter tempest most storm chasers avoid.
Big numbers are fun when it comes to betting odds and down insulation. A higher fill-power down, like the 850-fill used in the Cerium, refers to how much space a single ounce of down occupies. The more space taken up by the down means more air is trapped between the fibers. Trapped air creates a barrier between warm air from your body and cold air in the environment, so you stay warm when it's cold outside. Taking this logic one step further, if one ounce of a certain down takes up more space than a different type of down, it stands to reason you'll need less of the 'bigger' down to keep you warm, thus reducing the weight of your jacket. In essence, this jacket's high down fill makes it both light and warm.
Since down doesn't maintain its warmth when it gets wet, the folks at Arc'teryx placed synthetic insulation in the spots that are most likely to get a bit damp. Still, while Coreloft insulation does resist moisture better than down, and an ominous drizzle won't leave you a cold, soaking mess, it's best to pair this jacket with a waterproof shell if you know stormy weather is coming. This superlight hooded jacket comes with its own stuff sack so you can easily bring it along and so your pack stays organized. The same 850-fill down fills the low-profile StormHood so your melon stays warm. (Mom was right—if you keep your head covered, you'll stay warmer.) Two zippered hand pockets hold your keys and phone, trail map and candy, or your partner's ID and lip balm.
A lightweight insulator for climbing, skiing, and hiking
850-fill European goose down insulates and is highly compressible
Coreloft synthetic insulation in areas prone to moisture
Lightweight Airetica shell with DWR treatment resists moisture
Low-profile StormHood insulted with 850-fill down
Jacket stuffs into included stuff sack for easy packing
Trim fit layers comfortably under a shell when clouds gather
which size i can choose for Arc'teryx Cerium LT Hooded Down Jacket - Men's , my weight :143.3lb and height: 67 in
Elina
Hey Elina, As it has a more trim fit, i'd recommend going with a medium for it to be most comfortably fitting for you! If you have any other questions or anything I can do for you, feel free to reach me at cojohnson@backcountry.com or my direct line 801.204.4547! Cheers, Connor
Connor Johnson
Arc'teryx – Men's Cerium LT Hoody
Streamlined, lightweight down hoody filled with 850 white goose down. This backcountry specialist hoody is intended primarily as a mid layer in cool, dry conditions.
Stephen Sramek
Does anyone know which is warmer between this jacket and the Patagonia Down Sweater Hoody? I realize warmth is somewhat subjective, but I'm just curious if there is any measurable difference between the two aside from weight.
Erik P.
The reviewers at outdoor gear lab said that the Patagonia down sweater is slightly warmer, and they're pretty detailed in their reviews. I'd check em out to see which one is best for you. http://www.outdoorgearlab.com/Down-Jacket-Reviews/Patagonia-Down-Sweater-Hoody
Zach B.
Cerium LT is 850 down fill at 275g total, and Down Hoody is 800 down fill at 428g total, 56% heavier. Despite a slightly less fill ratio, the Patagonia will have significantly more fill insulation and will keep you a notch warmer. These type of jackets don't breath well unless they have some sort of hybrid breathable panels, so I always say get the warmest you can comfortably carry, which would be the Patagonia. Only reason to get the Arc'teryx would be if you'll be carrying it frequently in a pack and need to absolutely pinch grams.



Which by the way, Backcountry.com it's time you list Grams on all your products...the entire world and most manufactures use only Grams, yet you still don't have it...
Snorske
I'm not sure Snorske has their info correct........this jacket claims total overall weight of 9.7 oz and stats 3.35oz of down fill weight. 9.7 x28 grams =271.6 grams so Snorske claim of 275 grams is not the weight of the down or a reflection of the warmth. So according to my research and numbers thats but 93.8 grams of actual down fill. In comparison TNF Super Diez is a 900 fill down with 130 grams of actual down fill.
Harold D.
Outstanding jacket for freezing temps
This jacket is very windproof and super lofty. This down layer insulates very well but does not restrict your mobility. I took a couple good falls out on the mountain and it still kept me warm and dry. This jacket is not intended to be waterproof however, it is very durable and tough. This jacket is perfect for riding on powder or on the trail.
Nicholas Clark
Allen
Which jacket is warmer? The Arc'teryx Cerium LT or the Arc'teryx Thorium AR?
timothy T.
Tomothy,



For the most part the jackets will be fairly similar but looking into the details, here is a break down of the finer points:



Thorium AR (down): 750

Cerium LT (down): 850



Thorium AR (fill weight): 3.5oz

Cerium LT (fill weight): 3.35oz



Thorium AR (Synthetic insulation): 80/140grams

Cerium LT (Synthetic insulation): 80/100grams



So after looking at the breakdown of the insulationthe Thorium will have more insulation in it but in the case of the down it'll be slightly lower quality (but really 850 to 750 isn't a huge difference).



I'd look at how you want the jacket to fit since the Thorium AR is an "athletic" fit and the Cerium LT is going to be a snugger fit due to it being a "trim" fit.



Shoot me an email anytime you have questions!



Jared D.

Expert Gearhead

801.736.4336

jdowns@backcountry.com
Jared Downs
Thorium has more of a square cut and the Cerium has more of a trim fit. The Arc store rep had the same basic take as Jared (gear Expert) above did that they are more or less the same warmth, so it's more or less the cut you prefer.



I'm 185 lbs 5'11 and like a snug coat and the medium in the thorium was good for me, but for the Cerium i'm going to go with the large. hope that helps
Steenrod
What is the best size for me - I've heard the Cerium LT is a trim fit. This would be worn as a base layer. I'm 5'8", 140lbs, 37-38" chest with 31" waist and hips. I have an Arcteryx Alpha SV size small which has plenty of room for layering up under it but as I understand it the Cerium LT is a whole other fit altogether. Thanks
julian.top100045566
Honestly i think you should look at the small. I am similar size (a bit larger) and went with the medium initially and found that the jacket just wasn't that warm. Wind would blow right up the back. With the small, i didn't lose any freedom of movement, but gained a lot of warmth as the hem of the jacket worked the way it was designed.
Nathan
I'm 5'10 and my current weight is 180 I want to layer up under this jacket for NYC winters what's your best recommendation for a comfortable fit medium or large?
Michael M.
Since it has a trim fit I would get the large to make it comfortable. You could probably fit into a medium but, it might be snug especially when you layer underneath it. What is your chest measurement? That is a really good indicator of how the jacket will fit.



If you have anymore questions feel free to send me an email or call!



Bill Porreca

bporreca@backcountry.com

801-736-6398


William P.
Michael -

Just tried on the Medium and the Large at the store. I'm basically the same dimensions as you and the Large fit perfectly over an undershirt and a regular fit button up shirt. The medium was form fitting, but a bit tight in the sleeves.



I also tried on the Thorium AR Down which is a more of a regular fit/square cut and the Medium version of that was more roomy than the Large in the Cerium.
Steenrod
Are these made in China? I just got one on ebay for a deal and it says "Made in China." However, a search of the web shows that apparently a lot of Arcteryx goods are made in China. I just want to confirm as I'm returning the ebay purchase and planning to re-buy the jacket here, assuming it's not made in China. (And assuming the size is right. Everything I read about these jackets said they run small so I bought a large, but it's huge on me.)
Ryan Trimble
Best Answer
It is made in China, but that doesn't mean anything. As I know this jacket definitely has counterfeit in color nighthawk and black. I suggest you to purchase from authenticated sellers.
Ray
Hello, I'm torn between getting this jacket and L.L. Bean's Ultralight 850 Down Hooded Jacket. Does anyone have experience with both so that they can compare them together?
Fernando P.
Best Answer
Haven't tried this hoodie, but I can tell you that the Bean hoodie is a little gappy in the middle, and the hood - although very good - isn't adjustable. Also - when last I checked, it wasn't available until JUNE!


Andrew S.
I just received my LL Bean Ultralight and love it (was told it was back ordered to June 1). Very light, has Pertex shell, inside skins pocket and zip pocket that the whole jacket packs into and 3 outside zippered pockets. Got it on sale for about $170. I am 6'1, 195 and fit nicely in a Medium Tall. Nice fit. We'll see how it holds up but has a lot of features for the $.


Bindair Dundat
Which is warmer, Cerium LT or Western Mountaineering Flash XR? Also, which is smaller when compressed?

I will be wearing one of these under a softshell jacket during multi-day alpine climbing in winter Alps.
Nobuyuki F.
The WM Flash XR will be warmer it has more down in it. The Cerium LT will compress more due to less down. Either or will be fine, Id say under a soft shell you are just fine with the Cerium LT.
William P.
I'll ask what's gonna be warmer n last longer this or the Patagonia down sweater
Dick Todd
Patagonia Down sweater will be warmer and last longer but, it is not as performance oriented as the Cerium LT. The Cerium LT is meant for light, fast moving through the mountains where the Down Sweater has more of an all around purpose.
William P.
What is the center back length of a medium?
Grant Kates
Grant Kates
Will S.
Hey everyone--quick question.



I have a hard shell (barely insulated) and a solid fleece. I was hoping to get a light-weight down jacket to layer with, or wear alone conditions permitting. I hike (nothing too intense) 1-2x/month when I can get free. I'm looking to buy a down jacket that I can use to stay warm up in Boston, both when I'm just getting around and also when I get to hike.



My question is this: is there a reason to get, or not get, this jacket with a hood? I don't really imagine too many times where I'd use the hood, but I'm not really sure. The price difference isn't a big deal if there's something I'm missing. Ideally, I'd like to wear this with a shirt or light baselayer to get around, so maybe having a hood around helps in case it get's wet, but then, I would want a shell regardless for the down, no?
Blik
Best Answer
Yes if it is raining you will want a shell. It's a personal preference but I tend to find most people like hoodless for a mid layer piece and the hood when wearing as a stand alone. However, depending on your shell a hood will not work on certain types jackets necks. I personally only have hooded pieces but all of my shells have storm hoods.



If you want to discuss this or any other down jacket we carry, you can hit me up at 1-800-409-4502 ext 4420 or kbrady@backcountry.com
Kyle
Kyle,



I have a Cerium LT hoodie, do you have a shell you recommend to pair it with?



Thanks.


Joseph Z.
Dick Todd
Im 5'6 and 160lb with a chest size of 39"....
Im 5'6 and 160lb with a chest size of 39". I'm guessing the medium would suit, but I'm considering the small due to not wanting excessive length in the arms. Any recommendations?
Jutt
Best Answer
The Arc'teryx Cerium LT is based on a trim fit block. I would recommend the medium as I think a small would be too tight through the chest area. The difference in sleeve length is only 1", so you should be GTG.
Stephen Sramek
I have an Atom SV but I am after something...
I have an Atom SV but I am after something a little warmer for an insulation layer.



Will the Thorium be warmer than the Atom SV?
gazzaroonie
My Atom SV, in real time use, is warmer than the Cerium LT Hoody. The Atom's construction gives it better wind protection, as does the addition of the hem drawcord.
Babak Sakaki