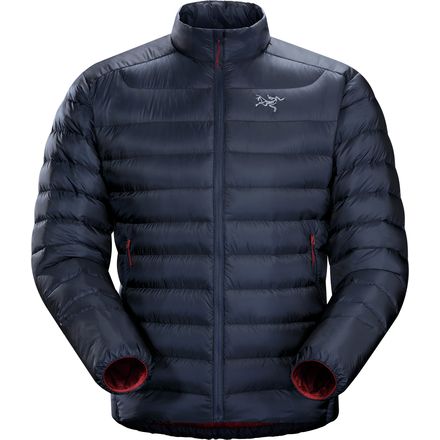 Colors

Detail Images
An ultra-light, packable puffy.
When it comes to cool, dry climates, the Arc'teryx Men's Cerium LT Down Jacket knows a thing or two about ensuring lightweight warmth and performance. The Cerium LT touts a hybrid construction and slim fit that makes it ideal for backcountry pursuits, climbing in chilly conditions, snowshoeing with the family, or simply for wearing around town.
More specifically, the Cerium is outfitted with 850-fill goose down in the torso and arms for core warmth, while the synthetic Coreloft insulation in the shoulders, collar, and hem is designed to maintain warmth, despite the fact that those areas often get exposed to moisture—so you stay warm, even when wet. Additionally, this amalgam of insulation is breathable, efficient, and compressible, so you're able to regulate your temperature with little-to-no effort. Meanwhile, the Arato 10 exterior is tenacious and lightweight, and also features a DWR treatment that sheds light moisture should you encounter an unexpected snow flurry.
Not to mention, Arc'teryx designers really made a name for themselves with to their fine attention to detail—and the Cerium jacket illustrates their expertise. Light elastic cuffs won't pinch your wrists but easily rebuke cold air attempting to permeate your baselayers. A chin guard at the collar prevents unsavory hot spots and chafing, and the included stuff sack makes it easy to pack the Cerium when you're taking off for a week of hiking and climbing, and are in need something to keep you warm on cool evenings.
A lightweight, technical insulated jacket for cool, dry climates
Wind-resistant and durable exterior offers protection
DWR treatment sheds light moisture
Down insulation assures lofted warmth
Synthetic insulation provides warmth even when wet
Hand pockets keep small necessities close
Included stuff sack allows for easy packing
Slim fit assures unimpeded mobility
My husband has one of your insulated jackets and loves it but lost the caring instructions could you tell me how to clean this jacket
susan warren
Susan,

Down is not as scary to care for, as it seems. Use a gentle detergent, and wash on a gentle or normal cycle. Dry it in the dryer with tennis balls. The down needs to be puffed up, while drying, to create the loft. So, put something with soft edges in there, while its drying. More questions? Just call or email me, directly. 801.746.7587 ---->ejenson@backcountry.com
Emily Jenson
I'm approx. 5'10" 150 lbs. What size would you recommend? Thanks.
Eric
Best Answer
Eric,

I'd go Medium. I'm around 5'8.5" 145ish and the Small is borderline too small on me.
Jeff Catalano
I'm 5'8" and weigh 200 lbs. Should I consider a large or extra-large cerium lt down jacket?
Charles Wilson
I'm returning a Large because it's too small across the shoulders. I'm 5'10" and 200 lbs.
Telemar
Center back length of a large?
Grant Kates
Grant Kates
Hey everyone--quick question.



I have a hard shell (barely insulated) and a solid fleece. I was hoping to get a light-weight down jacket to layer with, or wear alone conditions permitting. I hike (nothing too intense) 1-2x/month when I can get free. I'm looking to buy a down jacket that I can use to stay warm up in Boston, both when I'm just getting around and also when I get to hike.



My question is this: is there a reason to get, or not get, this jacket with a hood? I don't really imagine too many times where I'd use the hood, but I'm not really sure. The price difference isn't a big deal if there's something I'm missing. Ideally, I'd like to wear this with a shirt or light baselayer to get around, so maybe having a hood around helps in case it get's wet, but then, I would want a shell regardless for the down, no?
Blik
The hood is definitely a preference thing. If you don't see yourself using it, it's probably not worth your money to get it, especially since not having it makes it easier to layer under a hardshell unless you're actually going to wear the hood. On the other hand, if you can even imagine a situation wear the hood would be nice I don't think it'd be a bad thing to spend the little bit of extra on. I used to only buy jackets without hoods because I preferred to wear a separate hat to insulate but have since found I actually prefer to have a hood.

If you want to use this jacket for every day situations as a stand alone (without your hard shell) I'd also take a look at the thorium as well. It weighs a little bit more, but I think as a stand alone, the trade off is worth it for the extra durability.
Spencer Oliphant
Where is this jacket made? Is it made in...
Where is this jacket made? Is it made in China?
Felix C.
Most of the Arc'teryx production comes from their factory in China. It is mostly just the Alpha SV jacket and climbing harnesses that are still made in Vancouver.
Wayne Christoffersen
SNEAK PEAK- Cerium SL FALL 2014
A sneak peak at Arcteryx's upcoming line for Fall 2014
Babak Sakaki
How does the fit compare to the thorium?...
How does the fit compare to the thorium? I have tried on a medium thorium and it fits perfectly, but I think I like the cerium better. Not sure if I should get a large or a medium in the cerium. Thanks, scott
Scott R.
Best Answer
Scott,

It would be easier to give you an estimate if I knew some of your measurements but perhaps it will help to give you some of mine. I am 6'0" 180lbs and I am a proud owner of the Arc'teryx Cerium LT in a size large. I have tried on the medium before and it will fit, but it is a little too tight in the shoulders.



I have also tried on the Thorium AR before and while the large is much too big, the medium fits me very well. This difference in fit can at least partially be attributed to the fact that Arc'teryx classifies the Cerium as a trim fit and the Thorium as an athletic fit. So for my build, the Thorium in a medium and the Cerium in a large.



You may be the same, or you may take a medium in the Cerium. I would say that if your build matches roughly with mine chest: 40" and sleeve: 34.5" you should get the large. If you are at all smaller than me, I would recommend the medium in both jackets.
Mike D Hilverda
I have found that the Cerium was much warmer and snug compared to the Thorium. Both were the same sizes.
joolzey
whats gonna be warmer this or my patagonia...
whats gonna be warmer this or my patagonia down sweater
Dick Todd
Best Answer
Dick,

The Patagonia Down Sweater is a classic piece of light weight down. One of the original jacket to focus on giving solid warmth in a packable light weight package. However, the PDS has not been updated too much over the years and has become somewhat of a fashion piece. "Not that there's anything wrong with that." I think they look pretty classy, and Patagonia's commitment to a sustainable business model is pretty much unparalleled in the industry (who doesn't want to support that).



However, the Arc'teryx is really playing in a whole different league with the Cerium LT. With 97g of 850fill down in the body, 80g coreloft in the cuffs and underarms and 100g coreloft in the shoulders, the Cerium is toasty the second you put it on. Warmer than the Patagonia Down Sweater and more than 4 oz lighter. The Arc'Teryx Cerium LT is no slouch for fashion either with a trim fit and great colors.



For more comparisons on these two jackets and others in their category you can check out the Outdoor Gearlab website:



http://www.outdoorgearlab.com/Down-Jacket-Reviews
Mike D Hilverda
Could someone post some pics of the nighthawk...
Could someone post some pics of the nighthawk color in natural light or without flash?
hegaveitall
This material is not shiny like TNF Pertex. It's not bright at all under natural light.
William P.
Thanks, it must be popular. The Nighthawk in Small and Med has been sold out.
hegaveitall
I wore it lastnight, we got down to low 30s.... I'm a bit disappointed. My neck line got cold from draft. my shoulder seems cold. I think the collar is a bit short compare to TNF Dietz or Thunder Down, I never have the problem with them.
William P.
Best Answer
Bunch of my friends swear by Arc, they wear the LEAF stuff and said theres nothing better..... I don't know.
William P.