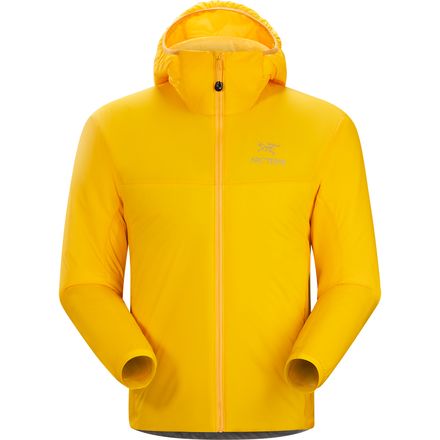 Colors

Detail Images

Videos

Community Images
Never leave home without it.
Who needs a multi-tool when you've got the Arc'teryx Men's Atom LT Hooded Insulated Jacket? Well, you don't—though, you might want to bring one along anyway (just in case). More specifically, the designers over at Arc'teryx made the Atom LT versatile enough to handle year-round mountain adventures ranging from climbing to skiing.
The Atom LT is constructed with a durable, breathable, and lightweight Tyono exterior, while the DWR treatment fends off light rainfall—meaning you stay relatively dry no matter what Mother Nature throws your way. To bolster its adaptability, the Atom LT is equipped with gusseted underarms and Polartec Power Stretch side panels to ensure an unimpeded range of motion whether you're wearing it as a midlayer or an external shell. Perhaps most importantly, though, is the Atom LT's synthetic Coreloft insulation. This synthetic insulation not only retains warmth in wet weather, but also offers maximum thermal efficiency without compromising the compressibility of the fibers. A StormHood slides over helmets with ease, and the adjustable hem provides a personalized, snug fit should you desire it.
A versatile, highly adaptive jacket for all aerobic activities
Tyono exterior is durable and wind-resistant for protection
DWR treatment sheds light moisture easily
Coreloft insulation keeps you warm even when wet
Stretch side panels promote unobstructed mobility
Articulated elbows and gusseted underarm bolster comfort
Helmet-compatible hood is insulated for added warmth
Adjustable hem provides a personalized fit and feel
If I only had one jacket, this is it!
Familiarity:

I've put it through the wringer

Fit:

True to size

Size Bought:

Large
If I had to choose one jacket to take with me, this would be it. I float between a medium and large and the large fits amazing. Perfect with a t shirt or flannel, I wear this jacket almost everyday to work and during weekend adventures. It is light weight, looks great, and is warm! I was just in Leavenworth this weekend with temps in the mid 30s and some on and off rain drizzle. This jacket was perfect. Warm and water resistant enough to walk around outside without overheating when we stepped inside to get coffee or a bite to eat. My go to PNW hiking and camping jacket. It's so great I bought my wife one. She's usually cold when she hikes, but loves this piece because it keeps her warm when she stops and cool when she moves. We've both been snowshoeing with the Atom LT and it was perfect. Can't say enough about this. Just buy it. You won't regret it.
Jason H.
Height:
5'10"
Weight:
175lbs
Great Jacket
Familiarity:

I've put it through the wringer

Fit:

True to size

Size Bought:

Large
Bought this piece several years ago and have used it for every camping and hiking trip I have ever gone on. It is a great piece to do aerobic activities in. Now, I will say this, the Patagonia Nano Air breathes better, but the Atom LT does protect from wind much better. The Atom LT has performed well for me in both the Canyonlands of Utah to the Appalachian Mountains. It is so versatile. Great piece!
James G
Height:
5'11"
Weight:
200lbs
Hands Down My Favorite Jacket
Familiarity:

I've put it through the wringer

Fit:

True to size

Size Bought:

Small
I cannot stress enough how comfortable and versatile this jacket is. It's my go to for chilly Fall and Spring days just walking around the city, but it's an amazing mid layer under a shell when I'm snowboarding. The face fabric is soft and has a slight DWR coating so it repels light rain. There are 2 external and one internal pocket on the jacket as well. There is simply no place you can be where this jacket would look out of place. Really is the quality I've come to expect from Arcteryx. I got a small and fits me great. I am 5'8'' 150 lbs.
Nick Chan
Height:
5'8"
Weight:
150lbs
BEST Lightweight Puffy
Familiarity:

I've put it through the wringer

Fit:

True to size

Size Bought:

Medium
I've now owned two of these and they are amazing jackets. I climb ice and rock in mine and have only one small hole after a year and a half of close to daily wear. The DWR works very well and this coat kept me warm while I was stuck on a wall in a 35 degree snain storm. I will continue to buy this coat again and again
Ryan L.
Height:
5'9"
Weight:
145lbs
This is my husband's favorite jacket. He LOVES wearing it and is always comfortable. He wears it casually, and for technical activities and it works great in both situations! Literally a staple of his life year round.
Emery Gaylord
Never leave home with out it
Familiarity:

I've put it through the wringer

Fit:

True to size

Size Bought:

xl
This layer defies logic. I wear it in the winter when its cold, I wear it summer nights when its cool and everywhere in between. I am on my second one because I literally wear it every single day. My wife jokes that it is the one of the first things I put on and the last to come off. The stretch panels on the side are great and really help it regulate temperature. The pockets are placed perfectly and the inside pocket is good for chapstick, CC, cash etc. It is also, considering, pretty durable. Because it is synthetic it keeps me warm when it gets wet. Sheds a raindrops and snowflakes well. When it gets real nasty out the hood is form fitting and snug. As this is my second one I have noticed some discrepancy in sizing. First XL was tight and fit me well as an underlayer, second was bigger and is almost an overcoat to smaller layers.
Weston D
Height:
6'1"
Weight:
210lbs
One jacket to rule them all...
Breathable, warm, stretchy, looks great, not puffy, sheds water decently, wind doesn't blow right through it. I wear this guy on my bicycle commute, on a cool morning at the crag, on the trail during a fall or winter morning when no one should be running, on top of a peak with crazy wind, and skiing when a shell inst required
Brian Nutsch
The G.O.A.T.
Familiarity:

I've put it through the wringer
This jacket is the GOAT of all mid-layer puffy jackets. Cold office mornings, fall hikes in the mountains, nights out on the town, and a mid layer while skiing, this jacket does it all and absolutely crushes it. I've been a Patagonia puffy wearer for a while but this jacket has made me a convert.
Larissa Bortz
Versatile mid layer
Familiarity:

I've put it through the wringer
Great all around midlayer. Go to layer worn climbing, hiking, mountaineering and arrond town. I have used as outer layer with a t-shirt or poly-pro when moderately active in temperatures ranging from 30F-60F, and as mid layer in bellow freezing temperatures. Breathes very well, resist moderate wind and light rain, and fits like a second skin. Be careful with sharp edges ( rocks, crampons, ski edges, etc) material snags easily... in my experience.

Love the trim fit. I'm 6',1", 190lbs, 42" chest, 34" waist Levis, athletic built... purchased a Medium. I would recommend you try one on before purchasing... or if ordering on line without having tried one on don't size up-- it would be like sizing a sweat shirt to fit over another sweat shirt,. i originally purchased a Large, based on the reviews which commented on the "smaller fit" and I returned/exchanged it for a M. A Large fit like an outer layer/shell would. A Medium fit as a midyer should IMHO- close to the body with room for a t-shirt/ poly-pro and a thin fleece if necessary.
Luis E.
My go to jacket
Familiarity:

I've put it through the wringer

Fit:

True to size

Size Bought:

Medium
This jacket fits great for someone who works out and is 5'8". Most jackets don't fit my chest or shoulders really well but this jackets fits perfectly. I still use other jackets like the Nano Air to go run in cold temps but the Atom LT fits so well and doesn't bunch up when climbing so its my go to around town and still comfortable and can still perform really well up to 20k in Peru. The range of temps this thing will work in is awesome. I would say 20 to 65 degrees. If it dips below 20 (andI'm not super active) I put on a thin Patagonia Capilene fleece under with a Patagonia Down Sweater over it. It really layers perfectly for me.
David B.
Height:
5'8"
Weight:
175lbs
Versatile & Useful
Familiarity:

I've put it through the wringer

Fit:

True to size

Size Bought:

Medium
What can I say? I own one with the hood and one without. That's how much I love this jacket. I've used in during winter hikes in Utah and it's warm enough with just a t-shirt underneath or a fleece under it for sitting around the camp fire at night. It's great for outdoor or just everyday use around town. It fits like a glove for me. Highly recommend!
Michael M.
Height:
5'11"
Weight:
160lbs
A must have
Familiarity:

I've put it through the wringer

Fit:

True to size
Versatile year-round, you'll be layering this under your ski jacket in the winter and using it when the sun goes down on cool summer evenings. The Atom LT is designed to stretch to allow full range of motion and is finished with a water-resistant coating.
Fritz Hanseler
Height:
6'0"
Weight:
160lbs
I bought this for my husband to wear on a trip to Idaho.
Take a 20% OFF coupons from coupon-code.info
Cain
The Perfect Midlayer
Familiarity:

I've put it through the wringer

Fit:

True to size

Size Bought:

Medium
From the endless glaciers of Mount Rainier, to the massive granite faces of El Capitan, and the rugged ice clad peaks in the high Sierra the Arc'teryx Atom LT is perhaps the best insulating piece I have ever used. Its functionality is very well thought out, and with high versatility, decent durability, and high comfort it is a true workhorse in any environment. This jacket was designed with the intention of moving fast in the mountains, because of this the jacket is lightly insulated and highly breathable, but also surprisingly warm for how thin it feels. For storage, the jacket can be easily packed into its own sleeve.

Insulation
-------------------------------------------------------------------
The jacket uses 60 grams of Coreloft™ insulation. Composed of polyester, this material is durable, lightweight, dries far more quickly than down, and most importantly will still keep the user warm when wet.

Fabric
-------------------------------------------------------------------
The outer shell of the Atom LT is composed of 20 denier nylon Tyono™ fabric on the majority of the jacket, and a polyester/elastane Polartec® Power Stretch® fabric under the arms and on the sides of the jacket. The Polartec® fabric is extremely breathable, and is quite stretchy. This gives the user better range of motion especially when reaching overhead while climbing. The Tyono™ shell material is DWR treated and is thus highly water resistant. I have walked for miles in light to medium rain in this jacket while remaining completely dry. The same material also makes the jacket exceptionally wind resistant, The interior of the jacket is the same material as the outer with the exception of the underarms which are a soft comfortable fleece.



Comfort
-------------------------------------------------------------------
One of the greatest reasons that I love this jacket, is that it is incredibly comfortable and remains so indefinitely while moving in the mountains. Because of its superb breathability, the jacket has a massive comfortable temperature range. I have worn it from the mid sixties to the low twenties (Fahrenheit) and remained the same comfortable temperature. The hood is also climbing helmet compatible and works well both under and over a helmet. The jacket is also extremely lightweight for the warmth that it provides, and feels almost weightless as you glide across technical terrain with ease. This jacket makes the perfect mid-layer, and when paired with a good base layer and high end hard shell such as the Arc'teryx Alpha SV (review coming soon). It is perfect for almost any conditions in alpine environments weather hiking, climbing, backpacking, or skiing.



Reliability/Durability
-------------------------------------------------------------------
After 6 months of very heavy use in the mountains, the jacket is still in almost perfect condition/ The outer shell is surprisingly resilient for how thin and light it feels, and provides decent protection against abrasion. The jacket did get a small hole after getting snagged on a section of razor sharp rock while climbing in Wyoming, though this was easily repaired with a tiny Goretex patch. Other than that, one of the jacket's cuffs is starting to show signs of wear as a small hole has appeared where the cuff connects to the shell fabric. As far as reliability, this jacket has never failed me even after hundreds of hours in the mountains and in often heinous conditions; rain, snow, sleet, sand, dirt, nothing can stop this jacket from doing its job. When cared for properly and washed with an appropriate technical clothing detergent (Arc'teryx recommends Grangers, but Nikwax works just fine) the jacket remains in very good condition, and the insulation has not lost any loft whatsoever.

Jonas Abdo
Height:
5'10"
Weight:
145lbs
Replacing my first Atom
Familiarity:

I've put it through the wringer

Fit:

True to size

Size Bought:

small
I bought my first Atom back in 2010 and have just now (7+years later) decided to buy a new one because it's starting to show it's age a bit. The Atom has been my 'go to' warmth layer for hiking, skiing, and even just walking the dog on a cool morning. The fit is modern and clean, and does not feel bulky. It repels rain and keeps you warm with minimal under layers. Great travel jacket because it packs down light and can handle a wide range of temperatures and weather scenarios. I can't think of a better jacket in this category. I'll probably buy another one in another 8-10 years.
James Schneider
Height:
5'10"
Weight:
155lbs
"Main Squeeze"
Familiarity:

I've put it through the wringer

Fit:

True to size

Size Bought:

Medium
This is my go to wear. Hiking, climbing, skiing (base layer), biking (early summer, late fall), camp fire, night hikes, cold office and all the fun activities that I can do in SLC, UT.
Nic DeSeelhorst
Height:
5'11"
Weight:
170lbs
Utili-LT!
Familiarity:

I've put it through the wringer

Fit:

True to size

Size Bought:

Medium
You will reach for this layer more often than not. My first Arcteryx piece and fell in love after the first use. It is very light and punches above its weight in warmth but with the mesh side panels is perfect for a bit more active pursuits. I have been using as insulation layer under my snowboard shell and as my puffy on a milder temp backpacking trips. I bought it with split-boarding in mind for next year. It sheds light moisture and is really soft to the touch. Do be careful with board edges, crampons, etc! It does tend to run just a tad trim due to Arcteryx's apline-oriented sizing standard, but I bought the size I would in any other brand.
Ryan Potts
Height:
5'11"
Weight:
145lbs
Still not a size Large :/
Familiarity:

I've used it once or twice and have initial impressions

Fit:

True to size

Size Bought:

Large
I am a true medium in every shirt and jacket, except I usually buy Large in outer layers..... but I should have stuck with the medium because it still fit well in regards to length but was just a little too bulky for my taste.

However, my dad liked it so much and it fit him perfectly that I had no choice but to give it to him.... and he said some stuff about raising me and blah blah.

(he's fit but built in his upper body, 6'2", and usually always wears a size large).
Eric Smith
Height:
5'11"
Weight:
155lbs
Amazing coat, problem with fit
Fit:

Runs small

Size Bought:

Medium
This coat is without peer in flexibility and warmth for the weight. I ordered a recent model and the upper arm/chest region was more snug than in past models. I am fit, but not overly-buffed. I was looking forward to owning more than one of these coats, but, regrettably, the new fit is not a keeper.
Jeff W.