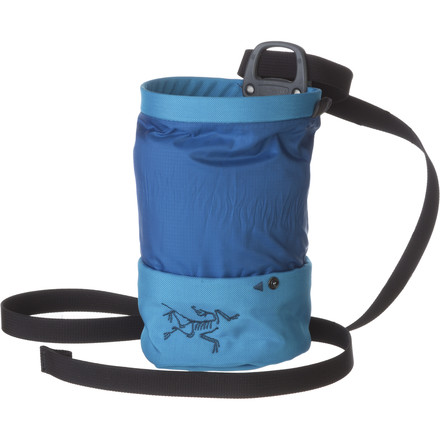 Colors
Dust-proof, chalk-proof closure system that's easy to use.
Arc'teryx gave its Small Aperture Chalk Bag the new innovative Aperture Twist closure system that allows you to open the bag quickly and easily while you're climbing. At the press of a button, this small bag expands in order to let you chalk up quickly and climb on, and a quick twist closes this bag once you've finished climbing. The Aperture Twist closure system works so well that chalk dust can't even escape, unlike most chalk bags. Polar fleece lines the Aperture to keep the chalk intact, and the included belt and brush holder equips you with what you need to send.
Nylon upper and lower
Polyester ripstop mid and closure
Polar fleece lining
Aperture Twist closure with snap
Brush holder
Belt included
Compact and dust free.
Familiarity:

I've used it once or twice and have initial impressions
Nice snap flap closure on this little bag. Really lightweight. Super compact. I'm a smaller guy and honestly I couldn't ask for a better bag.
Johnny
Since getting this my climbing bag has been chalk free . Nothing ever spills out of this.
Jake
Compact and Clean
Familiarity:

I've used it several times
I got this as a second chalk bag for bouldering. It's simple, compact, and keeps everything clean. The only thing negative I have to say about it is this: to close the bag, you need to twist to the left, which is completely counter intuitive. (Righty tighty, lefty loosey, right? In this case, wrong.) I actually thought it was defective until a friend suggested I try twisting the other way. So in summary, excellent chalk bag, just make sure you twist it the right -- err the left way!
Laralyn M.
Perfect Chalk Bag
Familiarity:

I've put it through the wringer
I used to be apart of the crew that didnt really think you could invent or design a chalk bag better than others. Just bigger or smaller. Then I gave the Aperature a shot and it really is different, totally worth the extra $ versus other more generic bags.



The Aperature or twist feature not only eliminates chalk from falling out but, it packs down smaller in the pack. Or it packs down smaller on your waist when you are not using it like when rappelling, not a huge deal but, does help keep it out of the way if you need to grab a biner off the back of your harness.
Bill Porreca
great closure system
Familiarity:

I've used it several times
easy to close and keeps chalk in the bag. looks great. i love it
Val Alonso
It's Arc'teryx yo!
Familiarity:

I've used it several times
I bought this to compliment my harness of the same brand. It does work. I wish it kept the chalk a little more contained. Overall good build quality though. Would recommend.
Jesus
Lives in my car
Familiarity:

I've used it several times
Just like Will said this bag is awesome! Neat and compact with no mess. I have 0 worries that any chalk is going to be getting in my car. The Metolius Super Chalk Eco Ball fist perfectly into this bag as well just in case you were wondering.
Ryan Sueoka
Great bag - doesn't leak in the car
If you're ever bothered by chalk getting all over the place when you throw your gear into your car, then this is a very good option. It seals exceptionally well, but also opens back up with just an unsnap.



I personally prefer the small size of bag even with reasonably large hands. It easily holds a ball of chalk and saves on bulk.
Will S.