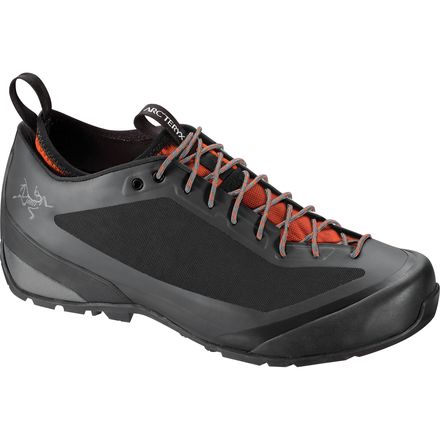 Treat your feet to Arc'teryx.
Arc'teryx takes its trusted performance to footwear with the Men's Acrux FL Approach Shoe providing the utmost ultralight performance for alpinists and hikers. The Acrux FL has that same unique style and performance that we all expect from Arc'teryx. For starters, Arc'teryx constructed the Adaptive Fit liner separately from the upper in order to hug your foot with breathable, quick-drying mono-mesh for a truly customized fit.
The Acrux FL also features a lightweight and surprisingly durable seamless upper designed to handle rock, snow, and ice with ease. This seamless upper features a non-woven, DWR-treated internal surface that sheds wet weather, PU-coated nylon for air permeability and abrasion-resistance, and TPU film for enhanced support and durability. The two top lace holes have integrated reinforcements to reduce stretching.
Underfoot, Arc'teryx equipped the Acrux FL with a premium injected EVA midsole designed for stability and enhanced braking. The 3D molded toe and heel caps buffer impact, offer rock protection, and resist cracking for durability. There's also an anatomical arch shank, and the custom-developed 3D molded Ortholite footbed offers maximum comfort and breathability.
Vibram's brand new MegaGrip rubber makes the Acrux's sole fine-tuned for any trail. Design features include a climbing zone with traction grooves, grippy inserts for smearing, RockGrip technology with anti-slip lugs, and a spherical heel shape for a smooth stride.
Seamless upper
Seperately constructed Adaptive Fit liner
3D molded Ortholite footbed
Premium injected EVA midsole with arch shank
3D molded toe and heel caps
Vibram Megagrip sole
well made and comfortable
Familiarity:

I've used it several times

Fit:

True to size

Size Bought:

11
Pain in the ass to get on because I always need two hands to get into the shoe. That being said, very comfortable, and appear to be durable. I have two pair and the FL is slightly tighter in the toe box than the FL GTX. Wish that the color choices were better and I also wish that the laces would stay tied. Only shoe that I have ever owned [and I am an approach shoe junkie] where the laces, even when double knotted, still manage to come untied!
James C.
Height:
6'0"
Weight:
200lbs
Unanswered Question
when would size 9 or 9 1/2 be available?
Thanks.
taesok joo
Good over all shoe
Familiarity:

I've used it several times

Fit:

Runs large

Size Bought:

11
I Have mainly used this shoe for around town and very little approach. I really like the liner which makes the show feel more snug. The stiffness also gives a lot support feeling for being a low shoe.
I feel like the size runs about a half size bigger. I wear a 11 in sneakers and bought an sz11 but my toes are about an inch from the toe box and the heel box cuts into my heel when i wear them for a long time (while driving).
I would suggest buying a 1/2 sz smaller if youre loking for a shoe to use for approach. But if youre wanting to have a shoe to cruise around in these def do work.

Joel
Height:
5'8"
Weight:
175lbs
Unanswered Question
What country are these made in? Cheers
HALF-PINT
Fell apart quickly
Familiarity:

I've used it several times

Fit:

True to size

Size Bought:

10
I really enjoyed these shoes. Hiked on them throughout several national parks and then on the Inca Trail to Machu Pichu. I had them less than a year when the bottom of the shoe began to come apart from the body of the shoe.

Sent them in to Arcteryx to have them repaired under warranty. After several weeks they told me they were unrepairable, and that the shoe was no longer being made so they would also not be able to replace them. They gave me a credit to buy something direct from Arcteryx, but there was nothing other than this specific shoe that I wanted. I tried to get them to buy a pair for me here on backcountry where they were on sale...but they would not do anything other than issue me a credit to buy direct from Arcteryx. I appreciate them doing something, but unfortunately I'm not stuck with an expensive credit unable to replace my hiking shoes.
Mike G.
Height:
5'10"
Weight:
180lbs
I didn't even get to use them on the trail just at the office and mostly sitting down, with and without socks! My feet felt like I was in a hot tub! My feet were sweating like crazy i literally had to take them off on my breaks! No I would not recommend them.
Drew R.
Arc'Teryx does it again
Familiarity:

I've used it several times

Fit:

True to size

Size Bought:

9.5
Super sturdy construction. Clearly durable. Takes a bit to break in. My only complain is that they're not as breathable as shoes I usually wear, so my feet are often sweaty. I like how its adaptive fit liner hugs the ankle, no sand, dirt, or snow getting in there. Perfect for outdoors, not so great for the office our around the house.



If you have additional questions, or you need a personal gearhead, hit me up!
David Harris
Height:
5'6"
Weight:
145lbs
5Q REVIEW
Familiarity:

I've used it several times

Fit:

True to size

Size Bought:

9
WHO: I live in the Southeast of the US with relatively mild winters. I'm about an hour's drive from the Mountains. I'm kind of a gear-head and have more shoes than I need in my rotation (as of now I have 9 pair that fall in between a trail runner/Approach shoe/hiking boot). I'm normally size 8.5 in running shoe but I typically go up to 9 in hiking boots, I'm a 9 in this one. I've had this pair just over half a year now.

WHAT: In a word, technical. FL = FAST & LIGHT, and they call it an approach shoe but it wears more like a boot and I've only used it as a light hiker. The durable upper paired with the hiking treads make for a great combo, then add in the super sticky Vibram® rubber outsoles and this is the grippiest shoe I own.

WHEN: This isn't my go-to shoe for every hike. For me, it's going to be based on the specific trail and the conditions. I can wear this is shoe year round. It's not too hot for the summer if the trail calls for something technical and it never gets so cold in the winter that I need something more.

WHERE: When hiking, I usually save these for more technical trails or if the rocks will be slick with water or ice. But let's be honest I wear these shoes way more around town than I do on the trail.

WHY: Because this shoe is just COOL. I love great design. All the new features work really well.

STYLE: I love its look more than anything. FYI, My wife does not feel the same way. But to me, the shoe just looks like it means business. I honestly look for opportunities to wear these out.

FUNCTION: Yes everything about this shoe works great, BUT there are a few things you should know. 1. You have to double knot the laces. 2. This shoe is not perfect right out of the box, the upper is very stiff and the area just over your toes requires a good breaking-in period. After that you are good, these fit and feel great even after hours of hiking.

8 out of 10
The two best things about this shoe are the super grippy outsole and its unique looks which pay off in the functionality. But it's clunky boot-like ride knocks it down a bit. I do love this shoe but I find myself leaving them behind when the trail calls for something faster and more responsive.

Acrux FL vs Acrux FL GXT
To Gore-Tex or not to Gore-Tex, that is the question. GXT in a shoe like this is always nice, but where I live is not necessary most of the time and the summers are so hot you don't want it. My hiking boots are Gore-Tex so I opted for the quicker drying and slightly cooler non GXT option.
Edward
Height:
5'10"
Weight:
170lbs
Bomber shoe!
Familiarity:

I've put it through the wringer
Arcteryx delivers once more. After wearing the Arakys for shorter approaches and experiencing the same issues with the buckle and loose toe box (definitely not up for the bouldering the description touts), despite the clear upsides and comfort, I picked up the Acrux for more serious wear. After wearing them for cold approaches in Wisconsin, and a week in Sedona, this shoe is a 5 star product. Fits true to size, dries famously, and the integrated sock liner is truly innovative. I found the purchase on slick rock second to none, and ended up successfully toe camming on some impromptu crack Boulder problems and was throughly impressed. The only criticism so far is that the heel liner might dig in, so wear a high sock while breaking in.
Ian S.
Its Arc'teryx. Its going to be good.
Familiarity:

I've used it several times

Fit:

Runs large

Size Bought:

9.5
Well these are pretty amazing. The quality is really really awesome and they handled the couple of granite slabby approaches i've taken them on amazingly. They ran big for me. I am a 10 in many of my shoes and the 9.5 felt like a 10.

When i first put them on they didn't feel all the great to be honest. the arch felt funny and they just seemed okay. However, the more and more i wore them the better they got. it just took some time to get used to them. Over all these are a great shoe and they are quite good looking too.
Nick Watson
Height:
5'8"
Weight:
150lbs
Out of the Box Comfort
Familiarity:

I've used it several times

Fit:

True to size
These things have put my other approach shoes to shame. Right out of the box they were as comfortable as if I had broken them in over 50 miles of trail. Mostly I have been using them for short approaches to the climbing wall and although I wish I could wear them everyday, I'd rather save them for when I actually need them.

I got these in a size 11, which is my regular size, and they fit me perfectly so I wouldn't recommend sizing up or down.

These bad boys are rad, super comfortable, grip like spider-man, and overall are totally worth the money.
Daniel Goodman
Height:
6'0"
Weight:
160lbs
Wear these every day.
Familiarity:

I've put it through the wringer

Fit:

True to size

Size Bought:

10
So originally I bought these shoes to get from the car to the crag. Now I wear them every day, and I am deciding if its a bad thing to get two in different colors.

The inner sleeve idea that Arcteryx has is an innovative idea. I love it. No blisters, ever. The firm sole gives me plenty of leverage on small climbs. I've done a 5.6 to a 5.8 with these shoes. In fact climbing with ascent style shoes have offered a new dynamic in climbing for me. In stead of 2nd guessing a small jib, I can just take the shoe and jam it into a crack and use that as a bomber foot hold. I love it.

The drawbacks for this shoe is if you're wide footed, like me. It took me a few days to break this shoe in. And it took some minor adjusting of the laces to acommodate my foot type. I love this shoe and I look forward to Arcteryx's innovative contributions to footware.
Tim
Height:
6'
Weight:
250lbs
WARNING: construction issue!
Familiarity:

I've used it once or twice and have initial impressions

Fit:

Runs small
My hiking trail had sand, such that after a few hours, I collected some sand in my shoes overtime. There is virtually no way for it to come out - I tried everything to no avail and now it's basically worthless. Contacted the Arcteryx team, they told me it's very hard to get sand out once it is in, and so that's that. No exchange, no refund, nada. Buy at your own risk but if you are a serious hiker, you have been warned!
Jeffrey P.
Best Backpack/Approach Shoe Available
Familiarity:

I've put it through the wringer

Fit:

True to size

Size Bought:

10.5
No blisters. Ever.
From backpacking with heavy loads to kicking around camp w/o socks on, I'm shocked at how well these shoes support my feet.
When i first saw the 'liner sock' I thought it was gimmicky, but 4 backpacking trips(everything from really wet and cold to dry and hot) later with ZERO hot spots--the sock liner is genius.
When completely saturated, the shoes dried in ~3 hours of sitting in direct sunlight, and 1 hour of dry hiking.
The support is killer, and these shoes are an ideal balance of weight and support.
Rubber is confidence inspiring on all surfaces--dry or wet.
JGW
Height:
6'2"
Weight:
200lbs
Arc'teryx Acrux FL Approach
Familiarity:

I've put it through the wringer
I'm a believer. When I first saw these shoes I loved all the tech but secretly wondered if Arcteryx put too much tech in the shoe. I quickly fell in love with these shoes and it has become my go to approach shoe.

I'm tough on shoes, I scramble over rocks, wade through rivers, and scrape through slot canyons. These activities are tough on shoes especially when you combine all in one trip. The Acrux FL has taken the beating and still looks new with no sign of wear.
Shaun
Confidence building
Familiarity:

I've put it through the wringer

Fit:

Runs large

Size Bought:

US 9.5 Mens
They just arrived today (Tundra/Reed Green color). They look and feel great. I am wearing Darn Tough (hiker - light cushion) socks with them. I took the advice from reviews on this site and others and ordered a half size smaller from what I normally wear ... I ordered US 9.5 Mens. I wear a US 10 Mens in everything else ... for dress shoes (Allen Edmonds) size 10 C.
I replaced the insole they came with, with SOLE Signature EV Ultra insoles (that I've had for a few years) and they fit/feel just fine ... though the insoles they came with look pretty good. I plan on trying both insoles out in these.
The Adaptive Fit liner is attached to the shoe on the bottom.
The shoes have a stable feel (especially side-to-side) when I walk in them ... confidence building for backpacking.
I had an Arcteryx Theta AR jacket for 14 years (just replaced it with the latest Theta AR rendition) and different Arcteryx undergarments and shirts and have liked all of them ... just had to try out their new venture into footwear.
I will be going on a backpack trip in a couple weeks. I will give an update after the hike.
The most straightforward review of the Arcteryx Acruz FL Approach Shoe I have found is at a website called itstactical.com. The site also reviews tying them in a manner to "lock the heel."

UPDATE (July 8, 2015): Back from 18 mile round-trip backpack trip in the Bitterroot Mountains of Montana (find Kerlee Lake), with additional miles scrambling. The shoes worked great. The steep, mostly off-trail portion (1.5 miles) from Tin Cup Creek drainage to Kerlee Lake was helped immensely by the good edging capability of these shoes. They grip great on rocks and even wet rocks.
I ended up opting for the less voluminous insoles that they came with because they kept my feet a bit lower in the shoe and prevented the back part of my foot (where Achilles tendon attaches) from getting irritated (this can happen in other shoes, too, for me - not unique to this shoe). Thus, if I was to use an aftermarket insole, I would get a less voluminous one.
The soles didn't show much wear at all, considering the Bitterroot granite we were going over. I even had to wear them walking some considerable distance in a creek and they worked well. They weren't totally dry by morning, but didn't have the heavy water-logged feel when I put them on. They started drying faster once I started walking in them that morning.
Can't wait to use them on my next backpack trip.
I have toe clips on my cross bike and these shoes work great in them, too ... can feel the better power transfer to the crank.
These really are purpose-built shoes - though plenty comfortable, they are not plush. It appears that they will last a long time.
EmilysDad
Height:
5'7"
Weight:
155lbs
again...
Familiarity:

I've used it once or twice and have initial impressions

Fit:

Runs large

Size Bought:

10
Just got them and just trying in the house. Initially they seem super durable but very stiff, vibram grips like crazy everything as expected except:


i have got fl not gtx model and the insole is not removable... as also stated on their website the gtx model also not removable. the only removable insoles are on squared models which are $270

runs bit small... im 10.5 and 10 fits perfectly. Still gotta break em down but seems good insole probably wont stretch so its all good since the shoe itself very stiff

For those who wonder and im sure a lot of people who buy Arc will wonder this, its not made in Canada.
Alex D
Height:
6'0"
Weight:
150lbs
Do these shoes have a removable sole?
Sierra Durland
Best Answer
The squared FDX models of Arc'teryx approach shoes are the only ones that contain removable soles
Sierra Durland
Ethan P Fischer