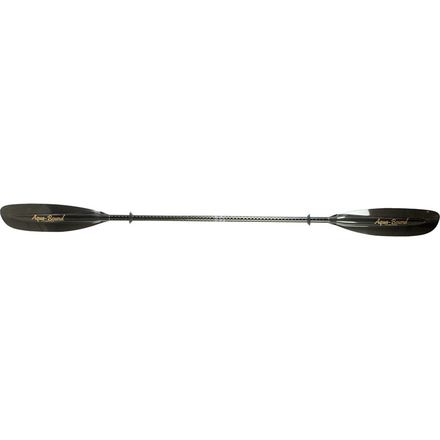 A Swell choice for paddlers who enjoy shallow strokes on long tours.
Dip the two-piece Aqua-Bound Swell Carbon Paddle into the water, and experience the weight difference of a carbon shaft and paddling power of a lengthened composite blade. Gone are the days of paddles with heavy materials and inefficient blade shape that waste your energy by fluttering around when you need to move. This responsive design has a smooth, forgiving feel for recreational paddlers along with a low-angle style and a powerful push to satisfy experienced boaters with a more technical stroke.
Teardrop-shaped 21-inch blade offers the most surface area of any Aqua-Bound performance paddle and creates powerful pull free of inefficient flutter motion that wastes energy
Straight carbon shaft is rigid, lightweight, and easily manageable while paddling without sacrifice to durability
Round shaft shape rests easily in your hands for a secure grip on quick paddles or extended outings
Two-piece design splits apart by a button thumb-lock for storage inside the hull of your boat or the trunk of your car
Does this have Telescoping Ferrule?
Eric P.
It is the 3 hole snap button ferrule version. 0 & 60 RHC or LHC
Travis Tzioumis
Paddling.net customer review
I purchased the Aquabound Swell in carbon a little over 6 months ago and it is hands down the best paddle I have used. Love the ability to adjust to different lengths and feathering on the fly. Light weight, easy to paddle all day, almost effortless. Usually paddle in the gulf or on river trips here in Florida, use it to brace getting in and out of kayak. I have lent it to several friends and they love everything about it. Worth every penny as far as I am concerned. My wife has started kayaking and uses it since she is left handed and it feathers for Left handed paddlers, 10 of 10 for me.
Andrew Stern
I upgraded to the Carbon paddle and love it. Very well made and super light. I paddled 4 hours in Long Island Sound and the weight of the paddle kept me from getting fatigued. I really like the oval shape of the shaft as well.
David L.
Swell FG T-700 carbon shaft 230 cm
Recently purchased a Swell FG T-700 with carbon shaft 230 cm in length.

Bought this paddle because i wanted a top quality low angle touring paddle. Very light design, and the shaft is truly great quality. Purchased the three position snap button ferrule system to save weight. The ferrule had some play in it right out of the box. More play than I would like in a high end paddle. No play would be what I would expect. Aquabound would return if I paid freight, not practicle for me to spend another $ 40.00 to ship the product back.

The blade design I feel does not have enough bite
for a touring paddle. I also have a stingray with carbon shaft and ABX blades which I like much better.

I would not have bought this paddle if I had the opportunity to try it first. The cheaper and slightly heavier EagleRay carbon would likely have been a better choice. :(
Burt