Appaman

Camp Short - Boys'
Item #APA000UPast season color
Appaman
Toddler & Kids' Apparel
US Size
2T
3T
4T
5
6
7
8
10
12
14
Age
1 - 2yr
2 - 3yr
3 - 4yr
4 - 5yr
5 - 6yr
6 - 7yr
7 - 8yr
8 - 9yr
9 - 10yr
10 - 11yr
Height

33 - 36in

(83.8 - 91.4cm)

36 - 39in

(91.4 - 99.1cm)

39 - 42in

(99.1 - 106.7cm)

42 - 45in

(106.7 - 114.3cm)

45 - 48in

(114.5-3 - 121.9cm)

48 - 51in

(121.9 - 129.5cm)

51 - 53in

(129.54 - 134.6cm)

53 - 55in

(134.6 - 139.7cm)

54 - 59in

(137.2 - 149.9cm)

58 - 64in

(147.3 - 162.6cm)

Weight

27 - 32lb

(12.2 - 14.5kg)

32 - 35lb

(14.5 - 15.8kg)

35 - 40lb

(15.8 - 18.1kg)

40 - 46lb

(18.1 - 20.8kg)

45 - 50lb

(20.4 - 22.6kg)

50 - 56lb

(22.6 - 25.4kg)

56 - 64lb

(25.4 - 29kg)

64 - 75lb

(29 - 34kg)

76 - 86lb

(34 - 39kg)

90 - 105lb

(40.8 - 47.6kg)

Chest

21in

(53.3-cm)

22in

(55.9cm)

23in

(58.4cm)

24in

(61cm)

25in

(63.5cm)

26in

(66cm)

27in

(68.6cm)

28in

(71.1cm)

29in

(73.7cm)

31in

(78.7cm)

Waist

18in

(45.7cm)

19in

(48.3cm)

20in

(50.8cm)

21in

(53.3cm)

22in

(55.9cm)

23in

(58.4cm)

24in

(61cm)

25in

(63.5cm)

26in

(66cm)

27in

(68.58cm)

Hip

22in

(55.9cm)

23in

(58.4cm)

24in

(61cm)

25in

(63.5cm)

26in

(66cm)

27in

(68.6cm)

28in

(71.1cm)

29in

(73.7cm)

30in

(76.2cm)

32in

(81.3cm)

Inseam

14in

(35.6cm)

15in

(38.1cm)

16in

(40.6cm)

17in

(43.2cm)

18in

(45.7cm)

19in

(48.3cm)

20in

(50.8cm)

21in

(53.3cm)

23in

(38.4cm)

25in

(63.5cm)
How to Measure:

For best results, take measurements over your underwear.

Chest:

Measure under your arms, around the fullest part of your chest.

Waist:

Bend to the side and measure around the place where your waist bends, keeping the tape a bit loose.

Hip:

Stand with feet together and measure around the fullest part of the hip.

Inseam:

Measure from the crotch to the floor with no shoes.
Select style & size:
Select options
Cancel

Select options

Light Grey Heather, 6

Sale:$18.12
Tech Specs
Waist:
elastic, faux drawcord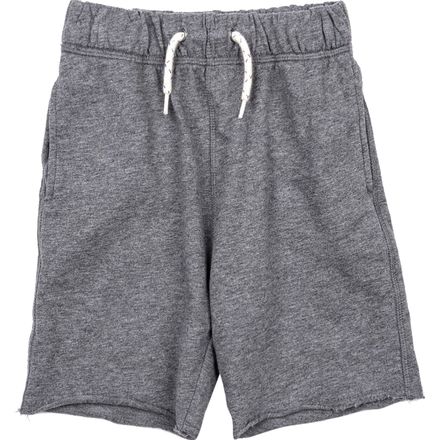 Colors
Frequently purchased together
Cute and comfy for summer play! I bought 7's for my 6-year-old nephew (he's a big guy, I wouldn't typically size up). Relaxed, and cute - the best part is that they don't fight you when they have to get dressed! Comfy pants are the best pants!
Sam Dombro