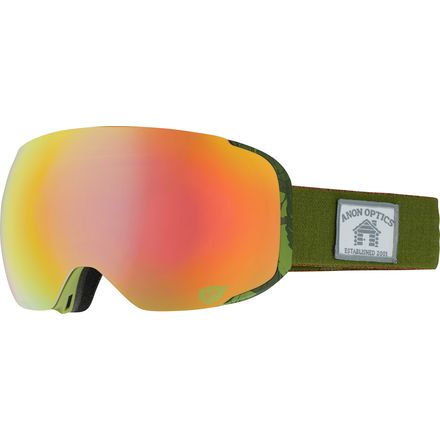 Colors

Detail Images
There's a new sheriff in quick lens change town.
Anon takes its already revolutionary magnet-based lens-swapping technology to the next level with the M2 Goggle. Now frameless for maximum field of vision and a cutting-edge look, this design makes changing lenses insanely easy and fast.

Magna-Tech quick lens change technology got an upgrade on the M2. Anon removed the outer frame and buttons so all you have to do to take off the lens is literally grip it and rip it. The magnets are strong enough to survive a tomahawk through powder without coming off so you don't have to worry about losing your lens when you take a tumble. The large spherical lens tapers from the optical center toward the periphery for a wide field of vision with minimal distortion. Full perimeter channel venting allows maximum airflow to keep your lens fog-free, and triple-layer face foam provides a comfy fit that seals out the elements.
Proposition 65 Warning for California Consumers: This product contains chemicals known to the State of California to cause cancer and/or birth defects or other reproductive harm.
Magna-Tech magnetic quick lens change technology
Spherical lens
TPU frame
Full perimeter channel venting
Triple layer face foam
Fits medium to large faces
Low light lens included
Microfiber bag included
Of the many pairs of goggles that i own, the M2 is what i was going back to over and over this season. The vision on low light days was by far the best of all of the lens i could choose from competitors and i put that to the test for sure. Love them and will continue to use the M2 with a variety of different lenses.
Jimmy McMenamin
Do these models also have the magnets at the bottom for the MFI facemask? Or do only the ones that are pictured with the facemask have the bottom magnets?
Rey Rodriguez
Hey Rey,



These all should have the MFI that attaches to the facemask! Let me know if you have any other questions on it or if you'd like help placing an order for one! My direct line is 801.204.4547 or you can reach me at email cojohnson@backcountry.com. Cheers, Connor
Connor Johnson
Skiers Funding Snowboarding Brilliant!
Familiarity:

I've put it through the wringer
Changing the Brand name to get skiers supporting a Snowboard company is genius!
zoek
Absolutely Terrible!
Familiarity:

I've used it once or twice and have initial impressions
I am extremely disappointed in the quality of Anon and I will never waste money on their merchandise again. I bought goggles and the FIRST day I wore them skiing they got wet and the lens coating bubbled off. This is my second lens I bought from then and both lenses did the same thing. My goggles are ruined and when I called and emailed Anon no one ever responded to me.
Ashley Zweier
how cool are these?
Familiarity:

I've put it through the wringer
when I first heard about these I had doubts. I mean magnets? really? But when it comes to changing out lenses on the fly these are by far the easiest. The lens clarity is top notch as well. Kinda spendy but well worth it in my book.
Steve O
Quick, Easy and Clear
Familiarity:

I've put it through the wringer
I have been nothing short of impressed with the Anon M2 goggles. The Magna-Tech lens technology comes in handy when the weather changes during a day on the mountain. It has saved me both visibility and time on dozens of occasions. It's also good for those skiers and boarders who like a quick change of scenery. There have been no issues with fogging with these goggles since I purchased them. Comes with a hard case. Easily adjustable. Comfort is great, true to "medium and large" face sizes.

WARNING - Use caution when putting these goggles up over your head or helmet while on the chair lift. I've had a few close calls being careless. Not a cheap replacement.
Chasen Fairfield
Anon M2 Goggles
Familiarity:

I've used it several times
As far as clarity and visibility go, these are really good lenses. Sharp images, for the most part; though other lenses I've used are better. However, I had extreme fog issues with both sets of lenses ON THE INSIDE OF THE DOUBLE WALLED LENS the second day I used them. They are very sensitive to moisture, fogging, and are fairly delicate, too. After being diligent with drying them out after each use, fogging issues continue to be an issue at times, tho not as extreme as the second day. Still... fogging of any level is sort of deal breaker for me.
I'm pretty hard on gear and I need stuff that is going to keep up with the pounding as well as perform when I need them to. Having both lenses fog is unacceptable for goggles at this price point.
If you do choose to use these goggles, make sure they are the right fit for you face; that can be a major issue if you don't try them on prior to purchasing.
Shaun Moyer
Solid Goggles
Familiarity:

I've used it several times
Convenience, style, and effectiveness. I had my doubts about the magnetic lens when I first got them, but all hesitation has vanished. They lock so securely in place, that falling hard enough to knock them out would result in worries greater than just a lost lens. They're comfortable on the face, and fit nicely under my Smith Gauge helmet. The lens replacement is super handy for those days that start out bluebird, and when a nice storm rolls in, you can swap to low light lenses without even taking them off! They also don't fog, and that's been on cold pow days and warmer park days.
Andrew Stoye
Good google, lens sub par
Familiarity:

I returned this product before using it
I tried this goggle along side the Smith I/O, I/O7, and Oakley Airbrake. My first impressions were that the lens change system is very fast and second to none but the lens quality was inadequate for this price range. After all, quick lens changes and additional features are great but if you can't see well, what's the point. I found the internal reflection of the lens and the poor helmet fit with the Smith Vantage enough to return the goggles. In the end I chose the Oakley Airbrake for it's relatively easy (gloves on) lens change and excellent optics.
Josh L
I really want to like these goggles. After almost a year of use, here's the pros and cons, which explains the two stars.

Pros:
1. Magnets are godsend. Love how easy it is to change the lenses depending on conditions.
2. Stylish.
3. Durable, held up nicely after a year of somewhat heavy use.
4. Wide field of vision without frame obstructing view.
5. Case is well designed.

Cons:
1. Fogging is horrendous. I've used it with and without face mask and have fogged. I was using with the Anon Blitz helmet (purchased on Backcountry as well) and was told by a Burton rep they're not compatible because the lid on helmet blocks airflow so basically hot air gets trapped in goggles and fogs up lens. Bought the Anon Rodan helmet at their recommendation and still fogs. Very frustrating. The fogging starts at top center of lens and then spreads quickly. When you remove the lens, the top part of lens is practically soaked as are the air vents at top of the goggles. This is the reason I gave it one star. It doesn't function and the lens is advertised as anti fogging, which is misleading and not true. If there are small print disclaimers, they were not made up front.
2. When putting goggles from helmet to face, the lens tends to pop off so you have to put both hands on the lens to prevent lens from popping off. The lens pops off when pulling goggles over the lid of the helmet.

Maybe I got a bad batch, but basically I'm out $140 for the helmet I didn't need and $275 for the goggles and lens. Very frustrating and not fun to spend money on things that don't work. I can't even sell the goggles used based on principle.

Warren Chow
Magnets are key
Familiarity:

I've put it through the wringer
Hands down the best and most convenient way to change you lenses. If you fear the lens will fall off while riding around. Trust me the lens will stay on no matter what you are doing. I have taken some gnarly spills and the lenses never came off. Don't mess around with latches and snaps.
JacKnife
Forget 2 and 3, it's as easy as 1!
Familiarity:

I've put it through the wringer
If you're looking for a goggle with interchangeable lenses, the buck stops here. These things are extremely comfortable and I have never had an issue with fogging. The Magna-Tech lens change out system is hands down the best and it's not even close. Comes with two lenses, one for high light and one for low light. You can easily switch out the lenses while riding the chair back to the top, don't even need to take the goggles off. Comes with a hard case as well as a bag that can be used to clean the lenses.
James Griffin
For the last few years I've been nurturing my beloved Crowbars from Oakley. They are great goggles, and I still plan to use them sometimes, but after so many panicky powder mornings of frantically swapping between lenses I decided it was time to step into the future.

The magnetic lens contraption on these M2 goggles is incredible. So easy to swap lenses, not only quickly but without getting any fingerprints on your lens! That was they key feature that sold me on these, but it doesn't hurt that they also look really cool as well and have really sweet lens options.

I can't comment on longevity yet since I just got these for the upcoming season. Fingers crossed they will last me a while, because based on my living room tests I am loving them. My other qualm was the fairly steep price, but since they come with two nice lenses it's not so bad. Back in the day the second lens was always some cheap throwaway persimmon garbage, so it's cool to see that they now give you two super nice useful lenses (especially when swapping lenses is the most clutch feature of the goggle).
Vinny Mauro
A step up from my 10-yr old goggles
Familiarity:

I've used it several times
These fit well, with virtually no gap between top of the goggle and my Giro 10 helmet. Smoke lens is great for bluebird days while the second lens (Blue Lagoon) works well in cloudy/light snow conditions. Lens swap out is fast...30 seconds pocket-to-pocket. Grippers really grip and eliminate the "slip off the helmet" move the old gripper-less goggles used to do regularly when moving the goggles up for walking/chair riding. I really like the wall-to-wall spherical lens look. Definitely recommend these, especially at Backcountry's discounted price. Attached photo of a couple of old guys with AnonM2s...!
Michael Routh
I've been eyeing a pair of these ever since they came out and am psyched to have finally found the budget to drop in on a pair of my own. I got them in Smoke/Dark Smoke to complete my stealth kit. Very pleased with the fit, field of view, and how easy it is to switch among lenses.
Than Volk
annoyed
Familiarity:

I've put it through the wringer
I purchased the M2 goggles in February, 2016. A month and a half later the red solex lenses are unusable because of scratches - which makes no sense. I didn't hit anything, or even fall on them. I agree with everyone else on the ease of changing lenses and the clarity. No one else seems to have a comment on the short lens life.
Eric R.