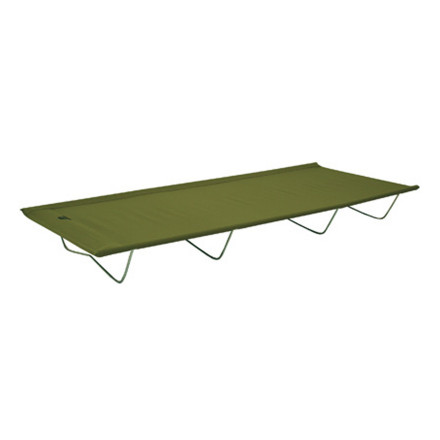 Colors
Rest easy in this lightweight cot.
When a cheap foam pad just won't do the trick, there's the Alps Mountaineering Lightweight Cot. This portable bed features a rigid yet lightweight steel frame and tough polyester fabric that packs up into the included carrying case. At just over 11 pounds, this cot is ideal for basecamp-style travel and car camping adventures.
Lightweight cot for upping your camping game
Steel frame offers lightweight durability
Carry bag makes it simple to travel with
it sits pretty low to the ground but I love how lightweight it is and how easy it was to set up. Gets your body of the ground which makes all the difference in the world!
Alex Hansen
Not too light
Familiarity:

I've used it once or twice and have initial impressions
Great for camping out of a car/truck for the weekend. Solid construction and gets you off the ground, though I wouldn't consider 12 pounds to be "light" for this type of product.
Eric D
Light weight, useful.
Familiarity:

I've used it several times
Like the light weight and quick setup of this item. Wish it had spreader bars at the cot ends as it sags a bit at head & feet areas. A decent cot. Much better than sleeping on ground.
Joe F.
Great product!
Familiarity:

I've put it through the wringer
These are a must have for when you are car camping and you want to spoil yourself! Very durable product.
Jack Hall
Family used these - better than the grnd
Familiarity:

I've used it several times
I bought a few of these for our Lake Powell trip and this paired with a decent airpad did the trick and we slept much better than in the years past. Plus it packs down to a very manageable size. Not light by any means, but thats kind of expected. My younger kids couldn't put it together on their own... required too much muscle strength, but that's no big deal... worked well for us.
Frank B.
Painful
Familiarity:

I've used it once or twice and have initial impressions
These cots had decent reviews, however, my daughter and I both found these low cots painful to "sleep" on. I'm not sure what use these cots have if you still have to use a pad? These cots seem to be additional costs of time, energy and money. I'm going to return them and put my money toward a good, pad.
Ann M.
Inconvenient
Familiarity:

I've used it once or twice and have initial impressions
The metal pieces are difficult to slide into place and takes a while to set up. It's also heaved than other cots I've owned but also more durable.
David Yath
I've only used it a handful of times... Installation isn't difficult but feels a little treacherous as you have to use quite a bit of force to bend pointy rods into place. Also, the bed is a little creaky when you shift positions in the night. That said, it's comfy enough. It does the job. It's especially nice when you put a sleeping pad on top for maximal glamping comfort.
Elliot Layda
SPECS
Familiarity:

I've used it once or twice and have initial impressions
Dimensions: 30" w x 74" l x 7.5" t
Weight: 11.5 lbs.
250 lb. Capacity

Green 600D polyester fabric
14" x 2" x 34" carry bag
Shay
Great cot
Familiarity:

I've used it several times
I love this cot. It's a little on the heavy side, but it's sturdy, comfortable, and pretty easy to set up and tear down. A great option for car camping.
Ronald F.
Great and simple
Familiarity:

I've used it once or twice and have initial impressions
This cot is great! It is comfortable, easy to set up and lightweight compared to other cots. Great price as well!
MacKenzie C
Super easy to put together, somewhat light and slept amazing.
Travis McGrew
Great for Car Camping
Familiarity:

I've used it several times
I have used it under the milky way with just a sleeping bag to keep me warm on my car camping trips. Wonderful addition to my gear. Would recommend it to my friends. For me it was easy to assemble and take down and it comes with its own bag to boot
Rohit
great cot for great price
Got two of these for my husband and son...i myself like beds and am not a bug person. They have enjoyed the ease of the cots over air pads. They are comfortable and pretty easy to assemble. They look difficult at first when you pull out all of the poles and think what have I gotten myself into. The price is extremely reasonable and you do not have to worry about waking up on the dirt floor on a flat air pad. The only down fall was the weight was a little heavy, but as long as you are not parked to far from your camp site you should be fine.
Sara J.
Awesome cot for the price
Familiarity:

I've used it once or twice and have initial impressions
Wanted something to replace my tent on motocamping trips.

While it wasn't the easiest to put together the first time it definitely doesn't take an engineering degree like some people have suggested.

Plenty comfortable to sleep on, while too big/heavy to backpack with, it perfect for car camping or as an extra guest bed.
Scott Hill
Ridiculous price and super functional
Familiarity:

I've used it once or twice and have initial impressions
I bought this cot to "pimp" out the bed of my new truck. I have a Nissan Frontier Long bed crew cab. The bed is listed at 6 foot 1 inch. I wasn't sure this guy would fit, but I was sure gonna try since it didn't cost much.

I took it out of the box and had it completely assembled in under 5 minutes. As a follow-up to another reviewer, I have a degree in Mech Engineering and found it super EASY to put together. Not many ways to mess it up. Put together both 3 section rods, run them down the sleeves on each side of the canvas, making sure to have the holes of the rods aligned with the holes on the sleeves. Then you use a little muscle and put the 4 feet supports in the assigned holes. They will be perpendicular to the 3 section rods. Boom you are all set.

The cot itself has great tension and feels solid. Unfortunately it was a little too long to fit in my truck bed. I cut 1.5 inches off the 3 section rods on each side with a hacksaw and now it fits perfectly! My small investment should pay off and allow for very comfortable nights.

I recently broke my back and haven't had a chance to take many adventures yet and use the cot. I will follow up if it does not sleep as ideally as it seems.

This cot would not be my first choice if I was backpacking due to size and weight. It would be do-able, but a sleeping pad or more expensive cot designed for backpacking would be better. If you are car camping or just need a spare bed for guests, this thing is sick. So cheap and so easy.
Alex Welton
Ok got this with a lot of hesitation because the reviews were either love it or hate it. The reviews had me wondering if putting this together by headlamp was going to be an issue. I decided to try to put it together without the instructions took about 5 minutes including unboxing. If you have every put together a pole tent then you can manage this no problem. Works on the same concept as apply pressure put the support in the hole and the tension keeps it there. I haven't slept on it yet but seems comfy so far. It's kinda like a springy hammock. Would buy again at this point love the super fast shipping and customer support. Gets the Ollie seal of approvalIf you wait till it's together it will cost more because the rotors will need replacing and there will be labor costs. .
Alexander R
Awesome product for the money!
Familiarity:

I've put it through the wringer
This cot is fantastic! I'm a Boy Scout scoutmaster so I spend at least one weekend every month camping out with my son and about 30 other boys. I wanted something low profile for more headroom in my 2 and 4 man tents, packed small and was lightweight. It fits the bill on all accounts. I've since bought one for my son and many of the other boys in the troop have as well because they like ours so much. Two will fit really well in a standard 4 man Coleman type dome tent with room in the middle for all their gear. Perfect for car camping, but would be doable on a short backpacking trip as well.
Christopher E.