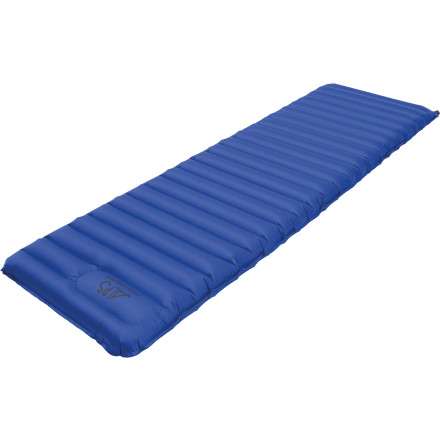 Colors
Weighing just over one pound, the Alps Mountaineering Elevation Sleeping Pad provides full-length comfort for camping, backpacking, and trekking. Made of rugged ripstop nylon, the Elevation inflates with a built-in pump, deflates with two durable brass valves, and comes complete with a stuff sack and repair kit to keep you organized and sleeping comfortably in the backcountry.

40D ripstop nylon
Integrated pump
Horizontal tube design
Ultralight weight
Two brass valves
Stuff sack and repair kit included
Comfy Bargain!
Familiarity:

I've used it once or twice and have initial impressions
You certainly get what you pay for with this sleeping pad, but for my needs this pad works great! I bought this for my boyfriend for a backpacking trip, and it worked great. It backs down extremely small and did a great job keeping him warm. As for the noise I didn't feel this pad was any louder than my Term-a-Rest Voyager is. and it didn't keep either of us from getting a good night sleep. This is a great pad to have if you aren't looking to spend a ton of money and will not be doing a lot of cold weather camping.
Chelsea Shephard
This thing is so loud I've had to pack a pillow case to put on it. It is pretty comfortable, though.
Matthew S.
Comfortable but LOUD!
Familiarity:

I've put it through the wringer
I've been pretty happy with this pad overall - for the price it's quite comfortable, decent weight, I have never had it lose air at all, and packs to a reasonable size. The Long is perfect for me (6' 2"), no problems rolling off or anything, and I like the unique inflation method.

My one complaint (which I'm surprised I haven't seen mentioned yet) is that this thing makes an incredible amount of noise! I tend to roll over and re-position a fair amount throughout the night, and when you move on this pad it squeaks and groans and creaks like a banshee. The noise problem is exacerbated on flat surfaces (i.e. the wooden floor of shelters on the AT, bare rock, etc.) but isn't as bad on a tent floor or grass. Of course, the pad doesn't make any noise when you're still, so it isn't an issue once you are asleep or if you don't move around a lot at night.

In terms of functionality it's a minor issue, but it's rather embarrassing to keep my fellow campers awake at night with my noisy sleeping pad!
Michael L.
Bought this on SteepandCheap for a steal. Was excited to try it out. Found it to be my least favorite air mat.

Cons:
-Tall and narrow with round edges. So easy to roll off. I spent more time that trip on the ground than on the mattress.
-Integrated pump is a waste. Took forever to actually fill up with this. After a few minutes i gave up and used my mouth. Worked way faster. So pump is just extra weight.

Pros:
-low price
-lots of air so comfortable while on it.
-Fairly lightweight

I'd recommend to buy something else. You'll sleep better!
AKSkiBum
You get what you pay for
Familiarity:

I've used it several times
I got this pad on steepandcheap at a good discount. I fount it to pack up fairly small and its pretty light. Its thicker than most pads which can be nice for bumpy group, however this also makes it really easy for the edges to collapse which makes you roll of. I also didn't think it was very comfortable and it was very slippery on tin my tent.

I would say this is an ok entry level pad but I would recommend spending a bit more to get something more comfortable.
Alex R.
This video is submitted by ALPS Mountaineering to help show features and specs. Thanks for watching!
Sarah Eckelkamp
Comfortable but unreliable
Familiarity:

I've used it several times
Easy to inflate and super comfortable sleeping pad, but mine developed a leak on its third camping trip. Since there is no padding built in (it relies totally on the inflation) once the air leaks out you might as well be sleeping on the ground. I'm planning to patch this pad and continue using for car camping, but I wouldn't want to rely on it on a long trip or anything.
Mike Haines
Unanswered Question
Is there an R value listed for this sleeping pad?
Alex K
Unanswered Question
How do you inflate. There were no direction.
Denise Hamilton
sleeps like a mattress but packs light
Familiarity:

I've put it through the wringer
Seriously I sleep like a baby every time I used this pad. I have had many sleeping pads but this if by far my favorite! It is so comfortable and the best part is that you will never touch the ground so you stay warm.

Did I mention the internal pump is so easy to use and make set up easy! I love how compact it can pack down as well. It has all the best qualities a sleeping pad should have. Comfort, warmth and light.

I highly recommend this pad to anyone that is looking for a pad that they can take on weekend trips. Also the price is not bad!
Jane Hwang
comfortable but internal chambers popped
Familiarity:

I've used it several times
it was comfortable for about a few hours then i heard a pop, then another 2 pops. the internal chambers popped within the first nights use so the pad was misshapen. no air leakage on the outside but internal chambers popping under my 210lb weight is not acceptable. with more than one chamber popped, i think there might have been a manufacturing defect or who ever the technician that assembled this did it incorrect.y
Jason C.
Extremely Comfortable/Packs Small/Tight
Familiarity:

I've used it several times
I took this sleeping pad with me on my 10 day camping trip around Iceland. Let's just say out of all of my friends, I slept the most comfortably for a fraction of the cost of their overly priced sleeping pads. This pad was not only extremely comfortable and thick, but packed easily and tight; fit right inside the water bottle pocket of my Jansport Katahdin 40L Backpack.

Only cons is that it can be pretty loud when you move around and the built in pump does not work as well as I'd hoped but with about 2 minutes of personally blowing it up, I had all the comfort I needed. Stayed inflated throughout the night perfectly.

Compared to what others have said, this pad was not narrow for me. I am 5'6, 135 pounds, and female.
Katie B.
Thick pad but a little narrow
Familiarity:

I've used it once or twice and have initial impressions
Used it on a 5 day trip and have more trips planned. It's comfortable, but a little narrow. The thickness is great, but not when you roll off suddenly. Oh, you notice it. Deflates quickly, and folds up small. I'd rather the weight of the extra brass valve be exchanged for a little extra width or traction/slip control material to contact the sleeping bag.
Pete
I also got this pad for about $43 off SACand used it on a weekend kayaking trip. I needed something that would pack up small, be lightweight and not break the bank. I had a cheap thin self inflating pad that was just to large to take. Yes it does require a little bit of work to pump up the pad but for how small it packs it is worth the effort. I would suggest getting the long version for the width because I got the regular and exchanged it, it just seemed very narrow. Overall I am happy with the purchase and look forward to using it more.
Ryan Maheu
Good price, super thick
Familiarity:

I've used it once or twice and have initial impressions
Have used this pad twice now on backpacking trips. Rolls up small and light for its size. I bought it for it's thickness. People are jelious when they see it next to their thin foam pads. And it takes up less room when packed. Inflates quick and easy. I got the larger size for the width. it's loud when u move around but really comfy.

Gavin
Pleasantly surprised
Familiarity:

I've used it once or twice and have initial impressions
I will be honest. I did not expect much from this pad. Just bought it as a one season wonder for camping this upcoming year. The integrated pump is really easy to use (make sure you read the instructions - i know, i know you dont want to..) Repair kit is included so be sure to set that somewhere where it will not be lost. It is super light weight and packs down nice and small. Durability is really the only thing in question but I suppose we will see how that unfolds. If anything tragic happens i will update this review.
Grant Kates
Lightweight but a pain to fill
Familiarity:

I've used it several times
It's thick and comfortable to sleep on and very lightweight despite the 2 heavy brass valves at the foot end of the mattress. Honestly, the last thing I want to do at the end of a strenuous hike is do chest compressions on a mattress to fill it. It requires work and perhaps some perspiration to inflate. I would recommend inflating it a few times before your fist real use with it because the material on the inside is stuck together making it difficult to pump up, almost as if the pump is blocked and no air can enter. You may have to adjust the foam pad, moving it one way or the other to allow the air to flow better into the pad.



If it were not for the price and weight, I wouldn't have bought it.
wakeabyss
Narrower than expected even after reading. My 8y/o complains about rolling off of it but he is a restless sleeper anyway. The self pump is lacking but it does rollup small, which is good.
Tift T.
Awesome!
Familiarity:

I've used it several times
I recently purchased this pad and used it on a motorcycle trip. Packs small and inflates in about a minute. Extremely comfortable and much more convenient than a regular inflatable mattress. The integrated pump works very well and inflation time is about a minute with minimal effort required.
Chris M.
Ultra-Light and Comfortable
Familiarity:

I've used it several times
Ordered this pad off of Steep and Cheap for about $40 as my current Therm-a-Rest is approaching 15 years old. Was surprised by the packed size being so small, and the pad being so light.



Have used the pad for about five nights now, and find it very comfortable. Inflates incredibly thick (3.5"!), but I find it a little narrow at only 20". I tend to be a stomach sleeper so it's not too bad, but your arms do hang off of the side.



Inflation is simple, and only takes a minute or two. You essentially give the pad CPR on a foam block. Very few moving parts to fail.



I'm not certain two brass valves were necessary, removing one would have saved (very slightly) on weight.
Michael S.