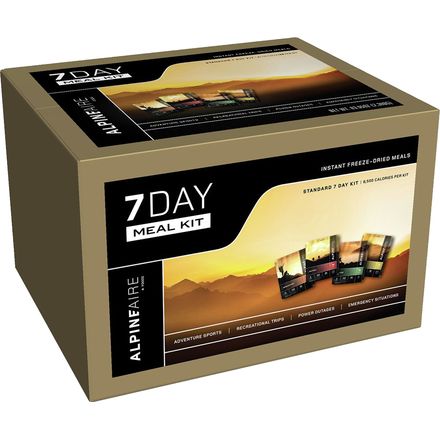 Colors
Stock up for multiple summer camping trips, emergency situations, or just one long backpacking trip with the AlpineAire Standard Gourmet Meal Kit. It provides enough packets to supply lunch and dinner for a week.

Entrees include Caribbean Black Beans & Rice, Pasta Roma, Leonardo da Fettuccine, Spicy Sausage Pasta, Forever Young Mac & Cheese, Mountain Chili, Teriyaki Chicken with Rice, Southwestern Style Masa with Beef, Hurry Curry Chicken with Rice, Santa Fe Black Beans & Rice, Three Bean Chili, Honey Lime Chicken, Wild Thyme Turkey, and Spaghetti Marinara with Mushrooms

Yum
Familiarity:

I've used it once or twice and have initial impressions
The one I tried was great. What better food storage than camp food.
Diana Jenson
I got this for my food storage and I'm feeling great about it. If there's an emergency, I'm gonna be sittin' pretty with this stuff! My husband and I also go camping a lot, so as we take a pack or two from the kit we'll buy a couple more to replace those but I'm excited to have so many readily available and it's quite a bit cheaper buying these in the kit rather than a couple here and there. It says 7 day but there are 14 packets. A lot of times there's enough in one to split between two people so these really can go a long way.
Carly Stark
If you are about to head out on a longer trip, and need someone to make the food decisions for you, then pick one of these up. Best selection of backpacking food on the market!
Andrew Meehan
Good for an extended trip.
This is an easy way to stock up on dehydrated meals. The selection is mixed up enough so that you never get bored while on the trail. Getting one of these boxes will ensure you always have enough trail food on hand in case you decide to bug out on a last minute trip.
Pete OBrien
Quite the variety of meals
I initially bought this box for a backpacking trip for me and my SO. We ended up not using the entire thing. We actually ended up sharing meals because the quantities were ample for the two of us. At 600 to 800 calories per meal, we were quite satisfied. We also brought other supplementary meals such as meal bars and other protein sources. Most of the meals were different to satisfy variety in the meals. I loved how each of the bags had clear information about what was in each pouch. This made calorie counting and nutrition tracking easier.
Travis Flitton