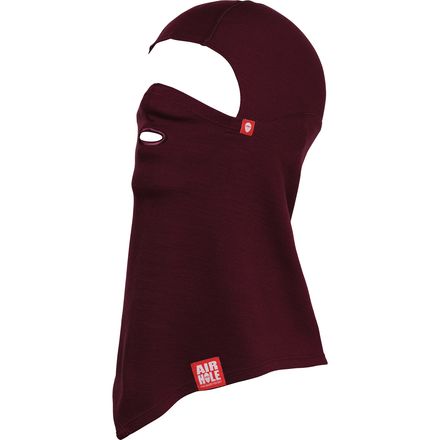 Colors
Binge on the hinge.
Stop settling for sweaty, stinky, and all-around lesser facemasks this winter by picking up the Airhole Hinge Merino Balaclava. As its name would lead you to believe, this balaclava is made from merino wool, which is not only soft as butter, but also wicks moisture away from your skin and fights off the build up of funky odors after a day spent hiking the park. Plus, the ergo nose shape and hinged design allow it to be comfortably worn up to seal out the elements or pulled down around the chin to catch that cool breeze.
Freshness in both comfort and style abounds in this balaclava
Merino wool construction fights funky odors and wicks sweat
Hinge design make for versatility and comfort
Awesome @ first, less-so soon thereafter
Familiarity:

I've used it several times
I ordered two, one for myself and one for my girlfriend. We were extremely impressed by the feel of the merino wool and the fit was pretty much spot-on, but the initial impression made way for a less awesome experience on the mountain.



We've used them so far on two ski trips within the span of two weekends in very different conditions, but with the same end result.



Weekend one: Lake Tahoe, CA (Northstar, Kirkwood, Heavenly) - all lift-served days.

Conditions: teetering above/below freezing, mixed heavy precipitation (rain to mixed snow to heavy snowfall)

Summary: this being the first use for the balaclava, I figured these conditions would be pretty decent to see how it performed. Not needing much extra warmth aside from what my helmet provides, I decided to use it anyway, because I prefer merino base layers, and figured it would moderate excess heat build-up and perform well in damp conditions. After about two hours of skiing in a slight drizzle/mixed freezing rain/snow, the balaclava was pretty wet. It felt warm, but not too much so, but was definitely soaked. Once it got relatively soggy, the face portion began to distend slightly in shape.Enough to not really want to sit evenly on my face or stay in my lower goggle foam brim, but not enough to become annoying. Day two was HEAVY wet snowfall at Kirkwood. Within one run, it became very damp, and within a couple runs of needing to pull it down to breathe (breathing through soaked cloth = waterboarding), it was completely shapeless and wouldn't really stay on my face unless tucked into my goggles, which fogged up, sort of defeating the purpose behind the Airhole. At mid-day, I switched it out for a Buff tube, since it was essentially useless. I didn't reach for it the next two days at Heavenly, since it was too stretched out.



A wash and hang dry later...



Weekend one: Beaver Creek and Vail, CO

Conditions: very cold (low teens F), dry snow/clear

Summary: two very cold powder days. 20" of fresh powder with some extra-deep stashes. I figured this would be the ideal conditions for this, since I mostly wear these sorts of things for the wind and snow spray and not really to be particularly warm. The merino wool stayed dry longer - not reaching what I'd consider sogginess for four-five hours. The shape held on a little longer than in totally wet conditions, and was warm enough - but once it got slightly damp from snowmelt and breathing hard, it became 1) totally frozen (expected) and 2) totally bent out of shape (sadly, expected again). One night hanging to dry near a radiator helped it back to its shape, but that shape only held on for a few runs before being swapped out for the original Buff tube yet again.



A great idea - the execution seems awesome at first and the materials feel good - but being in a product that might be pulled and stretched a bit, especially when damp, is probably not the best application for merino wool. 3/5 for this - it might be perfect for someone who doesn't move it around or is mellow enough to not get it soggy. I'll definitely try it again in a different material.




Jonathan Epperson