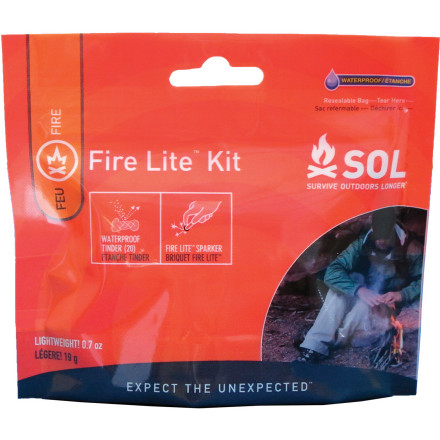 Colors
Whether you're caught in an unexpected situation in the backcountry or you forgot to pack the matches, rely on the Adventure Medical SOL Fire Lite with Tinder-Quik to get the fire-starting job done. Ideal for hunters, outdoor enthusiasts, pilots, backcountry skiers, and campers, this waterproof striker and Tinder-Quick saves the day when your gear is utterly soaked or you're in survival mode.

Waterproof striker produces over 5,000 sparks
Striker sparks in all conditions, at any altitude
Waterproof Tinder Quik ignites with a single spark and burns up to two minutes
Easily aim spark directly at tinder with one-handed striker
Great Backpacking Accessory
When you're working with nothing, this kit can make or break your fire making game.
Jenna Hoy
Works Great
Familiarity:

I've used it several times
Great for getting a fire started even in wet conditions.
Chad Cordell
Zach Parrott
Good for starting a fire in most situations, even in wet conditions. Very light and good backup to lighter or matches.
Diego Zegarra