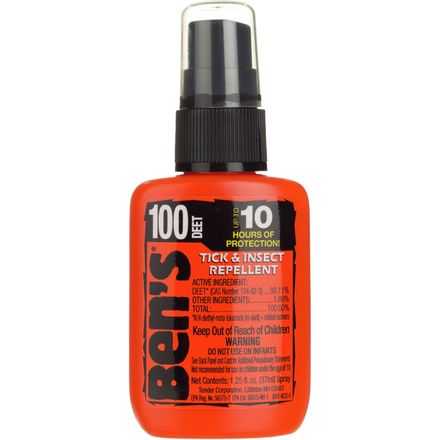 Colors
bite back.
Ben's 100 Tick & Insect Repellent is your best defense against potentially lethal bug bites. Each year more and more individuals are infected with Lyme disease, West Nile Virus, and other deadly effects of infected insects. This water based repellent uses powerful DEET to protect you from dangerous bugs. DEET has been proven safe, when used as directed, and is the most powerful insect repellent available. Ben's formula is alcohol and propellant free to deliver the highest concentration of repellent without environmentally hazardous fluorocarbons. Use Ben's easy to apply insect repellents to keep you, and your family, safe when heading outdoors this year.
Works great as long as you reapply ever 10 hours....wish the bottle was a bit bigger. This one lasted me 4 days.
Chris Lopuski
Perfect size
Familiarity:

I've used it once or twice and have initial impressions
This stuff is powerful, and it packs so small into a backpack. Takes up barely any room at all. It fits in your palm. Handy when I don't want to take up a ton of room with a big bottle of bug spray.
Brandi Barker
Does What it Should!
Familiarity:

I've used it several times
Smells awful, tastes worse, but it definitely keeps the bugs away!
Shay
DEEET!!!
Familiarity:

I've used it several times
Works good, probably not too go for you , but neither are bug bites so you make the call. If you decide you don't want bugs all up in your business. Deet it up!
Rusty Olds
While not 100%...
Familiarity:

I've used it several times
I'm still mostly bug bite free after a weekend in the deep backcountry. I was cautious about direct skin application, but it worked wonders when sprayed on clothes or my pack.

Happy camper with this stuff in tow!
Jenn W
Great Product
Familiarity:

I've put it through the wringer
I have been using this spray for years and I find it truly works to stop almost anything from biting you. I tend to try to put it on my shoes and clothing (certain labels may warn of possible color change on fabrics which may be true, I have not noticed) to prevent soaking my skin in deet on a regular basis. Overall a great product. A little bottle, but a little bit goes a long way.
Rachael Van Dolah
Bugs be gone!
Familiarity:

I've used it once or twice and have initial impressions
I went on a jungle advenmture recently where there was a chance to catch malaria, so i purchased this stuff. Put it on my shoes, a few sprays on clothes, hiking backpack and buff and was never bit once! Everyone else in my group used something else and came away with bug bites, but i was bite free. I'm sold on this stuff! Plus, the small package it great fort carry-ons.
Mallory King
light enough to keep in the pack or in the glovebox, apply moderately and the only buzz you'll have on your trip is the one you want.
Jesse DeKrey
Stop the mosquito massacre
Familiarity:

I've put it through the wringer
If you have ever been to the Unitas when the mosquitos hatch, you've been to what I can only describe as hell on earth. They swarm and don't really care what you put on. That is except for this stuff. Don't get it in your eyes or mouth. Don't rub it in your neck and skin then forget 10 minutes later and rub your eye. Immediately wash your hands because it burns if you forget. The good thing is, don't mess up and you are set. The bugs will run.
Kyle
deeeeet
Familiarity:

I've put it through the wringer
its deet, it works.
If you need something to keep away the bugs for sure, this is the stuff.
It is 100% deet, so if thats not your thing you should try something else, but nothing works like 100% deet does.
Ryan
They say that the maximum effectiveness of deet is in the 30% range. I would tend to disagree based on experience. When I'm in the deep woods during the hatch I always bring Bens 100 Max. It isn't 100% effective, but the 100% Deet gives me piece of mind when the black flies, gnats, no see-ums, mosquitos, and ticks are biting like crazy. I get less bites with Bens 100 than any other bug spray.
Ryan Gibbs
This stuff is killer! (to the skeeters)
Familiarity:

I've put it through the wringer
Weekend comes rollin' round and you make a B-Line for the backcountry. pun intended... Nothing is better in my opinion than going out to the backyard of the US of A. However, the difference between making the memories for the right reasons can be remembered for all the wrong reasons. This stuff is as legit as it comes. Don't let your memories be ruined by annoying bugs. Bens is the first on my gear list, as it should be on yours. So go out and enjoy what our country has to offer and live it up!
Emilie M.
Best bug repellent around
Familiarity:

I've put it through the wringer
Used this on multiple adventure races in the heart of bug infested north east forests and not once was bothered by anything. I'm sure this much deet isn't good for you but if I'm going to be in the woods for over 24hrs without sleep I at least don't want to be bothered by flys and mosquitoes.
Jonathan Millar
Deet
Familiarity:

I've used it several times
I really only purchased this because of how small the container was. I usually buy the 30% Deet but this was more of a necessity from from complaining all weekend. My husband would highly recommend!
LIZ KUZ
A little goes a long way. Keeps the bad boys away.
Steven Jones
if you need the best repellant
Familiarity:

I've used it several times
100 is great but it probably isn't the best for your body. It Repels like crazy and does great job. I tend to only use it on cloths around leg openings and hats. for skin contact I will use a lower concentration like 30.
johngchrist
Saved me.
Familiarity:

I've used it several times
I'm allergic to mosquito bites, like it can get pretty bad sometimes. I took this to Canada where I was camping by a river, there was still water in places and only got bit once the entire week. Usually I attract mosquitoes like crazy, but this seemed to do the trick.
Felix
Works like a charm, just don't get it in your mouth or you will hate your life for hours.
Jocie
Anybody ever encounter stable flies while...
Anybody ever encounter stable flies while using this stuff? Does it keep them off?
skidaup
Best Answer
Yes I have. DEET is gnarly, but it works. Also, if you look closely at the photo of the product packaging, Stable Flies are listed 2nd from the bottom. A little bit goes a long way.
Phil Maher
This stuff has been proven to work. It takes a very little amount to repel mosquitos... and it lasts. I've had the same bottle for months.
Rich F