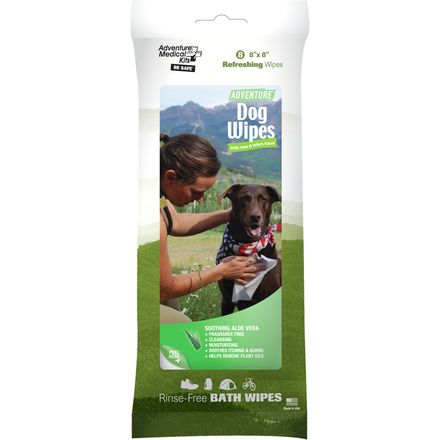 Colors
You'll be glad you stashed the Adventure Medical Adventure Dog Wipes in your pack when your mischievous pup gets a cut, sting, or burn on the trail. The moisturizing, aloe-rich wipes clean out wounds and relieve pain, and the formula includes Witch Hazel to relieve burning and itching.
Dog-friendly
Unscented
Durable
Formula includes aloe and Witch Hazel
Camp Essential!
Familiarity:

I've used it several times
These are great investment for keeping your gear clean! After purchasing a new tent, sleeping bag, and pad this summer I didn't want dirty dog paws all over my minty gear. I wipe down our dogs paws and legs before bedtime each night and it's really amazing how much cleaner our gear is staying. He doesn't enjoy the pre-tent ritual but hopefully overtime he'll understand that tent time is not a place for roughhouse mucky yuck yuck time.
K Jacobsen
Keeps Your Tent Clean
Familiarity:

I've put it through the wringer
Add this to your list of dog camping necessities. After a long day on the trail and lake your pup might start to smell like whatever they rolled in that day. A quick wipe down on my dogs paws and face had her smelling like fresh aloe.
Jean Vandekieft
Perfect for the dogs before they jump in the car after a hike!
Jason
Keeping the car semi clean
Familiarity:

I've put it through the wringer
My car isn't ultra-clean, but maintaining a generally hygienic level of order is important. Sometimes, my dog's role as co-pilot comes directly into conflict with my efforts to keep the car clean.
The Doggy Wipes really help.
Before she hops in, I wipe Phoebe down, and shake most of the dirt, mud and debris that she'd typically take with her.
The wipes aren't necessarily an alternative to, or a replacement for baths, but they help ditch the initial layer of doggy grime.
Conor Hampson
Perfect for any dog owner
Familiarity:

I've put it through the wringer
My sister loved them for her dog. She now takes them every where just in case.
Camden P.
My boyfriend made fun of me when I got these, but after our foster pup got into his own... sh*$ (lovely...), he suddenly praised them.

Good for anything (cringe) your pup might get into. A life saver!!
Mackenzie Martin
These are definitely handy for those camping trips out in the desert where it's dusty and muddy. These clean up the pup real nice and since they are unscented, they won't attract any bugs! Great price too!
Jaclyn Richards
Great wipes.
Familiarity:

I've used it several times
These wipes work really well for cleaning the dirt off my bulldog as well as wiping his face folds at any given time. I've gotten some wipes that he seems to dislike, not so with these! He is as happy as can be after a good face wiping. Sometimes I have to wipe his bum while we are out, these do a fine job with that as well!
Bill Ison