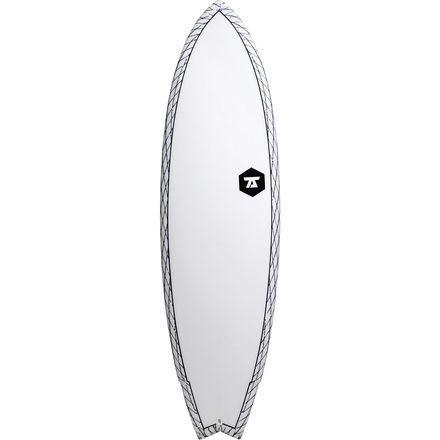 Progression session.
The third generation in a legendary line, the 7S Super Fish 3 CV Surfboard has been overhauled to make it faster, more forgiving, and ultra-responsive. However, even though its design is different from its forefathers, you can still expect a board that catches waves like a dream, offers the perfect balance of stability, speed, and performance, and helps you step up your surfing skills to new levels.
Parallel rails and extra width through the nose creates a really stable platform and helps you generate speed. A tapered tail outline maintains nimble maneuverability, and the flyer creates a release point when turnings. The swallow tail adds bite on the face of the wave, especially when glassy conditions prevail. Single-to-double concave creates tons of speed down the line, and provides sensitivity off the tail when transitioning from rail to rail. The balanced rocker has just enough lift in the nose to prevent nose dives on steeper waves, and moderate curve off the tail keeps the board responsive when driving off your back foot. Plenty of volume in the chest provides paddle power so you can get into waves early, and full rails keep the board sitting high in the water.
Fast, forgiving, and ultra-responsive high-volume fish
Lively single-to-double concave for speed and control
Full rails keep board sitting high in water
Carbon Vector construction offers lively, yet controlled flex pattern