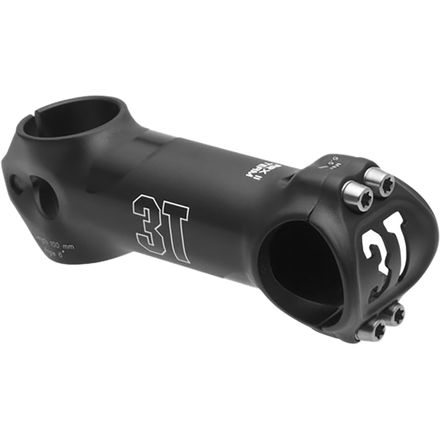 Colors

Detail Images
Subtle satin.
There's a time and a place for loud and flashy. Sometimes that place isn't the cockpit of your bike. The 3T ARX Team II Stealth Stem adds a touch of elegance to your cockpit with a subtle, matte black finish that downplays the Team stem's stiff, lightweight performance. The Arx II Team continues the original's tradition of simple, classic construction — but with a design that drops grams from its already low weight. The ARX Team takes the classic, tubular design of the ARX and further refines it with slightly flattened sides and a sculpted faceplate.
The ARX II Team stem's faceplate crimps in tighter at the top and bottom, which results in an ovalized appearance. However, even with the new shape, 3T was still able to retain its hallmark cut-out logo. This generation of the ARX also sees a more precise installation process than previous models. Instead of a traditional four-bolt Allen assembly, the ARX II features a Torx assembly at the faceplate and a single M6 bolt to clamp the stem to the steerer.
Great stem
Familiarity:

I've put it through the wringer
This is a great stem I needed something that was much shorter after a bike fit and this did the trick. It looks good and matches my bike. There is a bit of an issue with the different bolts though. You will need to have a T30 and T25 wrench with you to do any adjustments.
Brent Waliduda
Solid Stem
Familiarity:

I've put it through the wringer
Excellent stem, stiffened up the front of my bike when my other stem flexed when out of the saddle. The t30 stem bolt is a minor annoyance, but the stem is worth it in the end. Stealth colorway matches my all black bike well.
Chad K.
Stem sell.
Familiarity:

I've put it through the wringer
This stem's stealth looks set it apart by helping it blend in. I've got a 2003 Italian frameset, and there's a lot of branding and aesthetic flourishes on it. The 3T Stealth lets the frame do the talking without clashing.
Rob Ware
3T is one of the best (and oldest) manufacturers of cycling cockpit components (posts, stems, handlebars) in the cycling world. 3T stands for Turin Tube Technology and was founded by Mario Dedioniggi in Northern Italy in 1961. In 1975 Dedioniggi was the first person to use aircraft grade 7050 aluminum alloy in cycling cockpit components. Lots of experience here.

This top-of-the-line aluminum stem utilizes 7050 aluminum alloy for the body and titanium torx bolts (strong, lightweight). The front plate bolts are T25. The steerer clamp bolt is T30.

This 3T stem is a work of art. Lightweight, strong, functional, and beautiful.

If you own an Italian bike (Bianchi, Colnago, Pinarello, etc.), it would be a crime not to use a 3T stem, bar and/or seatpost.

Install note: I recommend using a torque key or torque wrench to tighten the stem's torx bolts down per spec (5.5 Nm front; 8 Nm rear). And if you have a carbon handlebar, I highly recommend using a torque wrench and a small swipe of Finish Line "Fiber Grip" paste ($6/tube). Don't overtighten. And you don't need to if you use a torque wrench and grip paste.
Jonny Heinken
2 Different Torx Bolts
Familiarity:

I've used it several times
Good build, good looks but before you buy know that this stem uses T25 and T30 Torx bolts.

If you're like me, this required an additional purchase of a T30 bit and multi-tool.

Unless you've got both of these Torx sizes covered, you're going to be spending some additional money.
Nate Dunn
Wonderful Stem
Familiarity:

I've used it several times
It uses a Torx bolt which will repel stripping from chronic over-tighteners.
It is light. It is stiff. It is black. It holds my bar. It has not loosened. It is good at being a stem.
Lewis G.