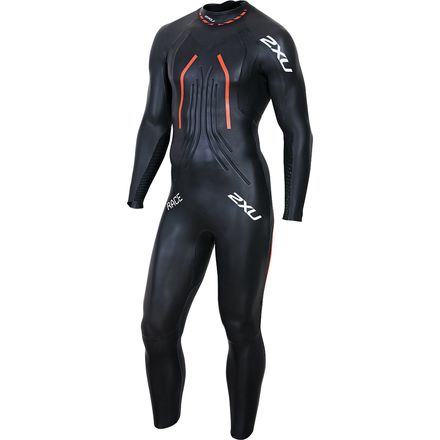 Colors

Detail Images
Start your race off right.
Sitting comfortably in the middle of 2XU's lineup of wetsuits, the men's Race Wetsuit was created for triathletes looking for competitive advantage in the water. It features a more sophisticated construction than an entry-level suit while remaining mindful of the self-sponsored triathlete's budget constraints. In fact, the main differences between the Race Wetsuit and its pricier siblings appear in fit and mobility rather than overall construction, as 2XU uses the same Yamamoto neoprene grades in the Race as it does in its top-tier GHST and X:3 Project X wetsuits.
2XU wetsuits typically employ a variety of panels with various materials and texturing, strategically arranging them to provide hydrodynamic advantages throughout each stroke. New this year for the Race, 2XU added embossed concave "water entrapment zones" along the inside of the forearm area of the wetsuit, which essentially help you displace more water as you pull through each stroke. 2XU then left the upper part of the forearms smooth to ensure your arms are still able to glide quickly out of the water at the end of each stroke.
Open water swimming presents far more challenges to maintaining form than tidy lap lanes in the pool, and to help combat thrashing and offset the stroke interruptions of sighting, 2XU adds a roll bar to the torso of the Race Wetsuit. In addition to improving your buoyancy, the technology facilitates hip and torso rotation, saving you energy while ensuring you maintain efficient form as your body tires swimming against choppy waves and aggressive co-competitors.
Throughout the rest of the body of the wetsuit, 2XU balances these specifically targeted areas with Yamamoto neoprene, employing a 39 cell composition in the torso and leg panels for buoyancy. It pays careful attention to flexibility at this level, adopting a 40 cell composition along the arms and chest for better mobility and adding a 520% stretch lining to the inside of the wetsuit. You might notice a slight shine on the outside of the wetsuit, which comes from Nano SCS, a silicone coating that improves hydrodynamics and allows you to slice through the water in a similar way to marine mammals' oily coatings. Features like this don't always save large, quantifiable blocks of time, but they often can save valuable energy. This means rather than staggering out of the water, feet tripping over the sand, you're more likely to exit confidently, cleanly pulling the zipper and opening the neck flap before you've even run through the timing gate.