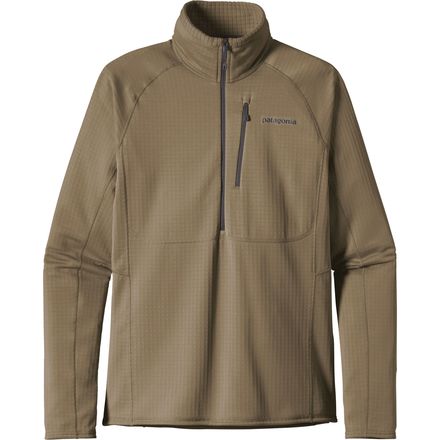 Colors

Detail Images
A tool for the mountains.
The best pieces of mountain equipment are simple, light, and efficient, and the Patagonia Men's R1 Fleece Pullover delivers with all three. With a design that hasn't been overthought, the R1 is made of an exclusive Polygiene treated Polartec Power Grid stretch fleece fabric, which is lightweight, breathable, and compressible. The simple design of the R1 lends itself to a variety of mountain pursuits with the ability to be comfortably layered under a shell during mountaineering objectives, backcountry ski trips, or worn on its own during shoulder season climbs.
Polartec Power Grid fleece
Polygiene permanent odor control
Slim fit
1/2-length front zip
Zippered chest pocket
Bluesign approved fabric
Wicked breathable
Familiarity:

I've put it through the wringer
I've had a few Patagonia R1 fleeces over the years and continue to love them.

They're a great base layer whether you're skiing, or running. They are wicked breathable and comfortable.

I'm 5'10 and bought a large thinking that I could layer under it. I can, but it's pretty big. If you're a medium you can probably get away with a long underwear layer underneath.
Chris Shields
tremendous fleece
Familiarity:

I've used it once or twice and have initial impressions

Fit:

True to size

Size Bought:

medium
I use this fleece while skiing. It keeps me comfortable, dry and warm. Great as a first or second layer (it's on the snugger side) but I'll bet it's great as an outer layer on warmer days. I'm going to work it into my early spring hikes and backpacking trips as well. This thing is awesome, really happy that I pulled the trigger.
Matt A
Height:
5'9"
Weight:
175lbs
Best fleece.
Familiarity:

I gave it as a gift but have feedback to share

Fit:

True to size
Bought this for my pops because I absolutely love mine. It's super durable, stretchy, and moisture managing. I sweat my ass off in it whether I'm backcountry skiing or alpine climbing. The exterior is very durable, and the grid fleece interior wicks moisture fast so I can stay warm and comfy in sweaty situations.
Derek Newman
Height:
5'10"
Weight:
140lbs
Patagonia R1 Pullover
Familiarity:

I've used it several times
Fits true to size. Soft, comfortable, quite warm with minimal bulk.
erhan ayan
Super solid midlayer/casual fleece
Familiarity:

I've used it several times

Fit:

Runs small
The R1 is exactly the fleece I was looking for. It's comfy, warm, fits great and has been a part of my gear setup for the past 2 weeks. I couldn't be happier with this purchase and it even beat out the Norrona fleece by quite a wide margin. If you are looking for a ski midlayer or something casual to stay a bit warmer in mildly cold temps this is your pick.
George Pointon
Bought the red color, the material is super soft and comfy, great for mid-base layer .
Douglas Zuniga
Warm AND stylish
Familiarity:

I've used it several times

Fit:

True to size

Size Bought:

medium
First time I bought something my wife said was quite stylish. Great function, too. Just got back from time in the Rockies and the Northwest. Wore it every day hiking and was very impressed with its warmth on the cooler days and breathability when trekking the steep grades. Looks great as casual wear, too. Great product, great fit.
Mark M.
Height:
6'
Weight:
160lbs
Warm and Comfy
Familiarity:

I've used it several times

Fit:

True to size

Size Bought:

Large
Great pullover quarter zip for any activity. It is light enough and breathable that you will not get too hot in, but inslulated enough to keep you warm on those brisk falls days. Mutli-functional that can be used as a nice commuter jacket or warm layer when hiking or biking that downhill in fall. Love it and I will get the hoodie version to match.
Derek R
Height:
6'0"
Weight:
185lbs
Essential winter gear
Familiarity:

I've put it through the wringer

Fit:

True to size

Size Bought:

Large
Huge zipper, super warm, good/comfortable fit.

I throw it on for a hike or when i'm just hanging out and also use it as a mid layer for snowboarding or alpine hiking. Great pullover, it's always in my car.

I have a hooded cap4 in a size medium that is fitted on me and I have this in a size large and it's nice and loose.
Tyler R.
Height:
6'0"
Weight:
160lbs
Nice layer for touring and commuting
I wore this ski touring and before it got too chilly while bike commuting to and from work. Nice weight.
Jamoney
Great pullover!
Familiarity:

I've used it several times

Fit:

True to size

Size Bought:

Medium
I love this pullover. It's thinner than I thought it would be but does a great insulating job and it's so light. Comfortable fit. Breathes really well.
David B.
Height:
6'
Weight:
155lbs
The "Go-To"
Familiarity:

I've put it through the wringer

Fit:

True to size

Size Bought:

XL
I travel frequently for work, so space in the luggage is a premium and sometimes I need to be prepared for various climate/weather conditions. This pullover is now one of my go-to pieces! It fits well (true to size) and is extremely comfortable. Most important to me, it's very packable! I would highly recommend this as a layering piece or as a mid-weight to wear over a polo shirt. I will be buying another one in a different color. Awesome piece of gear!
Stephen Cross
Height:
6'5"
Weight:
220lbs
Great midlayer
Familiarity:

I've used it once or twice and have initial impressions

Fit:

True to size

Size Bought:

Large
The R1 is THE midlayer fleece for skiing. Fits great. Long enough to stay tucked in. Warm and breathable. Love the pocket for my phone when needed.

Not many negatives. It doesn't slide as well as I would have thought over base layers. I also wouldn't mind a thinner version since I run hot when skiing.
Dan F.
Height:
6'0"
Weight:
170lbs
Perfection
Familiarity:

I've put it through the wringer

Fit:

True to size

Size Bought:

Large
Needed to replace an old fleece so I went with this one after a lot of research and recommendations from friends––couldn't be happier. It breathes amazingly well (used it while skiing), but it still kept me warm for those cold chair-lift-rides back up the mountain. Now, some people may complain that it doesn't protect you from the wind: it wasn't designed to. Full breathability means no wind-blocking, and vice-versa. That being said, if you throw a shell over this, you've got yourself a layering system that's practically unbeatable for any activity above 10 degrees Fahrenheit (key word: active).
Danny
Height:
6'3"
Weight:
190lbs
Downgraded significantly since last year
Familiarity:

I've put it through the wringer

Fit:

True to size

Size Bought:

Medium
I have an R1 pullover from 2014/15 and love it. I got a new version this year, and was really disappointed to see that they made it significantly cheaper than the old version.

The old one had a thinner fabric in the armpits and around the wrists, in addition to thumb holes on the cuff. The new one has none of those things. It's just a fleece sweatshirt with a chest pocket. It's still a very nice fabric for the fleece that feels good and doesn't pill, but they shouldn't charge as much as they do.

They also got rid of the embroidered logo on the chest and went with a screen printed logo. I don't really care about this, but wanted to mention it.
Scott M.
Height:
5'10"
Weight:
180lbs
classic
Familiarity:

I've used it several times

Fit:

True to size
you can't go wrong! excellent mid layer for skiing/snowboarding with a nice deep 1/2 zip for ease of removal. low profile fits nicely under layers. warm!
Cathy Sonnenberg
Great Mid-Layer
Familiarity:

I've put it through the wringer

Fit:

True to size

Size Bought:

small
Superb weight-warmth ration. Just enough to keep the chill off while moving in the mountains. I frequently ski in mid teen temps with just a tee shirt base, the R1, and my hardshell. I love the thumb holes and the sporty fit because it stays out of the way of ropes, harnesses, etc. The chest pocket is good for a gel or phone. The R1 is everything thing you need and nothing you don't.
Hoyawolf
Height:
5'9"
Weight:
147lbs
The Perfect Mid-Layer
Familiarity:

I've put it through the wringer

Fit:

True to size
Coming into the 2015 winter season, I was in desperate need of a new layering system (previously owned pieces were just a bit... well, worn. You get the idea). I have had a Chrome Industries Storm Cobra Jacket V1 for a few years that has been an amazing shell in the fight against wind and rain. The only issue with the shell is that it's not too warm and it is slim fit which does not offer a lot of room for layering... but I look real spiffy in it so good job Chrome. Being a college student, my funds didn't really permit me to purchase a whole new layering system so I set out to find a lot of warm for minimal bulk. A lot of my studies brought me to the Patagonia R1 series. I decided to take the plunge and give it a go after all the positive things I had heard about it. The fleece arrived right before a big cold front set in here in Fort Collins, CO. I decided to put the pullover to the test and threw it on over a standard cotton long sleeve before biking to class. At about 40-45 degrees F, the R1 was perfect "by itself". It cut enough of the wind from the bike ride and kept me comfortably warm while remaining very breathable. About an hour and a half went by and it was time to bike back to the apartment (a little smarter, I might add). The temperature had dropped to about 35 degrees F and the wind had picked up quite a bit. I simply threw on the Chrome shell over the R1 and hopped on my bike. With the shell blocking the wind and trapping just enough heat, the R1 did an amazing job of once again, keeping me very comfortable. I didn't over heat and I was never chilled. With water-proof shells, it is sometimes difficult to layer with out feeling 'muggy' but the R1 feels extremely breathable even when it isn't the outer layer. I was really impressed with the performance of the Patagonia R1 but 35-45 degrees F is a pretty narrow window as far as temperature goes and I hadn't been able to really test the garment's versatility. Finally, I got the perfect day to see what the R1 is made of (figuratively... literally, the R1 is made out of 93% recycled fleece and 7% spandex). Temps were hovering around 20 degrees F so I threw on a Smart Wool NTS Mid 250 as my base layer, the Patagonia R1 over that, and completed the system with the Chrome Storm Cobra. I decided to use the hidden thumb loops featured in the R1 and threw on a pair of thicker wool gloves. The thin material at the wrists of the R1 are perfect to fit under form fitting gloves while the thumb loops are being used. I started the bike ride and was amazed at how warm I was with out overheating. The day's weather progressed in typical Colorado fashion as the temperature fluctuated a great deal dropping to about 15 degrees and jumping to close to 30. I was able to open up the vents on the shell and unzip the R1 to allow some more airflow when the temp raised and it was just as easy to reverse the process when the temp lowered. I try to find flaws in every product I review (seems to add more credibility to the review) but I couldn't find anything wrong with the Patagonia R1. I love the chest pocket that acts as another vent when opened. The longer zipper allows for a greater range of airflow to accommodate a vast range of temperatures. The slim cut of the R1 obviously is a bit more snug but there is just enough stretch in the fabric so that it won't hinder mobility. The longer torso looks great for warmth and allows you to throw on a pack with out worrying about your fleece riding up. There are just so many things right about what Patagonia did with the R1. I couldn't be happier with my purchase and with most of my money going to the University, it's always nice to end up with something that is versatile, functional, and pretty darn stylish. Good job, Pat.

Cheers
Aaron Lynch
Warm and light weight
Familiarity:

I've used it several times

Fit:

True to size
A great layering pullover for those in between weather days. Perfect for a walk or bike ride. I look forward to wearing this fleece as a layer under my ski jacket once the slopes open.
Tom Murphy
Height:
5'11"
Weight:
190lbs
My favorite piece of gear!
Familiarity:

I've put it through the wringer

Fit:

True to size

Size Bought:

Medium
For starters, I live in Colorado and like many am a 14er-ophile. I hiked 20 this summer for a total of 30. I got the Patagonia R1 Fleece Pullover a quarter of the way through the season and it was an immediate game changer.



I bought a medium, even though the small fit snugger, because I don't like my layers to be skin tight and I like to wear it over T-shirts off trail. I am a bit of a minimalist hiker and only like to pack/wear the essentials to keep weight low and speed up. I layer with a dry fit tank, the R1 and over that the Patagonia Nano Puff Hoody. I wear trail running shorts, and La Sportiva Bushido trail running shoes to give you an idea of how light I travel.



I did several long weekends hiking 2-5 peaks at a time and lived in the R1 the entire time. Hiked in it, slept in it, sat around the fire in it and went to dinner in local towns in it. It is probably the most versatile and comfortable piece I have. When I started hiking at 4am, I zipped it to the neck and put the Nano over it and was adequately warm in the 40s. When the sun came up I would lose the jacket and unzip the half zip front to catch a breeze. It breathes well enough that I also trail run in it (during the winter) and stay warm but not over heated. Another upside is that despite wearing it for nearly 36 hours straight with a tank underneath, it didn't retain odor. That said I am a minimal sweater, but I was impressed just the same.



In terms of style, it looks great for casual wear and if you're like me you buy gear that you can wear on and off trail. I like an outdoorsy look so I wear it several times a week when I go out to dinner or a movie. I even bought a second so as to have a different color and so I wouldn't wear out the first one. So with all that said, its durable, warm, breathable, stylish, retains shape, doesn't hold odor and if you catch it on sale you can't beat it! I am the type of person that ONLY buys what I need, and it must be a durable jack of all trades piece. I even wore them on a plane and daily throughout a week long visit home to the south last month.



(To all the people that complain about the long sleeves... they're meant to be long so they double as a partial glove. Roll them up and get over it.)



Pick one up and you wont be disappointed!
Brandon C.
Height:
5'8"
Weight:
145lbs