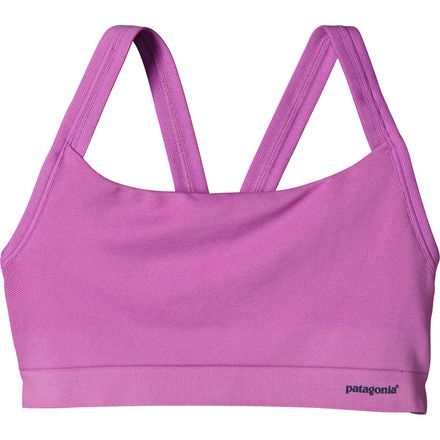 Colors

Detail Images

Community Images
We can see your underwear.
Get the Patagonia Women's Active Mesh Bra for all of your summertime activities. This comfortable sport bra wicks perspiration away from your skin so you stay dry and cool during summer hikes or heated yoga sessions. Stretchy fabric and seamless construction let you move without restriction while supportive V-shaped straps stay put. Patagonia made the Active Mesh Bra so it could be worn alone or as a foundation layer in any weather.
This bra is awesome! I can climb, run, ski, hike, swim in it and it still gives me support and looks cute. Its definitely the most functional sports bra I've ever worn and still looks hot. I'm not sure about the ladies who are better endowed (I'm an A/B cup), but it rocks for me.
Sarah B.
I love the thin but supportive fabric!
Micaela F.
Patagonia Active Mesh Bra -- thumbs up
I've been wearing the exact same thing for 8 years now, and just hope they don't discontinue the design!

Full support with full comfort. No binding and pinching... nor straps that leave deep red marks. Also easy on and off -- no near heart attack moments trying to stretch your arm and head through...and no death grip around your diaphragm.

Also the capaline fabric is warm in winter and comfortable in summer...and dries fast too!

Full marks!
Laura C.
I love this bra - wear it climbing under a tack-top. It looks very cute and I have it in 3 colors. I'm size 36C/D and L fits perfect. It doesn't crate a "uni-boob" and has decent support. I wouldn't recommend it for running/biking, since the support is not quite like a hard-core sport bra (thus 4 stars), but for hiking/climbing/looking good it's a bra to go!
Lena.kh
Unanswered Question
i bought bra accessories http://www.your...
i bought bra accessories http://www.yourbraaccessories.com/ the other day... i just want to know if i could use the bra inserts in sports bra such as the above photo
hannah
This bra does what it's supposed to - hold them in place...but the large seaming underneath the arms rubbed my skin off my underarms. After just one moderate ski day or a climbing session, I get big red spots under my arms. The Champion bras I got in a two pack at Costco are way more comfortable, cheaper, and are just as good as the original Patagonia bra I got 6 years ago - large, full coverage, breathable, flat seamed, and soft.
Maren
I LOVE this sports bra! I threw out all my old ones when I started getting chafing during my marathon training. I used this bra on my first 14miler and had no chafing whatsover. I was doubtful that the compression would be enough, but for me, a 32" A/B, it's perfect. I bought 3 size small.
ce
I am very happy with this bra. I would definately recommend this to a friend. It is supportive and the colors are cute too!! Way to go Patagonia!
Savannaha M.
I wear mine mainly for Bikram yoga. Super comfie even when dripping with sweat. I own three of them and will surely buy more. I also wear them skiing and out n'about. Perfect for hot summer days and hiking sans-shirt.
Jennifer Kay Sletten Slushy
I think Patagonia makes really quality clothing so I was very excited to buy this bra. However I was extremely disappointed. They're all very cute but don't offer me much support at all. I'm not too large 5'2'' 125 lbs 34-B and I bought a Small but I have to wear both of the bras I bought to feel supported with medium level activity (cardio at the gym, etc). I must say that wearing two of them provides AWESOME support, however even at the SAC price, that's too expensive and not how that's supposed to be. Especially when I have $10 bras that perform better.
Amy L
Great bra - my wife uses it for all sorts of activities and it's held up very well (no pun intended).
spencerwestcott
I found that it rubbed under arms. The arm holes seemed small for me, tried twice, sent both back. I'm about 5' 115 and couldn't get either the s or m to fit well, don't have big boobs, so maybe that had something to do with it.
kheri_a707
I've been using this sports bra for the last 7-8 years and it's the only one I buy. Full disclosure I haven't actually tried anything else because they keep making it year after year! I'm a size 34-B with a petite frame and I get the XS. It's simple and straightforward. Although it's HUGELY overpriced. I usually only buy it when it's on sale, but that's what you get with Patagucci!
kasmira.smarzo
I had a medium when I was 36C and it was great for casual wear and climbing. Now I'm a 34B and I switched to the small. I've worn it running a few times and it does the job, but it's not my favorite for running (I like more support and less jiggle). I'd say it is best for cycling, hiking, climbing, hanging out, etc. But it all depends on how much support an individual wants while running. Overall, I like this bra a lot.
cristina.hughes2275051
Comfy enough I bought a 2nd one.

The fabric is a little heavier than I was expecting, but the seamless-ness is really nice and comfy. So comfy that when I burned my shoulders by accident one weekend, this was the only bra I could wear until my burn went away.

I use it for hiking and biking, and plan to wear it skiing. It wicks and dries better than the seamless Champion bras I have been wearing (which are still great, but I think the Patagonia will be better in the winter for that reason).
Re Wikstrom
I am 34C and I got the medium over all fit was ok. The straps come down and meet the bra right at the top of my arm pit so uncomfortable when riding a bike. It is good for hiking.
CarolynY
Best bra for outdoors long-term wear!
Out of all the bras I've tried over the years, this is my favorite so far. I bought an extra one just in case, but ended up only using the one I had on for a 7 day Utah backpacking trip. It's breathable, quick to dry, seamless, moves with me perfectly -once I got the right size. I normally get size S because I'm 34Bish but I found the straps too constricting for my tennis player/climber shoulders/back. The Medium fits like a dream over my shoulders/back and the fabric still smells decent after weeklong camps. This bra makes me feel good. and hardcore. :)
KathyZC