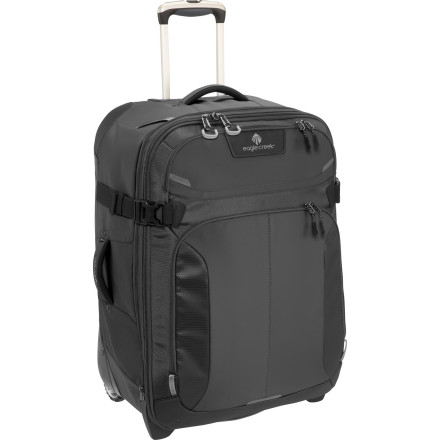 Colors

Detail Images

Videos
Big enough for a semester's worth of underwear and socks.
You never though it would happen, but your child is finally going away to college. Try not to sing out loud as you fill the Eagle Creek Tarmac 28 Rolling Gear Bag with packages of underwear, socks, licorice, and toothpaste you picked up at the warehouse store. Your offspring might be out of the house, but you can't change the room into a fly-tying workshop just yet.

Bi-Tech and Bi-Tech Armor fabrics resist abrasions from less-than-delicate roommates, as well as the bumps and bruises incurred on many untold, off-campus trips. Ultra rugged wheels with protective bumpers make handling easier, especially when you're the one schlepping the luggage.

The Tarmac 28 is more than just a tough exterior. The padded exterior pocket protects electronics en route to the airport, or a detailed class schedule and welcome packet en route to school. A lockable 3-1-1 stash pocket has a key fob, and provides just enough space for the see-through plastic containing liquids and gels. The coat-keeper bungee cord stays hidden in the stash pocket when it's not holding a travel pillow or security blanket. The main compartment expands by 15% to accommodate the college gear your child will amass in a matter of days. Multiple padded handles make the Tarmac 28 easy to grab from any angle, even when it's full of a semester's-worth of dirty laundry.

Bi-Tech and Bi-Tech Armor fabrics
Expandable main compartment
Padded grab handles
Traveler-tested handle system
Reflective Accents
Dimensions: 18 x 28 x 14in