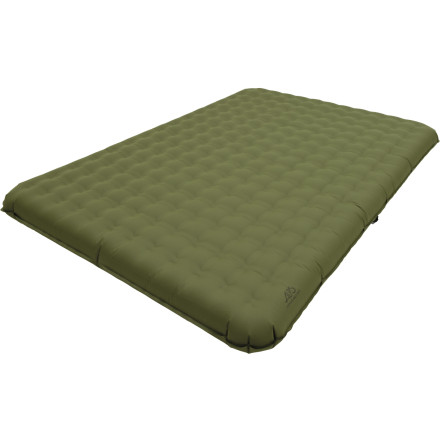 Colors

Detail Images
Sleep under the stars in blissful comfort.
We get it. You prefer the creature comforts of home when you sleep under the stars. The Alps Mountaineering Velocity Air Bed helps you comfortably obtain eight hours (or more, we won't judge) of beauty sleep when you're camping at your favorite state park. The air bed's internal coil system gives you the comfort you're looking for in a top-of-the-line air bed, and it supports up to 500 pounds (queen size only).

This air bed works great for both indoor and outdoor use, meaning that you can easily accommodate your out-of-town pal or distant aunt in the living room, should they stop through town. Best of all, this air bed comes with a rechargeable pump that not only inflates this bed in minutes, but it also deflates the bed effortlessly for quick and easy take-down. Once fully deflated, simply throw it in the included carry bag for easy storage.
Lightweight, PVC-free material
Internal coil system
Included rechargeable pump inflates and deflates bed
For indoor and outdoor use, fits in most tents
Weight capacity of 250 pounds (twin) or 500 pounds (queen)
Carry bag included
ALPS Mountaineering Velocity Air Bed
This video is submitted by ALPS Mountaineering to help show features and specs. Thanks for watching!
Sarah Eckelkamp
Unanswered Question
can anyone confirm that the actual width of the mattress is 56"? My tent claims it has a width of 56" but in actuality it is around 48-50" depending on how much you stretch the sidewalls. Trying to find a good air mattress option when not backpacking.
Chase D.
Car camp in luxury
Familiarity:

I've used it once or twice and have initial impressions
I've decided for car camping I'm going to be as comfortable as possible. Finally stopped using my ultralight pad and use this for those times. Sleep great and awesome price.
Nick
Unanswered Question
What size does this pack down to?
Jillian
Dog Friendly!
Familiarity:

I've used it several times
This is on the deluxe end of sleeping pads for sure. I will using this camping for our walk in sites plus as an air mattress on the floor for vacations if needed . We have a golden doodle pup and he pounced all over this thing with no problems at all! It fits perfectly corner to corner of our tent which makes for a nice solid sleeping space. I would highly recommend for a camping trip, not so much backpacking at all!!
Jennifer Thornburgh
Comfortable and holds air
Familiarity:

I've used it several times
This bed is not as tall as a typical air bed so I was worried that I wouldn't be comfortable. I was so wrong! It is very comfortable and durable. I like that the fabric seems very heavy and resistant. I wasn't worried about my dog's nails ripping this fabric! The bed held air for 2 nights without needing to pump more in at all. I wish it came with a car charger adaptor.
Michelle
What is the R-value? Does anybody know of any queen size mattresses that are insulated like the smaller backpacking ones are such as the NeoAir? These things get COLD but I can't seem to find any insulated ones in larger sizes.
TheMuskyElk
Not sure on the R Value, but I'm confident it wouldn't be impressive. Since we just use it car camping we bring some down blankets along to lay down ontop of the mattress for insulation. Improves the warmth and adds an additional comfort factor.
Josh Hirschmann
Loving it
Familiarity:

I've used it several times
I picked this up in a Queen size as a birthday present for my girlfriend for car camping. So far we've both been super impressed with it after a few outings. We've just used it twice car camping and she's also tossed it in the car when traveling to friends places out of town as a more comfortable option than the floor or couch.

Pros
1. Stiff! I don't know what the "internal coil system" really means but apparently it works. I was pretty hesitant about getting an air mattress in the first place. I was worried, that like most I've seen before, rolling around on one side would buck your partner off the other. This has not been an issue at all with this mattress. I make sure to give the mattress a top off before bed when temperatures have gone down since inflating it and it stays stiff throughout the night with no deflation issues yet. I'm able to roll around on my side and she normally sleeps right through it. IMOP this is the highlight of this air mattress.
2. Tough. As we haven't used it extensively yet I can't comment fully on this point but the material feel strong and durable. We've also had my dog sleeping on the mattress with us without any puncture issues yet.
3. Simple and easy. It's quick to inflate or deflate with the included pump, takes just a few minutes. It's not a pain to stuff it into it's included carrying case, it's just the right size.

Cons
1. The pump is just ok. It makes a decent enough seal when inflating or deflating so long as you're sitting there holding it in the right position. My biggest annoyance with it is the lack of a battery indicator light. The instructions say not to recharge it until the battery is fully depleted to maintain longevity of the battery... but how are you supposed to do that when there's no indicator? Or know that the battery has been fully charged? Right now we're just guessing on battery life and airing on the side of caution. At least it comes with a car charging cigarette adapter just in case, but an indicator light and possibly a way to lock the nozzle into the valve on the mattress would definitely be an improvement to the pump.

Overall my annoyance with the lack of a battery indicator light on the pump is a pretty minor issue. What's most important is that this is a comfortable, stiff, and hopefully durable air mattress at a great price point. If my opinion changes over time I'll update my review, but based on my first impression I highly recommend this product!
Josh Hirschmann