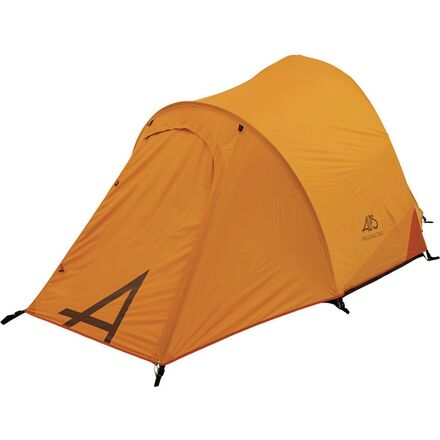 Colors

Detail Images

Community Images
See the world through a tent all year long.
The Alps Mountaineering Tasmanian 3 Tent provides 4-season protection so you and your buddies can explore the world year-round. The taffeta fly and floor have PU coatings for weather-resistance, and the walls have no-see-um mesh windows to bring in the breezes on warm summer evenings. Alps Mountaineering connected each aluminum pole with a weatherproof shock cord in order to help the tent stand strong against windy weather. The Tasmanian provides plenty of space for you and your fellow campers, with nearly four feet of head space, two doors, mesh storage pockets for keys and headlamps, and two large vestibules for all your gear. Alps Mountaineering also included a gear loft, aluminum stakes, guy lines, and repair swatches for your convenience.
Polyester taffeta walls with no-see-um mesh windows
Polyester taffeta floor and fly with PU coatings
7000-series aluminum poles with weatherproof shock cord
Two doors, two vestibules
Three-person capacity, four-season
Gear loft, aluminum stakes, guy lines, and repair swatches included
Mesh storage pockets
Great for the money
Familiarity:

I've used it several times
I bought this tent a year ago and have used it about a half-dozen times, only for winter camping. The quality of the materials is really good for a <$300 tent. The fabric is fine and the poles are good. I've had no problems with anything related to the materials. The vestibules are quite large, so there's plenty of room for gear. I've used this tent under some pretty harsh conditions; high winds, heavy snow, etc. As for negatives: I do a lot of solo trips and this tent is a little cumbersome for one person to set up in the wind. The ends of the poles come out way too easily and that is inconveniet and a bit frustrating. Even with using all the guy points it's hard to get the rainfly taught, there's always a little sag. However even in high wind and heavy snow it wasn't a big issue. Yes, there are better 4-season tents to be had, but not for this price.
Phillip Quirk
I bought this tent needing a four season tent for all the winter camping I do. I generally only get to camp for fun in the winter because I'm a Wildland firefighter in the summers and do not get much time off during then. This is by far worth it's weight in gold. 10 pounds that is. It may be a little heavier but the weight is well worth it. It has plenty of space inside and the vestibules are perfect for me and my hike partners gear plus my Siberian husky, unless he sneaks inside.. Which the inside is spacious enough to sit up and move around with out being to cramped with my partner and my dog. It has tons of pockets for gear and a ventilation system that still keeps in heat but let's condensation out and keeps rain out. I currently don't have a picture of me winter camping in it because the first time the weather was so bad my camera broke. But I did snap one of me using it this spring. This tent held up to all weather conditions and didn't let a single drop of water through. Woke up in a two in puddle and I was completely dry after a flash rain came through and soaked us in the snow.
Bo Brooks
Heavy Duty Well Made Tent
Familiarity:

I've used it several times
I have TheTazmanian 2.I just used it on a 4 day 3 night New Years backpacking trip and it kept me warm and dry.We had some light snow and temps down to 17 degrees with 15 mph winds and some higher gusts and it didn't flinch and thats without using any guy lines.I know that it's not an ultra light but sometimes I would rather haul some extra weight knowing that I have a piece of equipment that I can count on!It's roomy enough for all my gear to fit inside the tent and it's nice to have the two vestibules for added weather protection and gear storage if you bring a friend.The two doors are nice also and the zippers work flawlessly and you can access the roof vent from the inside.I almost forgot to mention it has six storage pockets on each side wall not to mention the included gear loft.I did have to buy the footprint separately but it is well worth it! The fly is a little tricky to work with but I think it will just take practice in getting the poles in and out of the sleeves.
I look forward to using this tent on many trips in the future!
The Trail Mule
Robert McCoy
Great value
Familiarity:

I've used it several times
I wouldn't take this up Everest but I trust it at high altitude in the winter with some serious snow. I slept through about 8" overnight (didn't bang it off during the night) and it was fine. Fabrics are heavy duty. Nice and warm (-10 F, windy but not crazy windy), but no more condensation than I'd expect with my summer tent. I haven't had any other 4-season tents to compare to but I'm happy with this one.
Az
Weathered Iceland Well
Familiarity:

I've used it several times
Right off the bat we were able to field test this tent in the rainy fall weather of southern Iceland. It fared brilliantly against the rain and wind, with no issue.



The vestibules are large enough for good-sized packs, the removable gear loft is an added bonus, and the overall size is very comfortable.



The packed tent is quite large and heavy, but nothing unreasonable for an all-season tent. It's unfortunate the footprint is sold separately, but also not out of the ordinary.



We were pleased and will certainly take it on any trips where weather might be an issue!
TenfoldDean
Does well for Weekend camping
Familiarity:

I've used it once or twice and have initial impressions
Update - 1/7/2015

I took this on a Scout Winter Campout in Northern Michigan. Temperatures were in the teens with Wind-chill close to Zero and some snow. The tent performed well. No condensation on the inside of the tent and It was roomy for myself and gear. The tent breathes extremely well, although it would have been nice if the outer tent went all the way to the ground. Still, I stayed warm and dry. In my initial review, the poles are not the best quality, but if you take care to set up the tent, you should be alright. I also replaced the guy lines with reflective paracord. Still for the price, you can't beat it.



Original Post. - I bought this tent as a replacement for my Hilleberg Nammatj 3 tent that was burned by a vandal at a local Metro Park while camping with my scout troop this summer. Hilleberg tents are probably the best 4 season tents on the market.



I have also used Eureka Alpinelites and K-2 XTs. Which are fine tents.

That being said, This is a low end 4 season tent. I saw this tent for a ridiculously low price and had to re-evaluate the use for my 4 season tent as I primarily winter camp with my scout troop and will not be doing any alpine camping.



That being said, this is a huge winter tent and would be best suited for late Fall and Early Spring camping. I believe it could handle some snow, but not sure about heavy snow or ice unless you shake the tent periodically. I would not recommend taking this into the back country during winter, but on weekend camping at a scout camp or similar.

The material is light, including the faintly as well as the poles. When I tore down the tent, you have to be careful with the poles as the pole caps tend to pop out and you have to take care putting them back in.

I have set up this tent in my backyard a few times and have seam sealed it.

The tent I huge and could easily fit 3 people, possibly 4 smaller scouts. It also has 2 huge vestibules to store gear. There is room for my Shepard-Lab and 2 backpacks in the front one. It also has nice pockets inside and a gear loft.

The tent is also very easy to set up. Just be careful with the poles.

As with most tents, it would be worth wile to buy new ground pegs instead of using the ones supplied by the manufacturer.



I would recommend that with all tent's that you seam seal all seams and attach all guy lines.

I will update my review when I test this in the field.



UPDATE - I took it weekend camping in late October where temperatures ranged from 5o degrees to 20 degrees with some wind and this tent kept me warm and dry. there was also no trouble with condensation with everything closed except for the vents in the rainfly. I look forward to using it in a couple of weeks in colder temperatures and the snow.


Robert M.
How much does this weigh, and does it have a storage bag and/or footprint with it?
Kat F.
It weighs 8 lbs 10 oz, and it does come with a storage bag but, no foot print.



Bill Porreca

bporreca@backcountry.com

801-736-6398.
Bill Porreca
Footprints can be found on Amazon from $30-$60> I bought one there and it covers the tent, but not the vestibules. It appears to be the same material and weight as the tent floor. It also has a taped seam running through it, so it would be a good idea to seam seal it
Robert M.
When are you having this product in stock?
Abraham Verduzco
Hey Abraham,



Unfortunately I don't see that we will be restocking this item - at least at this time.
Adam Saucedo