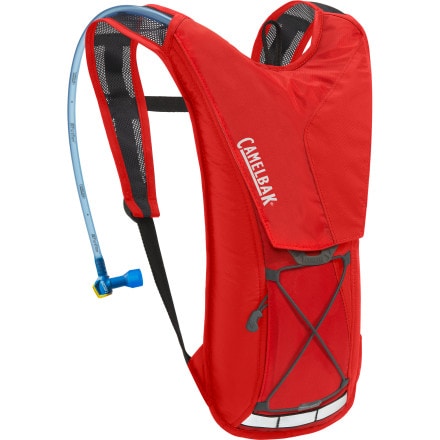 CamelBak Classic Hydration Pack
CamelBak updated its tried-and-true Classic Hydration Pack with a host of new features to ensure that you get the hydration you need when you hit the road or the trail. The new Antidote reservoir includes a lightweight, quick-seal cap that can now be filled without having to remove the reservoir from the pack, as well as pleating that allows the 2-liter bladder to maintain a low profile even when full. With an external stash pocket and a bungee that holds an extra layer, you're set for a 2+-hour adventure.
Diamond mesh back panel and lightweight mesh harness allow air to circulate and won't weigh you down


HydroGuard anti-microbial technology inhibits bacterial growth on reservoir and tube surfaces


Ergo Hydrolock shut-off valve allows you to control water flow and prevents leaks


Distance from shoulder to hip belt: 15in (38cm)


Reflective tape on back improves your visibility in low light

Product Features
| | |
| --- | --- |
| Material | [pack] 210D nylon, 70D Diamond Clarus |
| Reservoir Volume | 2 L |
| Pockets | 1 front flap-closure |
| Waist-Belt | no |
| Locking Bite Valve | yes |
| Claimed Weight | 6.7 oz |
| Dimensions | 15 x 7.5 x 3.5 in |
| Recommended Use | biking |
| Manufacturer Warranty | [pack] 2 years |
Average Product Reviews (9 Reviews)
Reviews:
lor5554852 (0)
July 31, 2012
Durable!
I bought this Pak for my husband. He hangs it on the handle of his wheelchair for easy access to a cold drink of water anytime! It's much easier for him to use than trying to find a place for a water bottle. The opening is big making it easy for him to refill. He absoultely loves it!
Carly Clifton (0)
July 25, 2012
Good Pack
I bought this for my dad for a fathers day gift, and he absolutely loves it. He bikes a ton and also has a bigger pack, but for shorter rides this one is great and less weight on your back.
Yulia (0)
June 19, 2012
The winner!
I have been looking for a compact hydration pack for over a year and tried on probably every pack Camelbak has ever made... This Classic is definitely the winner. In fact I looked at many women-specific packs and still found this one to be the most comfortable and best fitting (I'm 5' 6", average weight). There are several things I love about this pack. It's has great size and shape: sits on your back nicely without bulking up or looking weird. The outside zipper pocket is just big enough for all the necessities: smart phone, chopstick, keys and small sunscreen, etc... It's got the bungee cord on the outside: super handy for your extra layer. And I absolutely love the outside access to the bladder! No more struggling with trying to fill it up quickly or taking it in/out for maintenance. I recently took it for a 4 hour road bike ride and it was very comfortable. Extremely happy with the purchase!
Jeremy (0)
April 3, 2012
Great, but ...
I do not like the Ergo HydroLock connector. It's awkward to operate on the go, so generally leave it open, then if I take my pack off and if it bumps around with other gear it's leaked all over my back support. Easy to replace, but it's an issue.
Dominick Layfield (54)
September 28, 2011
Minimal, light, great.
I bought this after wandering the Outdoor Retailer trade show in Salt Lake City. I went by the booths of every hydration vendor, and looked at what they had in the way of minimal packs. I was looking for hydration packs for marathons and ultrarunning events. The CamelBak Classic was by far my favorite. There are two key advantages to this pack. Firstly, the bladder is super easy to refill without removing from the pack. The mouth is just tucked under a flap. This makes it ideal for race aid stations: you can easily unscrew lid as you approach, and quickly refill from jug etc. Secondly, there's really nothing to the pack that you don't want. There's a small zippered pocket on the outside that is big enough to hold a few gels. And a minimal bungee that can be used to secure a rain shell or a long-sleeve. Larger items can also be slipped into the bladder pocket. All the straps are mesh and highly breathable. I liked the design so much I bought two, so that I can leave one at bag-drops/checkpoints and just swoop in and grab a full pack. Ultaracing heaven!
Robert McKinnon (0)
February 15, 2012
Simply Great
I have the 2010 model of the CamelBak classic and I love it! I mainly use the Camelbak for mountain biking, and I have to say that it does an awesome job. I really like this thing because it holds a lot of water and it does a great job of distributing it properly throughout the bladder, which allows for it to have a low profile and stay close to my back when I ride. I also like that if I put ice in the bladder before I ride, it keeps it cold for almost the whole time! Lastly, I think that it is awesome that the bladder is removable because I can take it out and use it in both my REI flash 18 day pack and my Osprey Kestrel 38 pack. I cannot say enough good things about this thing. If you are on the fence about buying it, then I recommend that you pick one up!
Brandon Smith (0)
November 3, 2011
Camelbak Classic
This thing is great! I use mine personally for motocross, as it fits under my chest protector and doesnt impede any movement. It is very easy to refill, as the bladder fill cap is right under the top flap. Not much room for gear, but you wouldnt be buying this for a mountaineering trip now would you?
pat2636209 (0)
July 20, 2011
Perfect festival pack
In preparation for a recent multi-day music festival, I looked at a bunch of lite pack styles. After considering a lumbar pack, I came across the classic Camelbak hydration pack and it met all of my criteria (pack size, bladder volume, weight support, etc.). I've heard nothing but good things from friends who have purchased the Camelbak brand packs so I decided to pull the trigger and buy it. After attending the festival, I can honestly say that this was one of the best gear investments I've ever made. It is well made with durable materials and the design of the pack has a lot of great features such as a clip for mouthpiece in order to hold the tube in place, mini pocket in the front, breathable mesh straps to keep you cool and a handle on the bladder opening to keep the bag upright as you are filling it and reapplying the cap (thereby preventing spillage). It was the perfect capacity for the storage of my essentials (camera, granola bars, sunscreen and sunglasses case). I easily recouped the value that this pack provides in that one festival weekend and I will be highly recommending this pack to my fellow festies from here on out.
Div4628137 (0)
May 15, 2011
CamelBak Classic on the Buffalo National River
What a great, lightweight way to keep hydrated during my multiple-day, 24-mile trek down Arkansas' Buffalo National River. Small enough to not interfere with my paddling, or my balance within my kayak, it was a great choice. This is a must-have for anyone who doesn't want to be encumbered with carrying canteens, or doesn't need the extra storage features of some of the larger CamelBak products. Loved it!